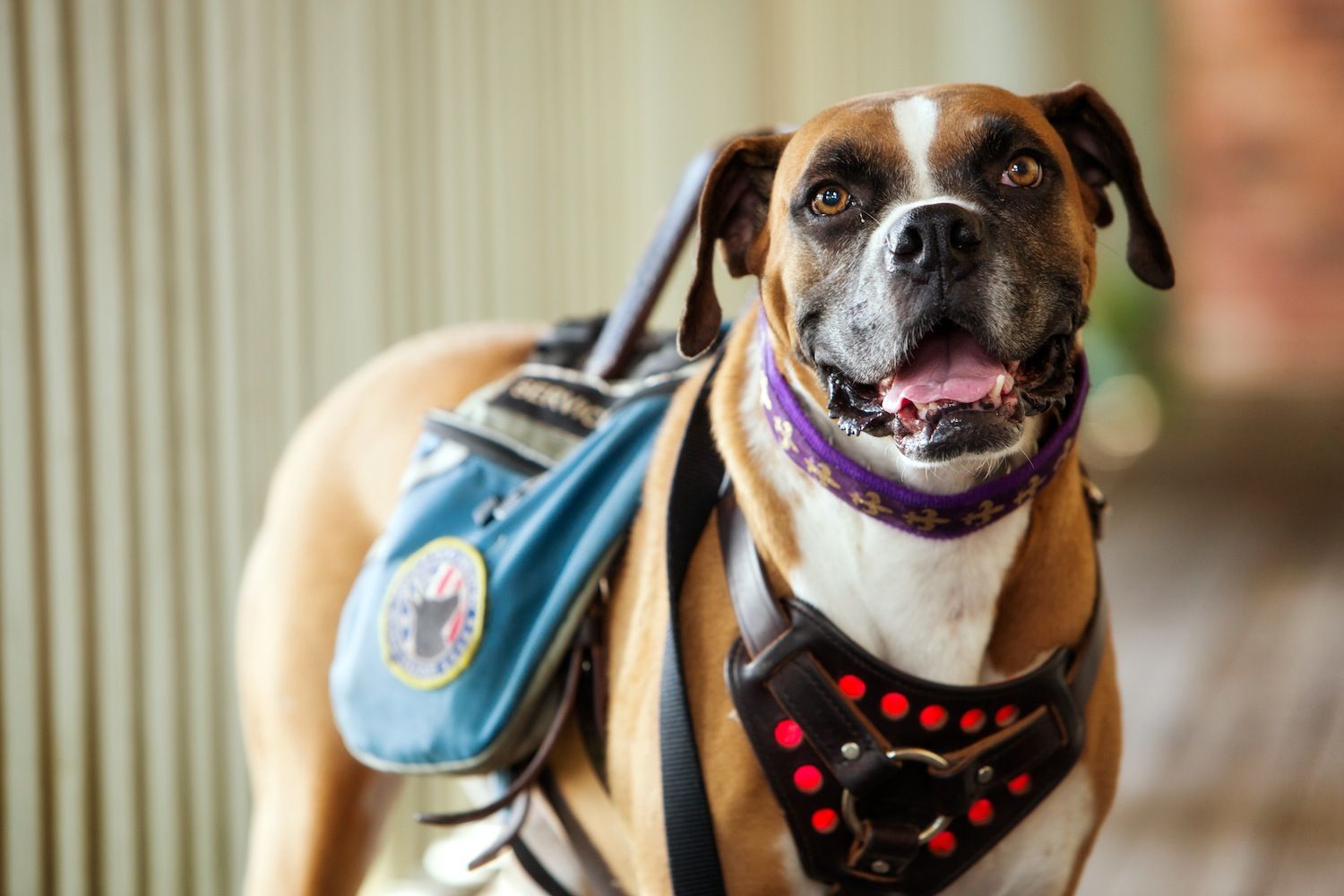 A partnership transforms shelter pups into service dogs
Joy Bonvillain rushed her Doberman pinscher to a local animal emergency hospital in June. Despite heroic efforts, four-year-old Casper died from liver failure, a health issue common among his breed.
The loss to Bonvillain, 64, was not only emotional but physical as well. Due to limited mobility, vision, hearing and use of her hands, she relied on her canine companion to live independently. Casper was capable of providing an amazing range of services, from detecting a seizure and preventing a fall to picking up a cell phone and closing a cabinet door.
"I can't even think about life without a service dog," she says. But highly trained assistance dogs are never easy to find. No national assistance-dog training programs are based in Louisiana. Furthermore, "most programs have long waiting lists, and they typically prioritize giving the dogs to young people," she says.
That explains why Bonvillain, a longtime dog owner and rescuer, has trained all of her own service dogs since 2008. She became part of a network of local assistance-dog owner/trainers who formed the Working Animal Guide Society of Louisiana in 2010. The members meet regularly for socialization—of people and dogs—at restaurants and for customized skill training at Companion Animal Alliance.
"Not all people need the dog to do the same thing," she says. "If you train your own dog, you can tailor his skills to meet your needs."
While she began the search for Casper's successor, Bonvillain took her seven-year-old rescued boxer, Puddin', out of retirement to help with daily tasks in the interim. Then she set about finding a suitable, young, tall, sturdy dog with a sweet and unflappable temperament, the intelligence to learn complex commands, and even intuition to anticipate her needs.
Because all breeds have genetic predisposition to particular illnesses, Bonvillain asked her veterinarian, along with rescue and WAGS friends, to look for a mutt with potential. Less than a week later, her vet, Jon Fletcher of LSU's School of Veterinary Medicine, called to say one of his colleagues had located a candidate. Her top prospect came from an unlikely place: prison.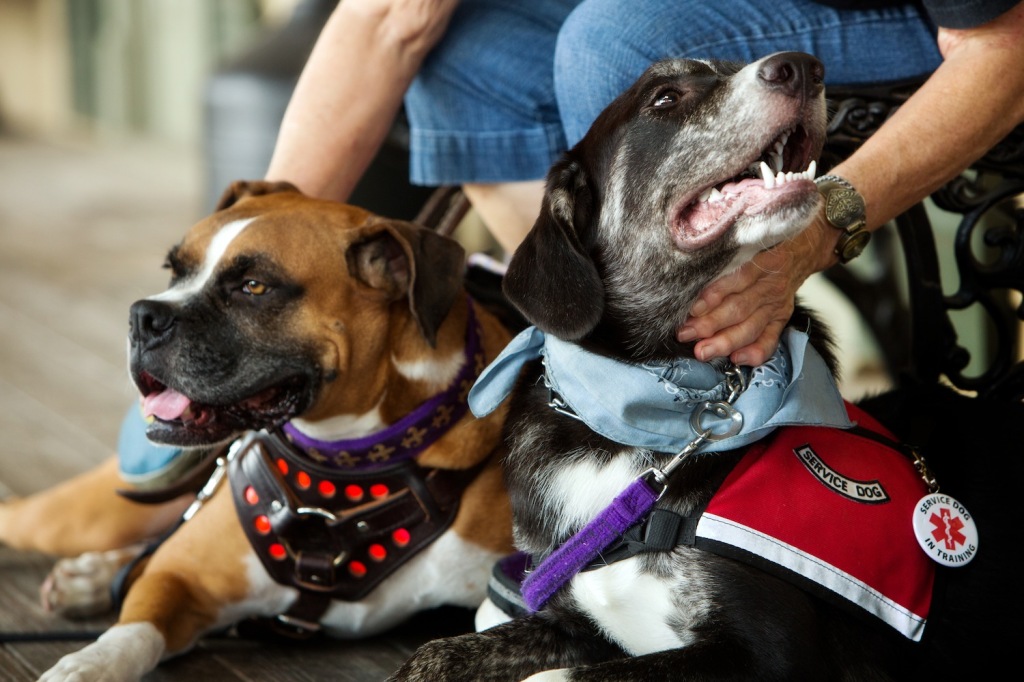 Pen Pals
In 2010, Dixon Correctional Institute opened East Feliciana Parish's only animal shelter. Built by inmate labor, the state-of-the-art facility houses approximately 100 homeless pets and can accommodate an additional 200 animals during a disaster.
Over the past four years, 20 inmates have participated in Pen Pals, the program that operates the shelter. Of the 517 canines and 325 felines admitted, 463 dogs and 253 cats have found homes.
Pen Pals also serves as a puppy-raising service in conjunction with the Florida-based organization Canine Companions for Independence, which provides—at no charge—specially bred and trained lab/golden retriever mixes to individuals with profound disabilities. Earlier this year, Pen Pals took the next natural step by beginning to prepare their own shelter dogs to become service dogs for Louisianans.
Local volunteer vets and LSU SVM provide medical care for DCI shelter dogs. Since 2009, LSU SVM Director of Shelter Medicine Wendy Wolfson has taken a mobile clinic and vet students to 30 rural animal shelters and four prisons, which do not have their own staff veterinarians.
"The vet students gain experience," says Wolfson. "They can compare a wide variety of sheltering styles. And by doing health exams on stray and neglected animals, they see parasites and diseases that they would not see in private practice. They get a great feeling of helping many animals and making their lives better by increasing each animal's chance for adoption through the medical exams, vaccinations and spay/neuter surgeries."
Slim and Sumo
Twice a month, the LSU SVM team goes to DCI. There, Wolfson noticed Sumo. The three-month-old Catahoula/Great Pyrenees mix puppy already weighed a strapping 40 pounds and had the potential to grow into a weight-bearing behemoth.
"If we get a puppy or young dog we think has potential, we test him to see what kind of personality the dog has," explains DCI's Col. John Smith. "If he is bold and confident and looks like he can handle the training, we ask the inmates to work with the dog to see how quickly he can learn commands."
When Bonvillain arrived at the shelter, she was impressed not only by Sumo (now called Zumeaux) but also by trainer Torrance "Slim" Hornsby. The inmate had already trained the young pup to have manners and to understand 30 basic commands such as sit, stay and come. The dog had even learned to lie quietly under a table.
"Dixon is doing an amazing job," she says. "I'm glad they branched out [to teach assistance-dog prerequisites]. It's a wonderful facility and program."
Making the connection
During her visit, DCI staff asked Bonvillain for advice on how to better prepare their dogs for a lifetime of service. She stressed that the ideal service dog does not run out the front door, can load into a car, and knows how to stand (rather than sit) at a curb to brace an owner.
That initial conversation has grown into a collaboration. Soon, DCI and WAGS will begin working together to teach shelter dogs other valuable skills. While the details of the program have yet to be finalized, the partnership is poised to benefit all involved.
LSU veterinary students have an extraordinary opportunity to work with the shelter population and learn the skills necessary to provide educational instruction to clinic staff. Some of the inmate caregivers learn enough to work toward certification and pursue animal-related careers upon release.
"The vast majority of convicts [left their families] and have never really had any kind of responsibility taking care of anyone other than themselves," says Smith. "[In this program], they are charged with another living creature; … they learn the benefit of providing service to others. They can't get mad, quit or get heavy-handed with the dog. With that, they learn patience and humility. But the first time their dog follows a simple sit command, you can see they get that reward and feel the excitement."
With the WAGS members' input, the potential also exists for more disabled Louisianans to receive a canine companion who is primed to learn new skills, like detecting the onset of a diabetic crisis or post-traumatic stress disorder episode or simply alerting its owner to a ringing doorbell.
All funding for these programs has come from the Humane Society of the United States, the American Society for the Prevention of Cruelty to Animals, other granting organizations and private donations. While the goodwill generated by the collaboration behooves all the humans who are taking part, the greatest beneficiaries are undoubtedly East Feliciana's unwanted dogs. The program gives them a chance to become a howling success.
For more information, click here or find Pen Pals Inc. Animal Shelter on Facebook.