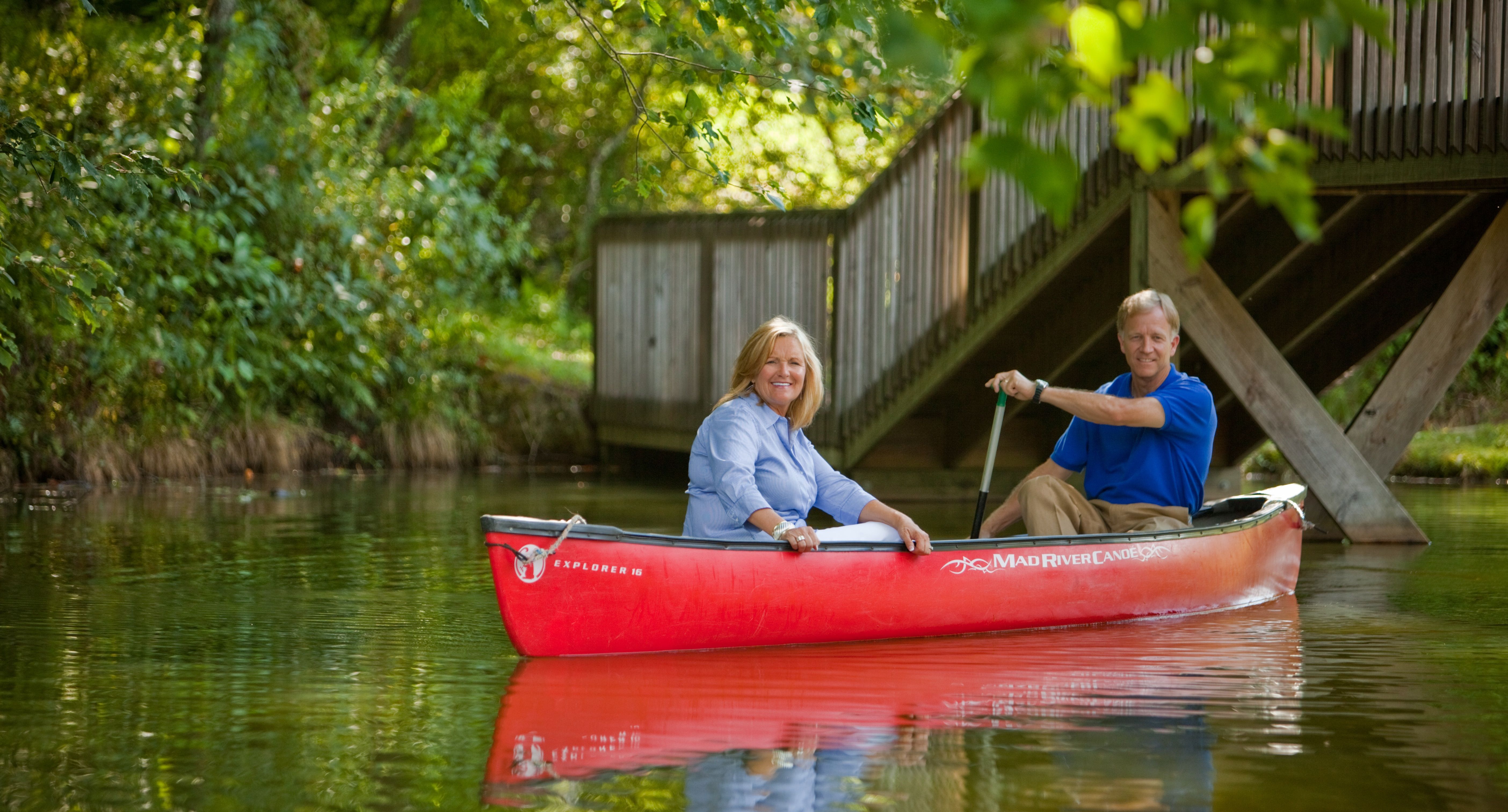 Happy campers: Karl and Shelley Alexander
Shelley and Karl Alexander on the lake at Camp Highlander
Leaving the corporate world behind, Karl and Shelley Alexander headed to the mountains of North Carolina, bought a children's camp and fulfilled a lifelong dream
A warm breeze blows through the pines surrounding the house as Melissa Walker Fitzgerald puts down her ice water and stretches her legs out to the coffee table on her screened-in porch. From here, she can hear campers squealing with glee as they launch through the air and bounce off the Blob in the spring-fed lake below, just out of sight. Laughter and happy chatter mix well with the birds chirping and the rustling of leaves. Summer camp is now in session.
"It is such an incredible gift to have this job and this life and to be active in the lives of these kids. I enjoy watching them grow year after year," says Fitzgerald, director of girls camp at Camp Highlander. "I went to camp as a young girl. And I've fallen in love with camp all over again."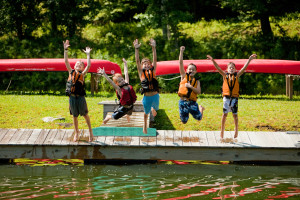 But it wasn't too long ago that Fitzgerald's personal dreams included a bit more glamour and glitz. This Baton Rouge native and Southern Methodist University graduate was a national makeup artist for Trish McEvoy, traveling to San Diego, San Francisco and Hawaii for the company. She married Bryan in 2000 with big plans to continue helping women feel beautiful through outward transformations. Yet only months after her wedding bells stopped ringing, her mother and stepfather—Shelley and Karl Alexander—bought Camp Highlander outside of Asheville, North Carolina, packed up all their worldly goods, and hit the Blue Ridge Mountains.
"I moved in with them when my husband was deployed to the Middle East for six months in 2001, and I started helping my mom at the camp," says Fitzgerald, who handled bookkeeping, payroll and workers' compensation. When the camp's waterfront director quit three weeks before the first summer session started in 2002, Fitzgerald took the reins and managed all water sports.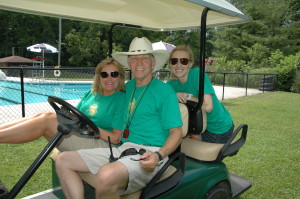 "When I finished that first summer of camp, I was overwhelmed with what an incredible place this is," says Fitzgerald. "I got to be in the kids' lives on a daily basis, and not just as a counselor. It really got into my blood."
Fitzgerald claims to be the "girliest" of the Alexanders' five daughters, preferring a warm bed with clean sheets to a night spent out under the stars. Yet she recently moved her husband and two sons from Asheville to a house on the camp's 240 acres—a beautiful but remote location that puts her right in the middle of the action during the camp's bustling summer months. She's living a dream, and it wasn't even her dream. This vision was the brainchild of Karl Alexander, who pined for the camping industry lifestyle in the Blue Ridge Mountains since he first returned home from a boys' camp after a stint  as a counselor in the 1960s.
"I remember telling my dad that I wanted to go into camping in western North Carolina, and he told me that I had to get a real job," says Karl, laughing. "So for 30 years I had what mainstream America considers a real job."
But then something snapped as Karl approached his 50th birthday. He felt the clock ticking. While some men may choose other vices to satiate their mid-life crises, Karl convinced wife Shelley to give up her comfort, stability, hometown and predictable daily life for the new-to-them lifestyle of camp owners and operators more than 700 miles from home. It seemed like crazy talk: chasing a fantasy, ditching a cozy way of living, working harder right about the time when one should start slowing down. But Karl was determined, and he was not consumed by fear.
"I'm the more cautious one of the two of us," says Shelley. "It's one thing when you are following your dream. It's something else when you are following another person's dream. But it's been a fabulous experience. Sure, there have been some hurdles, but the benefits outweigh the hard things. It's been well worth it."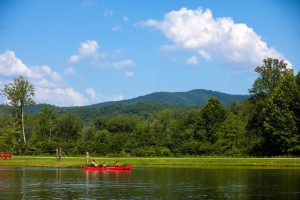 At the time of the purchase, Karl was employed by The Powell Group. His decades spent in corporate America helped him view camp life as a business—a business that needed financial tightening and strategic planning. Camp Highlander, established in 1957, had to be transformed from a prep school-owned camp to a private family-owned camp under Karl and Shelley's leadership. It had veteran campers, counselors and staff in place, so the Alexanders observed them keenly that first summer to learn the operations while planning for the future.
"I remember thinking, 'What's the worst that can happen? I could fall flat on my face, then I'd have to go back and get a real job.' OK. I could do that," says Karl. "I look back at the purchase of Camp Highlander and it seems surreal. This camp is the very fiber of who I am. I now can't imagine not doing it. I would have missed out on so much."
Fifteen years ago, Camp Highlander had a little more than 500 campers come through during the summer—a very respectable number for this type of camp. Today, the establishment boasts 850 to 900 campers during the summer months. Families come back year after year for rock climbing, kayaking, horseback riding and overnight camping trips. Pottery, woodworking, cooking and all manner of sports take place throughout the day. Friendships are forged, lessons are learned, and goals are made and accomplished. Campers and counselors alike make memories that will remain with them well past the last campfire flame going out.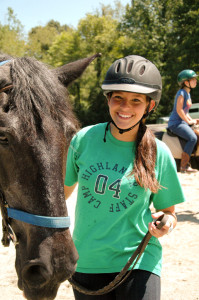 "It has taken 10 to 15 years to truly establish who we are," says Karl, who personally travels throughout the country, speaking in homes and sharing information about the camp. "Now people get it. They see the caliber of kids coming out of it. They know Camp Highlander."
Shelley thought that the summer months would be the most hectic, with the other nine months of the year set at a more leisurely pace. But actually, the exact opposite is true. The Alexanders, along with Melissa Fitzgerald and Gaynell Tinsley Jr., the senior and boys camp director, spend a frantic nine months preparing for the nine intense weeks that camp is in session. Counselors from all over the country are extensively interviewed in person. And there is much planning, scheming and recruiting that takes place.
"Camp is all consuming," says Fitzgerald. "As a makeup artist, I was happy to make women feel better about themselves on the outside. Here, I am making women and girls feel better about themselves from the inside out. There is a place for the girly girl, the sporty girl and the brainy girl. These kids feel so loved. I truly believe that it is my calling."
And it's a calling that would not have been realized had her stepfather not followed his passion and pursued his vision. Ditching it all and embracing a whole new way of life is the stuff of poets and playwrights, not middle-aged businessmen surrounded by creature comforts and family and friends.
"It was a complete leap of faith," says Karl. "I knew in my heart and soul that I could do it well. And I didn't want to leave the Earth at the end of my days with only a history of making money and paying bills. I wanted to make a difference in the lives of children. Fifteen years later, and we are living the dream."
Click on the photos in the gallery below to see a few of the campers who make the trek from Baton Rouge to North Carolina each summer: