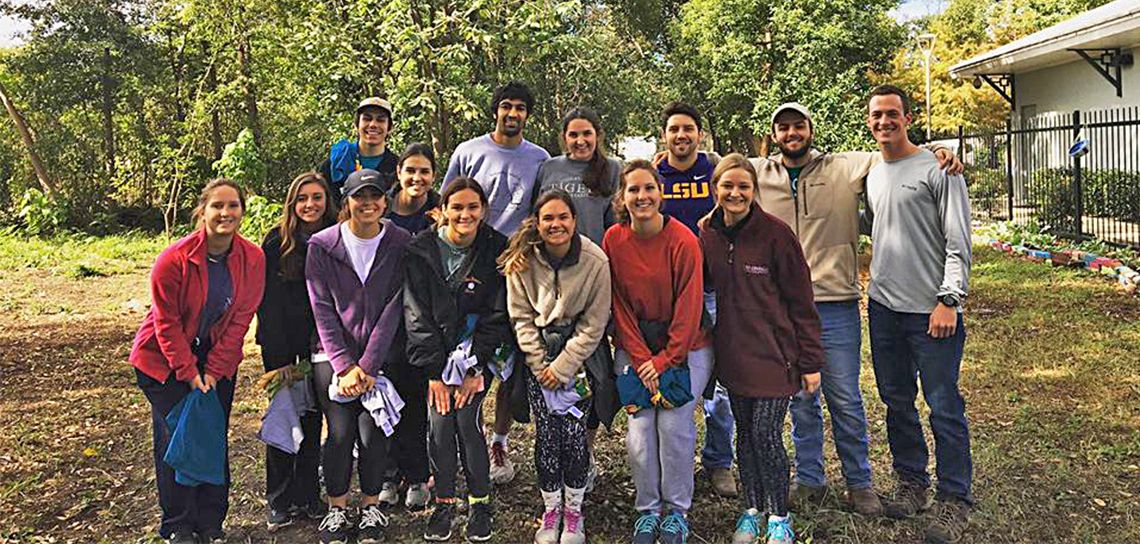 Giving back: Encounter at LSU
---
Sitting at a table in the local St. Vincent de Paul shelter, college student Tabitha Kearns is the unlikely dinner guest of a host of homeless men and women. Listening intently as they share their stories and inquire about her own, Kearns is moved by the stark contrast between how these people are portrayed and the reality that is laid out right in front of her.
"They are some of the most caring people," explains Kearns, a recent graduate from LSU in biological sciences. "Once you spend time with them and put a face to the statistics, it changes you. It changes hearts."
When Kearns made the move from her small hometown of Thibodaux to Baton Rouge for college, she was struck by the large homeless population, as well as pervasive attitudes toward them. Back home, she was accustomed to knowing the few homeless people in town by name. Here, she was inundated with an overall attitude of dismissal, a resolve to turn away rather than reach out a helping hand.
"It was shocking," she recalls. "It made me concerned but also curious."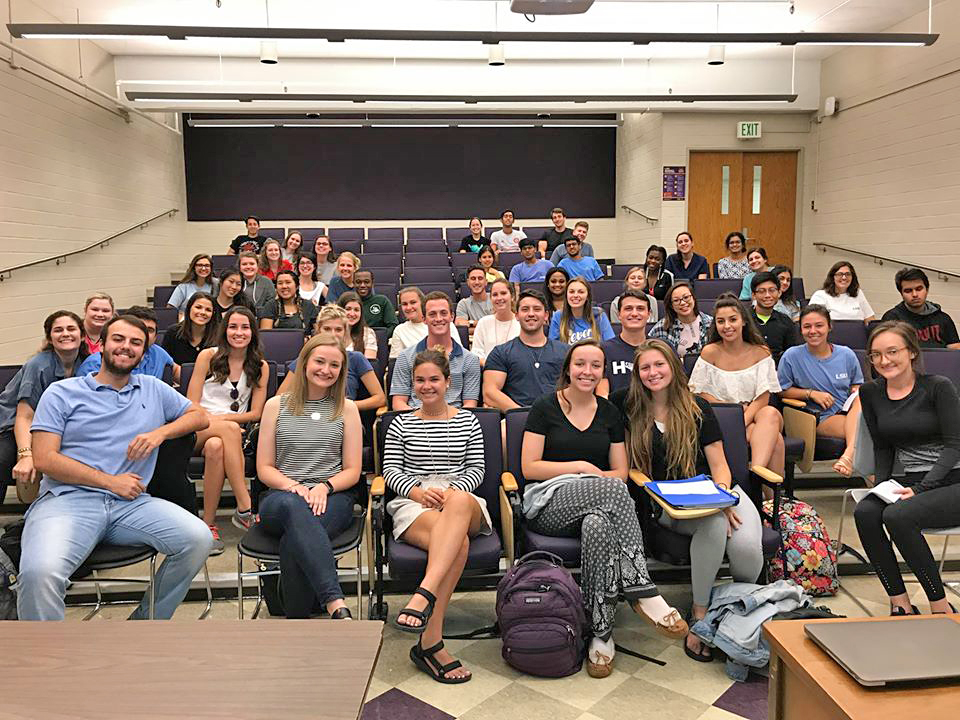 Eager to learn more about the underlying causes of the homelessness epidemic, Kearns came together with fellow students with a similar passion. One such student was Josh Caskey, with whom Kearns would co-found Encounter at LSU, a group focused on educating about and serving the local homeless community, at the beginning of the 2017-18 school year.
"It's so easy to be consumed with the life of a college student," explains Caskey, an LSU medical school student and recent graduate in biochemistry. "We wanted to make the issue of homelessness more known and give people an avenue to contribute."
Encounter's goal to bring awareness wasn't just about posters indicating that the issue exists—people already know that—they want to explain why people should care.
"The educational component is how we change hearts and make people agents of change," says Kearns. "Homelessness is a multifaceted issue. It isn't just one thing, and it could happen to anyone. We want to spread the message that the homeless are deserving of respect."
Each meeting of Encounter at LSU includes a lecture from a guest speaker, often one of LSU's resident experts and professors. Speaking on subjects related to the causes of the epidemic, how homelessness is measured and more, the sessions serve to connect the dots that arise during outreach events with St. Vincent de Paul, the One Stop Homeless Services Center and Front Yard Bikes.
"We tackle a wide variety of projects," notes current Encounter president Austin Primeaux. "Through all of them, we want to hear these people's stories."
From serving dinner and packing brown bag lunches to tutoring and gardening, Primeaux says he is most proud of the diversity of the people that have made their way into the group's volunteer work. Students from all walks of life—all majors, all interests—seem to connect with the issue and Encounter's mission. However, while the group is a campus-based organization, it is open to anyone interested in making a difference.
"Members of the community are always welcome to join in on projects," says Kearns, noting that this was one of the founding ideas of Encounter. "We want people to meet with them so they can see how inspiring they are. They show the resiliency of the human spirit."
As Encounter continues to grow, Kearns and Caskey look forward to the growth of its outreach initiatives and the reach of the mission to change the way homeless people are viewed and treated in Baton Rouge and beyond.
"The biggest misconception is that homeless people are any different than us," says Caskey. "I worked with global health outreach, but what I realized coming home was that there are enough people with hardships here. You don't have to go across the world to contribute to a need."