From the February Issue: Two Baton Rouge women spread their strength after paralysis
Strength, like courage, is born within. When it is tended to, when it is fed and fueled, strength blossoms, manifesting itself into a physical entity and spreading to plant seeds in those touched by it. In our February issue, inRegister highlights two local women who demonstrate the power that stems from overcoming personal adversity and are now working to inspire confidence and strength in others.
Georgia LaNasa, unthinkably diagnosed with a spinal stroke at only 16 years old, attributes her ability to move forward in her life to the incredible support from family and friends. Today, the mother of triplets is a professional architect and works to promote a more handicap-accessible world. "It's something that able-bodied people don't necessarily have to think of, but I get very frustrated when I got to a venue or restaurant in Baton Rouge that I know isn't up to code," she says. "Accessibility is improving, but you'd think that in 2018 things would be better."
In seeking to improve the world for other disabled individuals and developing her own interior strength, more than anything, she hopes to be a model for her three daughters. "I've made peace with what happened. Now I just want my girls to grow up to be strong women who know how to keep moving and be happy as they are," she says.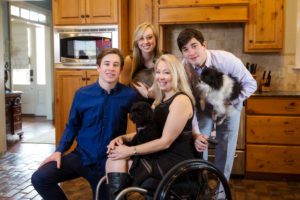 Karen Roy, also a wheelchair-bound mother of three, shares a similar message on positivity and strength with audiences at conferences at state, national and even international venues. Victim of an armed robbery in which she was shot in the back, Roy has never let her paralysis define her life and her abilities.
"You sometimes just need to tell yourself to work out, put a cute outfit on, and let all those people stare anyway," she says.
In her roles as a hospital social worker for other paraplegics and her job in the mobility equipment field, she has discovered that by demonstrating positivity, she can make an important impact on those who are struggling through their own injuries. "I want people to see how I take care of myself, and realize how important the mind-body relationship is to recovery," she says. "I want people to push themselves to get back out there, no matter how scary it is."
To read more about LaNasa and Roy, read their stories here and here from the February issue of inRegister, on newsstands now.