Fostering knowledge: A new book series to comfort children entering foster care
---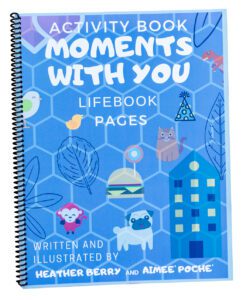 Leaving their familiar homes and entering foster care can be a frightening and bewildering experience for children. That's why co-authors and illustrators Aimeé Poché and Heather Berry recently created a four-part book series to help children navigate and transition into the foster care system.
In Louisiana, there are more than 4,500 children currently in the foster care system, says Poché. The What Is book series she and Berry created educates these children about some of the helpers they will encounter, especially in the first three days of entering foster care. "We've created the dialogue to help the child understand the role of these four people they're about to see within the first 72 hours," says Poché.
Aimed at children ages 3 to 14 and available in both English and Spanish, the book series teaches the important roles of child welfare workers, judges, police officers and foster families. "These kids have gone through trauma through no fault of their own," Poché says. "I know over the years there has not been a resource to help the child understand who in the world these people are."
The duo saw a need for these books after working in the foster care system for years. Poché is a former state Department of Children and Family Services foster care worker and mom to eight children by birth and adoption. She is also the founder of Louisiana Heart Gallery, an organization that raises awareness about children waiting to be adopted from foster care. Berry is a mom to four children by birth and adoption and an active team participant at Louisiana Heart Gallery, plus she works with Poché at Empower 225, a nonprofit organization formed to support youth in the Capital Region who are at risk of homelessness and dependency.
The book series also includes an activity book for the foster children to work on with their biological parents during visits. The activity pages, which can be torn out and taken home with the parent or child, are opportunities to create meaningful memories and teach parenting skills to adults trying to reunite with their children, Poché says.
The pair's three-year project became reality this spring as What is a Judge?, What is a Foster Family?, What is a Police Officer? and What is a Child Welfare Worker? were published and began to be distributed to foster families. The pair's goal, Poché says, is to send the books to organizations that create "first 72-hour bags"—kits that contain toiletries, clothes, journals and age-appropriate toys for children moving into a new foster home.
For more information, visit thefaithfullamb.com or email [email protected].