The food revolution: Young chefs move local tastes into fresh territory
Few terms are more oversaturated among foodie mags and lifestyle blogs than "chef-driven," but here in Baton Rouge the real concept behind the phrase is just heating up. When a head chef is allowed complete control over the menu and can change the items based on seasonal ingredients or experiments, a restaurant can move beyond being a purveyor of comfort to become a guide for exploration.
Erica Burns, director of communications with the Louisiana Restaurant Association, says Baton Rouge is ready to cultivate both the establishments and the diners to support its own robust version of the trend that began in larger coastal cities.
"It's mostly driven by a younger generation—millennials—who have grown up eating many of their meals in a restaurant," Burns says. "Americans eat out as much as they eat at home now and can be demanding diners who want an experience and a story with their meals."
The local scene has been extremely active lately, a fact that Melissa Parmelee, executive director of the Baton Rouge Epicurean Society, says signals a shift beyond the chains. "There are a lot of new concepts being discussed and experimented with," Parmelee says. "And that's great for locals."
For this Epicurean Issue, inRegister spoke to four innovative chefs who are cooking on the cusp of change in Baton Rouge. Read on to learn what inspires their creativity in the kitchen.
---
All fired up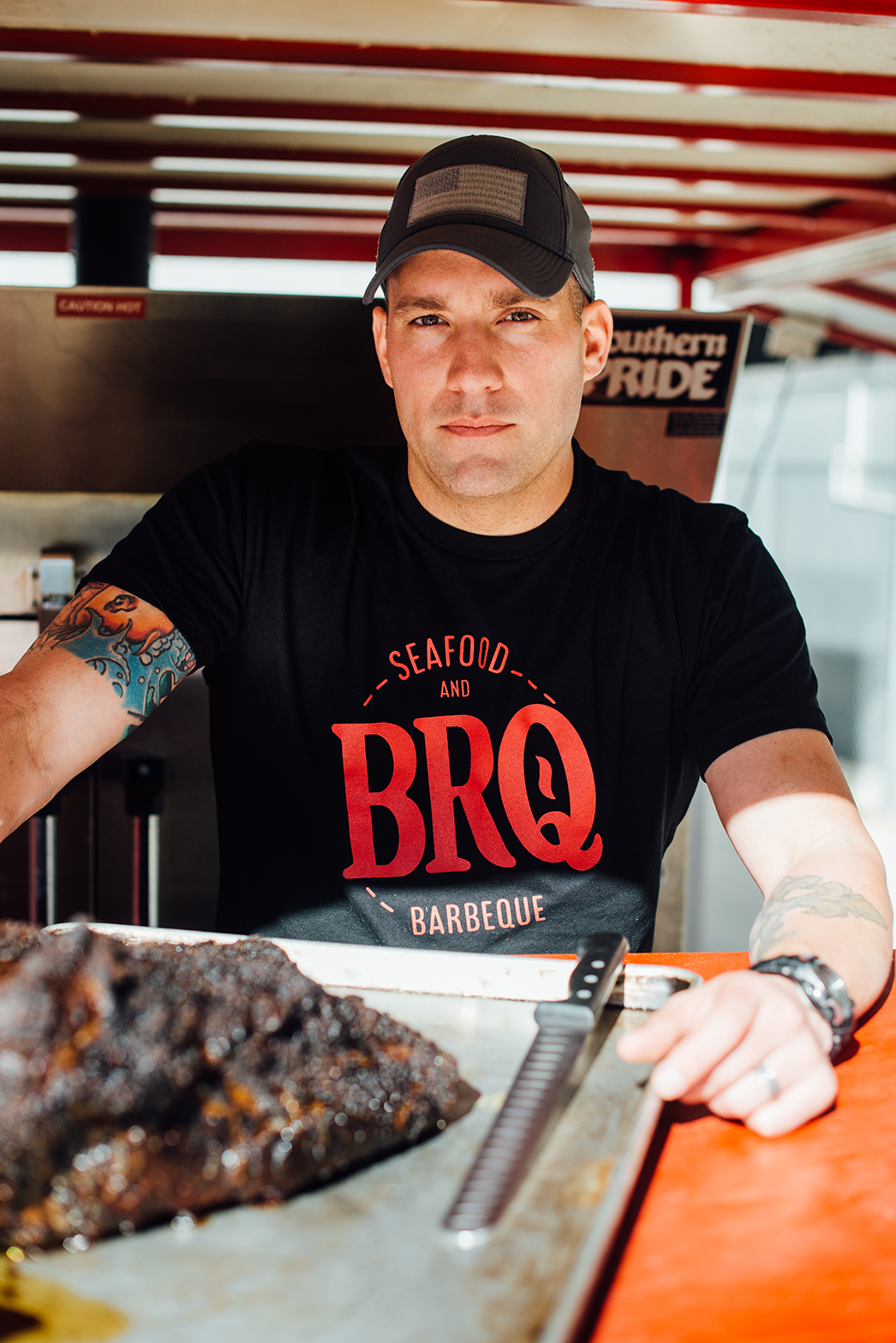 JUSTIN FERGUSON
BRQ
Co-owner/executive chef
Age: 35
First restaurant job: Dishwasher, Capital City Grill
Best meal ever: "Del Posto in New York City. I had the tasting menu, so it was 12 courses, and several of the pastas were just amazing."
If a creative still needs a solid justification to boomerang back home from faraway cultural capitals, Justin Ferguson returned to Baton Rouge last summer with one of the best reasons he could have. As co-owner and executive chef of the upcoming BRQ, the gregarious Denham Springs native aims to take barbecue, the most traditional of Southern fare, completely rethink it from the charcoal up and, as he puts it, "blow minds."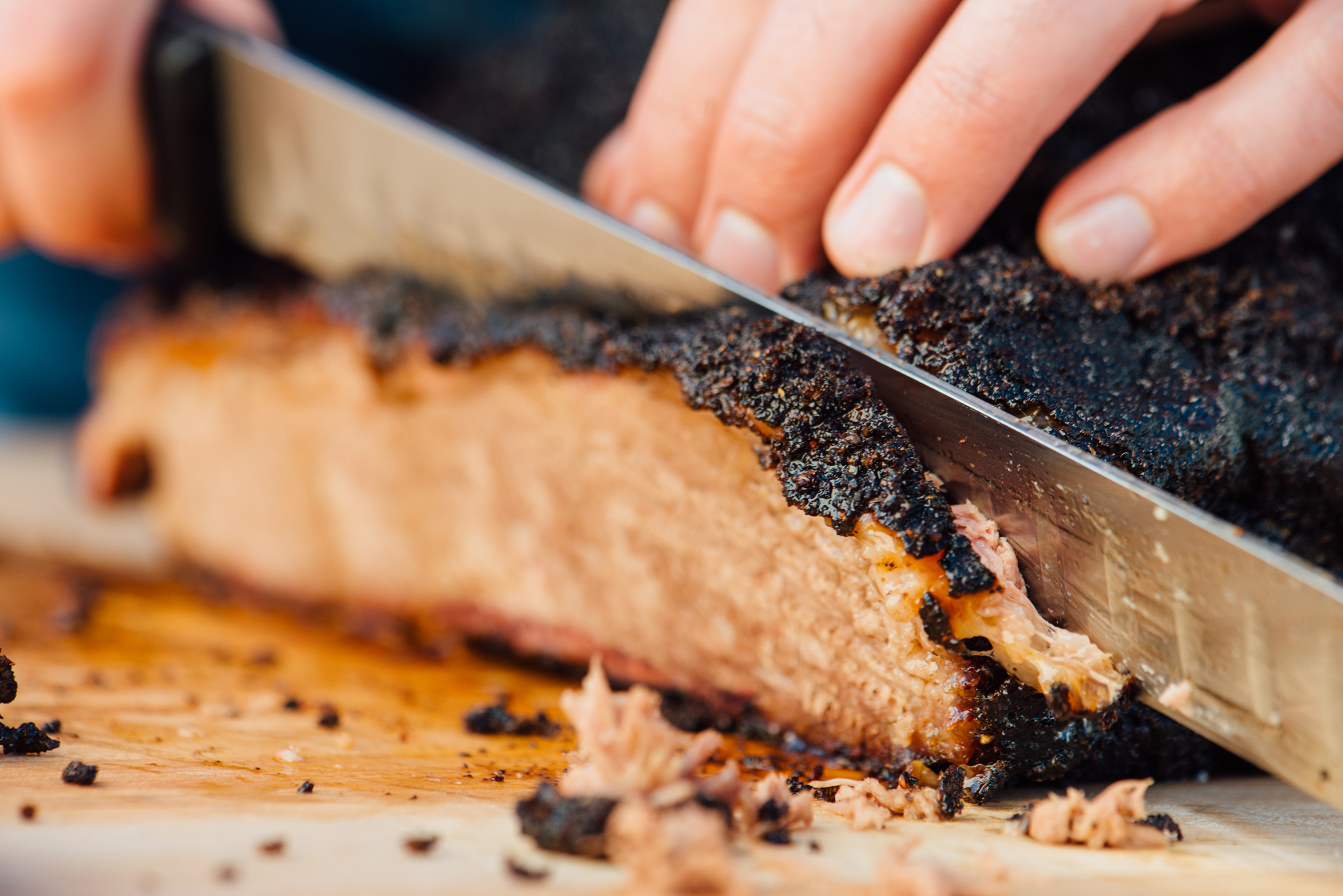 "I don't want to lose what our culture is about, I just want to have some fun with it," says the 35-year-old who's been a go-to opener of concepts like Stroubes in Baton Rouge as well as restaurants in New Orleans, Boston and finally Chicago. "I think BRQ can do that in a way that people love and feel a true sense of discovery."
BRQ aims for a summer opening this year, and even as he and general manager Jonathan Nunez prep for a large catering gig, their office inside the Louisiana Culinary Institute is stocked with the raw materials of their dream restaurant: ingredient charts and research, photographs of dishes plated like a painter's masterpiece, a smooth slab of wood leaning against the wall—"we're doing butcher-block tabletops," Ferguson explains.
While competition-style barbecue that spans the breadth of Southern styles from the sweeter pork offerings of the Carolinas to the tang of Texas beef is at the core of BRQ's offerings, Ferguson says the presentation is more refined than people are used to, and there's plenty available to those who don't even care for barbecue.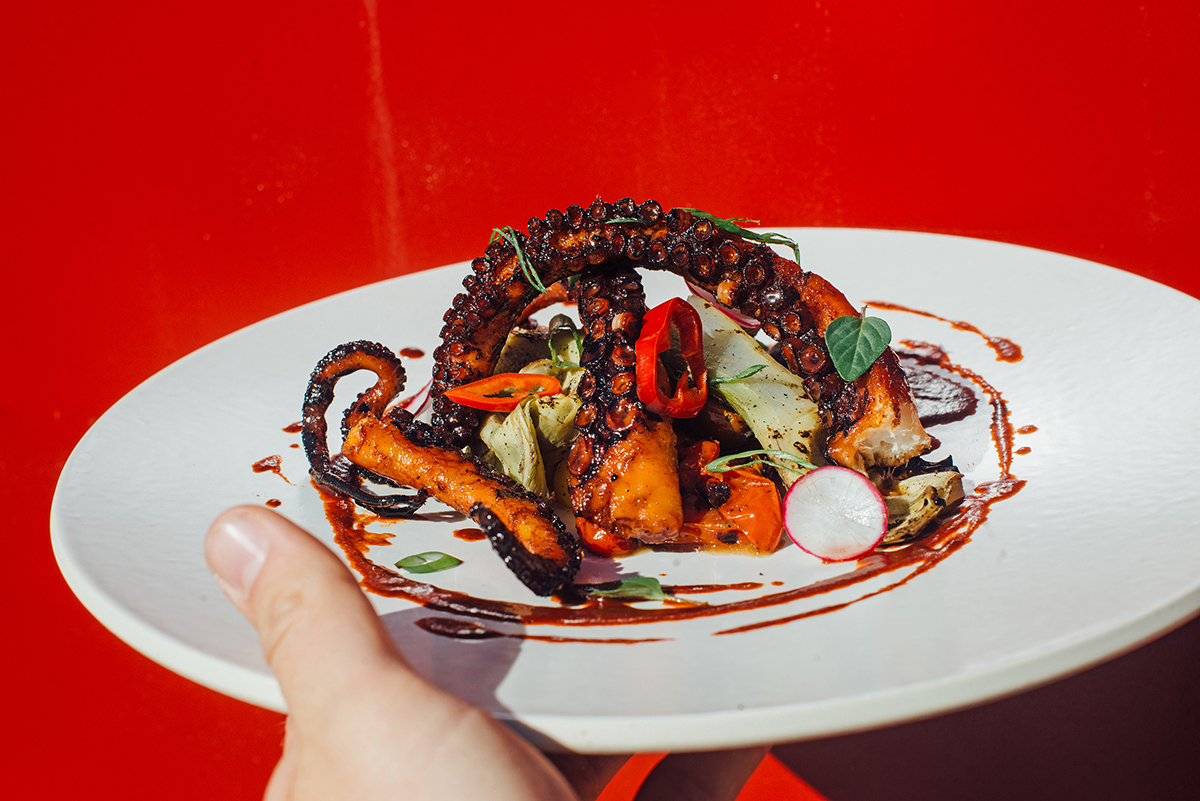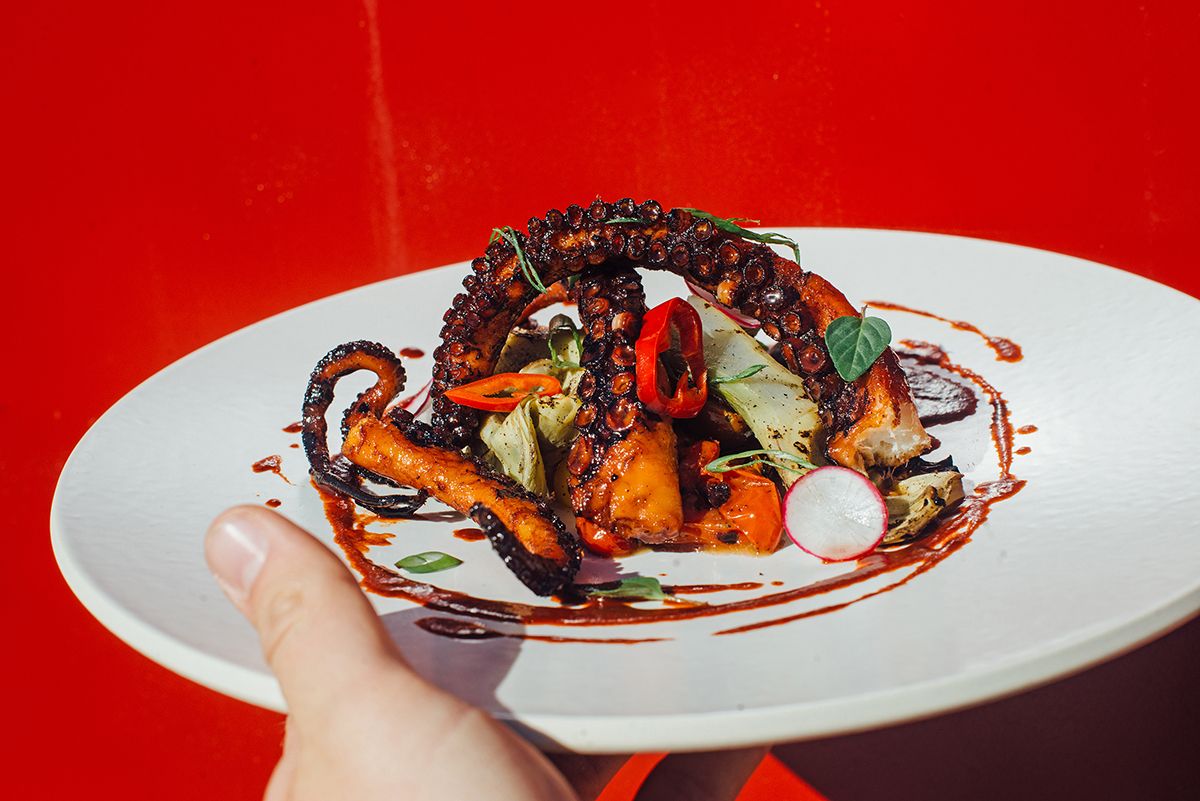 "You look at any barbecue restaurant's menu and you'll see 95% of the same things," Ferguson says. "With BRQ, you see 14 appetizers before you get to the barbecue, which has some surprises, and then you get to four seafood dishes, one of which is a handmade pasta."
Those surprises include octopus smoked with a charred onion soy sauce and a pepper purée infused with locally brewed Tin Roof beer. For lunch, a grilled cheese is filled with smoked brisket and pastrami.
Having both worked for years in New Orleans, Ferguson and Nunez—who will manage BRQ's adventuresome whiskey bar—welcome the challenge of elevating local cuisine with new experiences.
"Competition is good," Ferguson says. "The better we are, the better other restaurants will be."
Operating without a safety net keeps Ferguson, a military veteran who completed two tours in Iraq, engaged the most. He plans to experiment with new proteins and vegetables often, and the only freezer on site will be a small one to store BRQ's homemade ice cream. Everything else will be fresh and, according to Ferguson, progressively unique.
"When we open, it'll be 60% comfortable fare and 40% 'let's have some fun,'" Ferguson says. "My goal is to ramp up to having food that is 30% safe and 70% funky."
---
Raw deal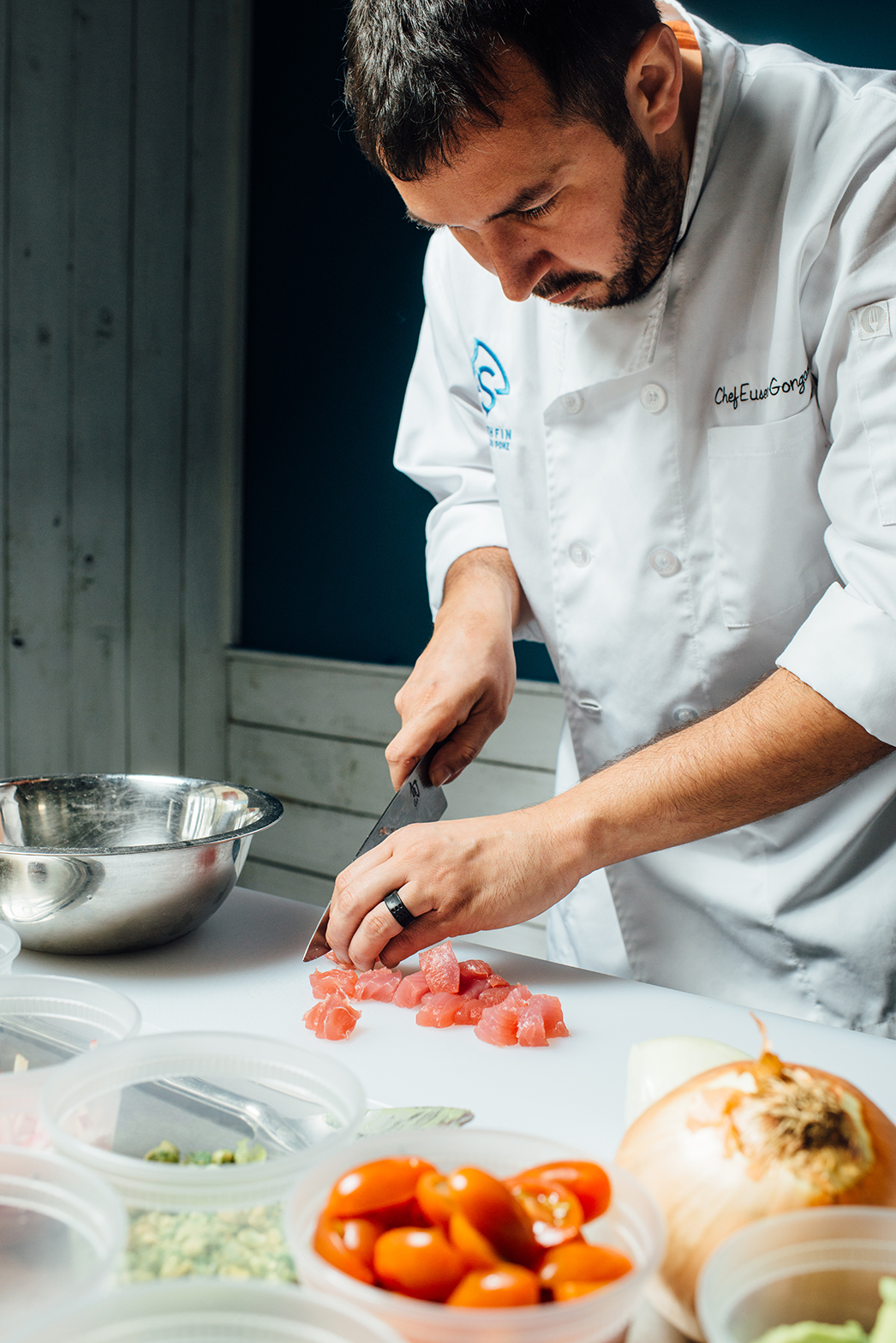 Age: 34
First restaurant job: Display chef, LSU on-campus dining
Best meal ever: "Cosme in New York City. It was unbelievable. You could feel that each dish was carefully created and thoughtfully done. The highlight was a husk meringue, which is probably the best thing I have eaten to date."
Much like the poboy or gumbo, there's an authentically indigenous narrative mixed into poké—a bowl of raw, seasoned fish with trimmings. A patchwork of Hawaiian fisherman, California surfers and thrifty West Coast beachcombers first galvanized the communal concept of tossing any local ingredients they had on hand into a bowl for a quick and healthy meal.
Though Eusebio Gongora first grabbed a small container of poké on the go in Hawaii years ago, and began experimenting with ceviche-style marinated tuna at home soon after, it wasn't until a more recent visit to Chicago that he encountered the unique dish again and it clicked as an exciting concept that could make waves in Louisiana.
Now as general manager and lead chef of the upcoming Southfin Southern Poké, Gongora and his City Pork ownership group will blend Gulf catches and West Coast influences to offer Baton Rouge new fresh fish creations—available to be made uniquely "Subway" style or in signature creations made directly in front of the customer like the Luau Bowl and Wasabi Gras.
A soft opening is set for mid-March.
"This is 100% new for the state and the Gulf Coast region," says the New Orleans-born chef whose Mexican father and French-Italian mother strongly influenced his cooking interests. "If you Google search poké shops, you're looking at California, Chicago, New York and maybe Florida. But here in Baton Rouge I think they want it—something different that is fresh, convenient and good."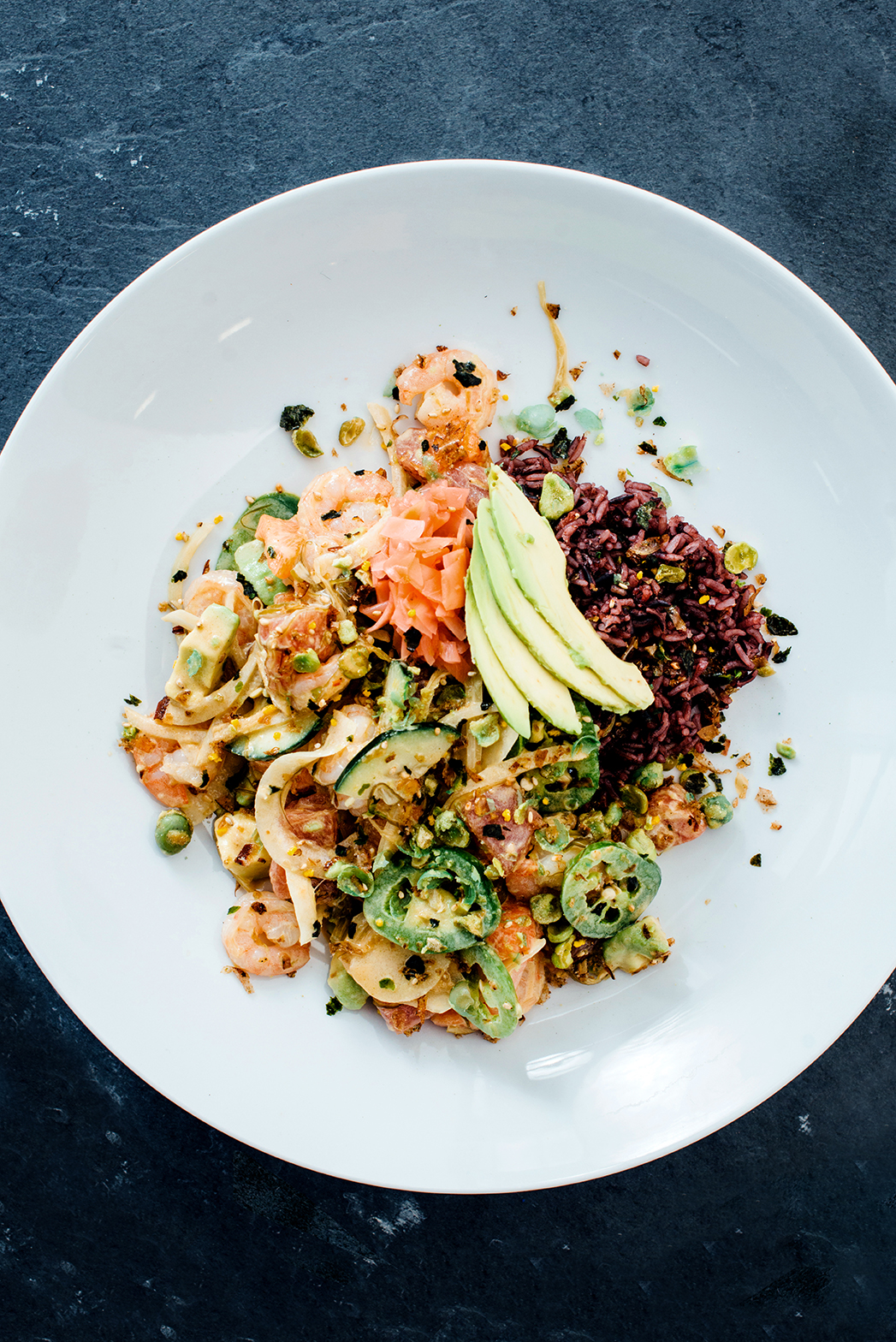 Gongora graduated from LSU with a degree in biology, but his restaurant jobs and Saturdays spent tailgate grilling for hundreds of fans throughout school better fed his passion. "Cooking was the one job that appealed to me most because I had the realization, 'You know what, there are no rules,'" he says.
An analytical problem-solver by nature, Gongora has converted his keen sense of detail and science-based education into a whimsical inventiveness in the kitchen. He pushed for unique creations and specials while working at Fleming's Steakhouse for years. There, among other things, he added local sensations like bacon waffle ice cream to the menu.
"For the longest time Baton Rouge was a corporate capital for food, and I worked in that background," Gongora says. "Now most people want to know the story behind what is being created other than 'This is nice a dish from a big company.' They want to engage with their food on a deeper level. And that's why they are ready for Southfin."
Though he's a native of the more high-powered-foodie mecca 70 miles to our east, Gongora says it was important for him to launch this concept in the Capital City.
"This is home now," Gongora says. "And I want Baton Rouge to have this because it has given so much to me."
---
Age of e

nlightenment
Age: 31
First restaurant job: Dishwasher, Billy Farrell's in Lacombe. "I was just 14 and learned what I needed to do to start cooking. Everyone had to wash the dishes first!"
Best meal ever: "Peter Luger Steak House in Brooklyn, New York. This is an old-school, iconic steakhouse, and so incredibly good."
---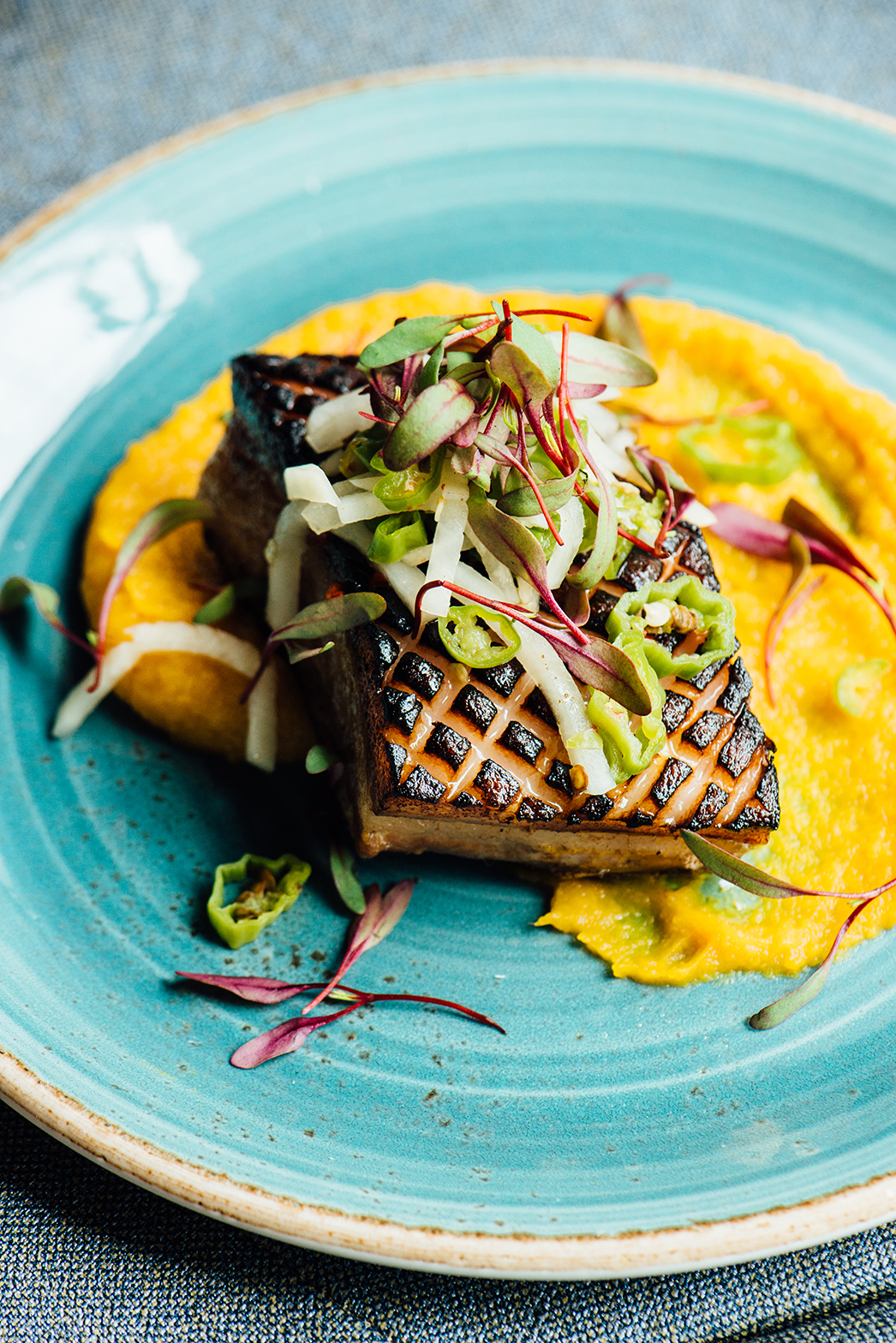 The role of executive chef is not one that Kelley McCann of Kalurah Street Grill takes lightly. The Baton Rouge native speaks of his duties to his staff, his guests and his city the way a veteran civic leader might describe to his constituents the responsibilities of his office—one that is viewable, in McCann's case, through the large picture windows casting light into his kitchen and facing the dining room of the renovated and refined restaurant at the former site of Chelsea's Café.
It is this sense of transparency, of ownership of his craft and pride in the place he calls home that McCann says will carve the way for more experimental chefs to re-fire all those deeply rooted perceptions and palates of Baton Rouge cuisine.
"When you have accountability by the person responsible for the food, it gets chefs trying harder," McCann says. "And when diners have a chef to look at, a chef with a face and a name, then you are someone they can learn to trust, and that's when we can get into some food that is really interesting. It just takes time and trust."
As part of the first Galatoire's kitchen crew when that venerable New Orleans landmark branched out to Baton Rouge after Katrina, McCann gained a reverence for time-tested traditions. By partnering with co-owners Brad Watts and Chad Hughes, McCann freed himself up to put something truly fresh on the plate.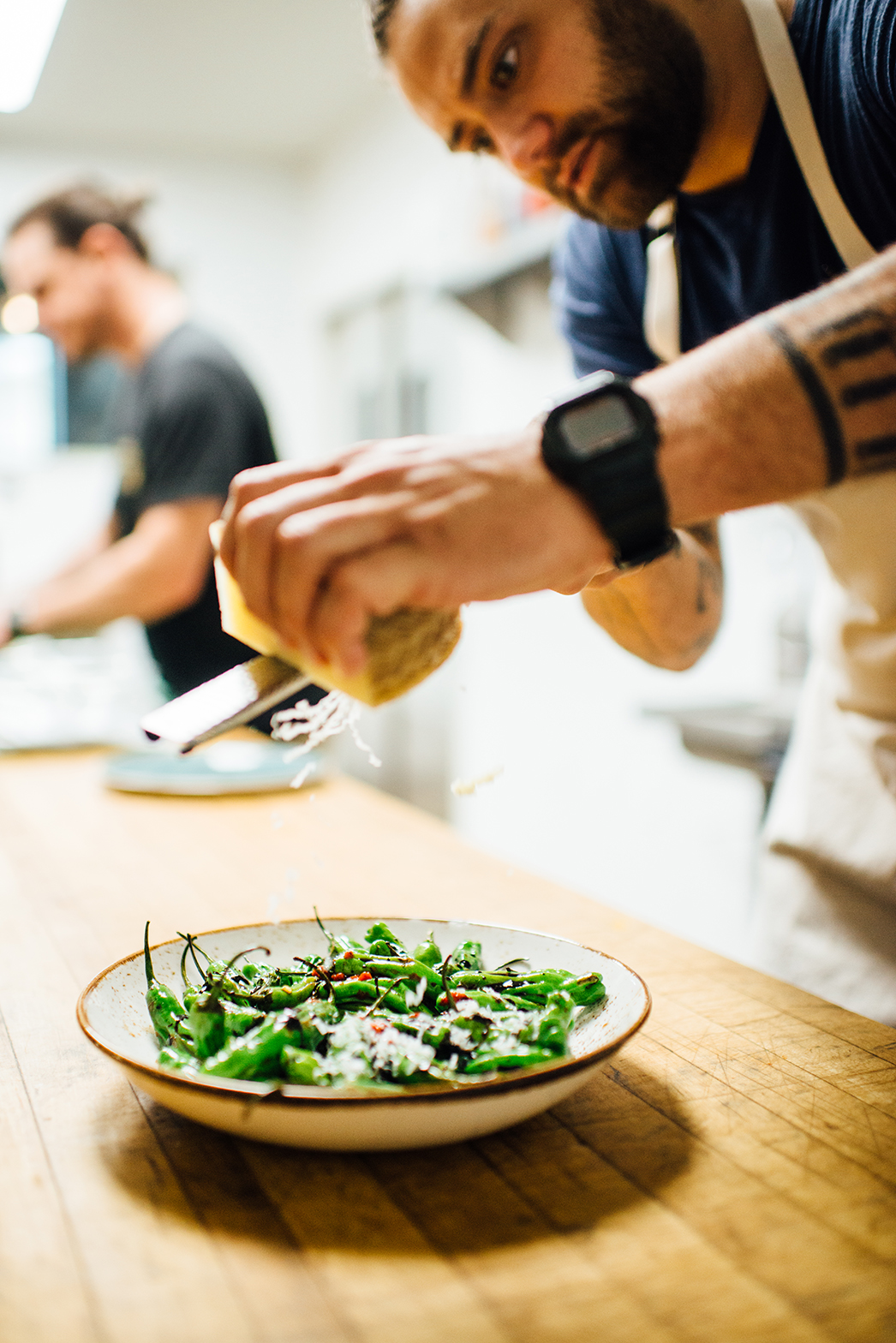 "This is a transitional menu with things people recognize, because doing something completely radical will get you backlash, but at the same time, you will always get something refreshing and unexpected at Kalurah Street," McCann says. "Whether it is an element of the preparation or how it is plated, there will be something new about your dish."
McCann views Kalurah Street Grill as a flagship for future restaurant concepts from the co-owners. Praising fellow chefs and former Galatoire's colleagues like Nathan Gresham of Beausoleil and Chris Motto of Mansurs, the energetic chef is hopeful for the city's culinary future—especially if this crop of new restaurants resonates with locals.
"Baton Rouge's food scene can evolve but it can also grow bigger, because people are ready for that," McCann says. "We don't really have an exorbitant amount of restaurants in this town right now, but we do have a huge amount of culinary talent."
---
Warm and worldly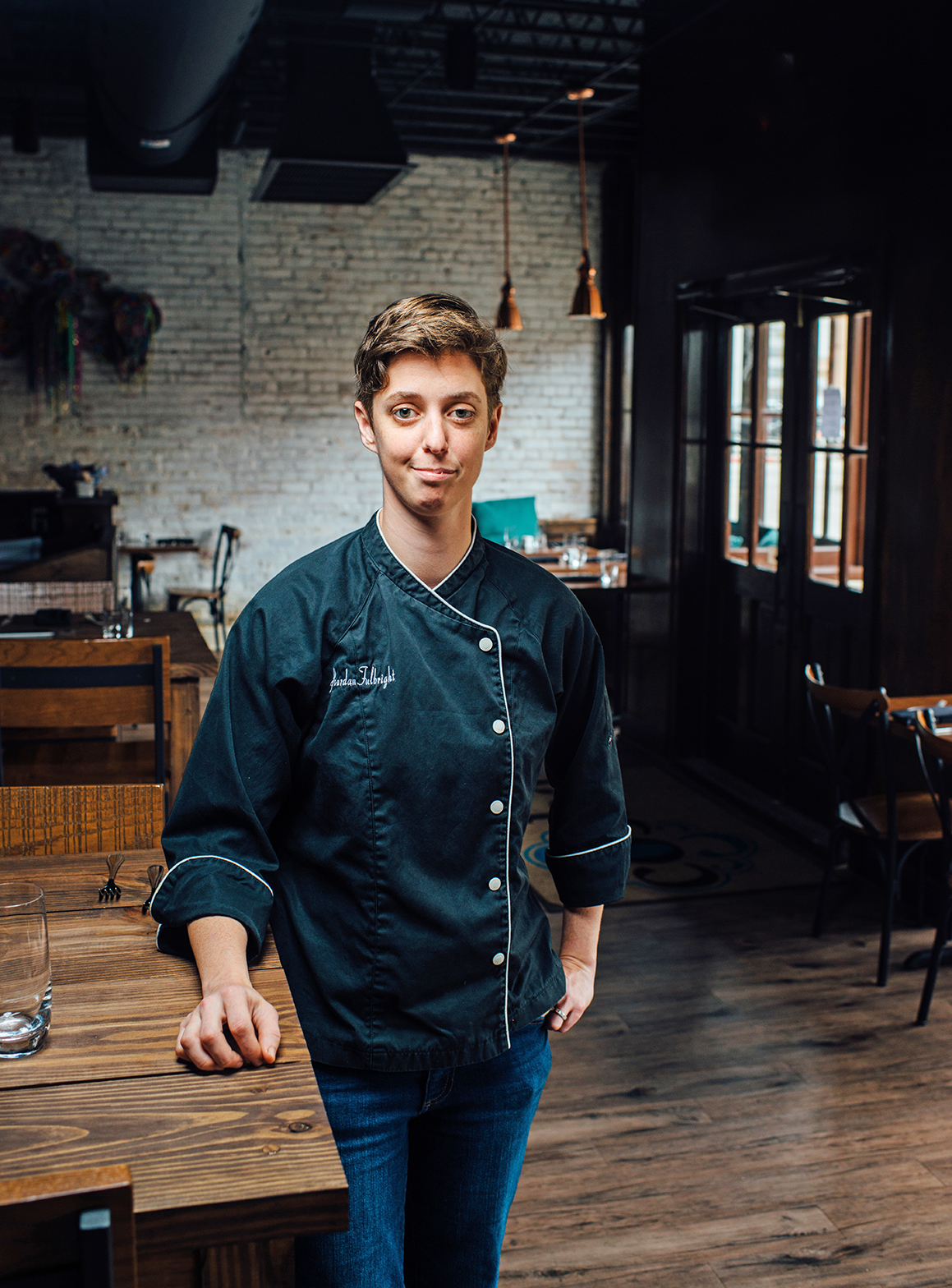 JOURDAN FULBRIGHT
Cocha
Executive chef
Age: 30
First restaurant job: Cook, Wendy's. "I worked in fast food all through my teens, but it wasn't until later that I realized I wanted to be a chef."
Best meal ever: "Niche in San Juan, Puerto Rico, during my honeymoon. It was a lobster vol au vent to die for, snails, scallops, duck confit with foie gras and chocolate soufflé."
Author C.S. Lewis once mused that, depending on the situation, the one who turns back soonest could be the most progressive. This idea of a thoughtful return to generations-old ideals is on full display at Cocha, a new harvest-inspired restaurant in downtown Baton Rouge. Cocha serves an internationally inspired and vegetarian-leaning menu in a welcoming European-style tavern that sits within walking distance of Spanish Town.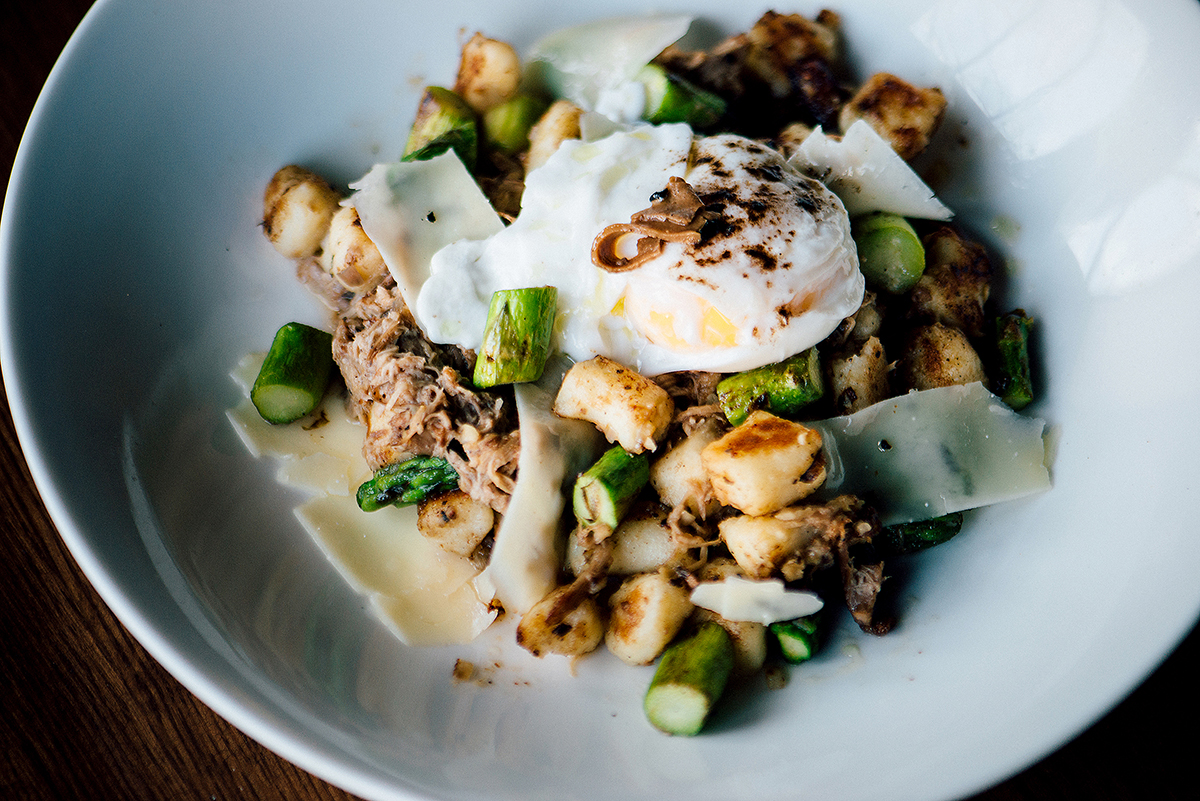 Leading the kitchen is first-time head chef Jourdan Fulbright, who moved to Baton Rouge three days after Hurricane Gustav struck in the fall of 2008 and has since made key contributions in the kitchens at Camelot Club, The Overpass Merchant, Table and, perhaps most influential to her current creations, Zorba's Greek Bistro.
Having grown up in a constantly moving military family, Fulbright doesn't consider herself creative as much as methodical. Her process for crafting a menu includes meticulous stacks of charts that organize what is in season, what can be locally sourced, and the various textures and flavor profiles of all of it. "It's kind of nerdy," she says.
Cocha owners Saskia Spanhoff and Enrique Pinerua keep encouraging Fulbright to push things creatively, a charge that only motivates the young chef more. Fulbright feels compelled to offer dishes that will excite a younger generation of foodies who have grown up watching Top Chef and Chef's Table, dreaming along with Anthony Bourdain's journeys or following any number of drool-worthy Instagram food feeds from across the globe.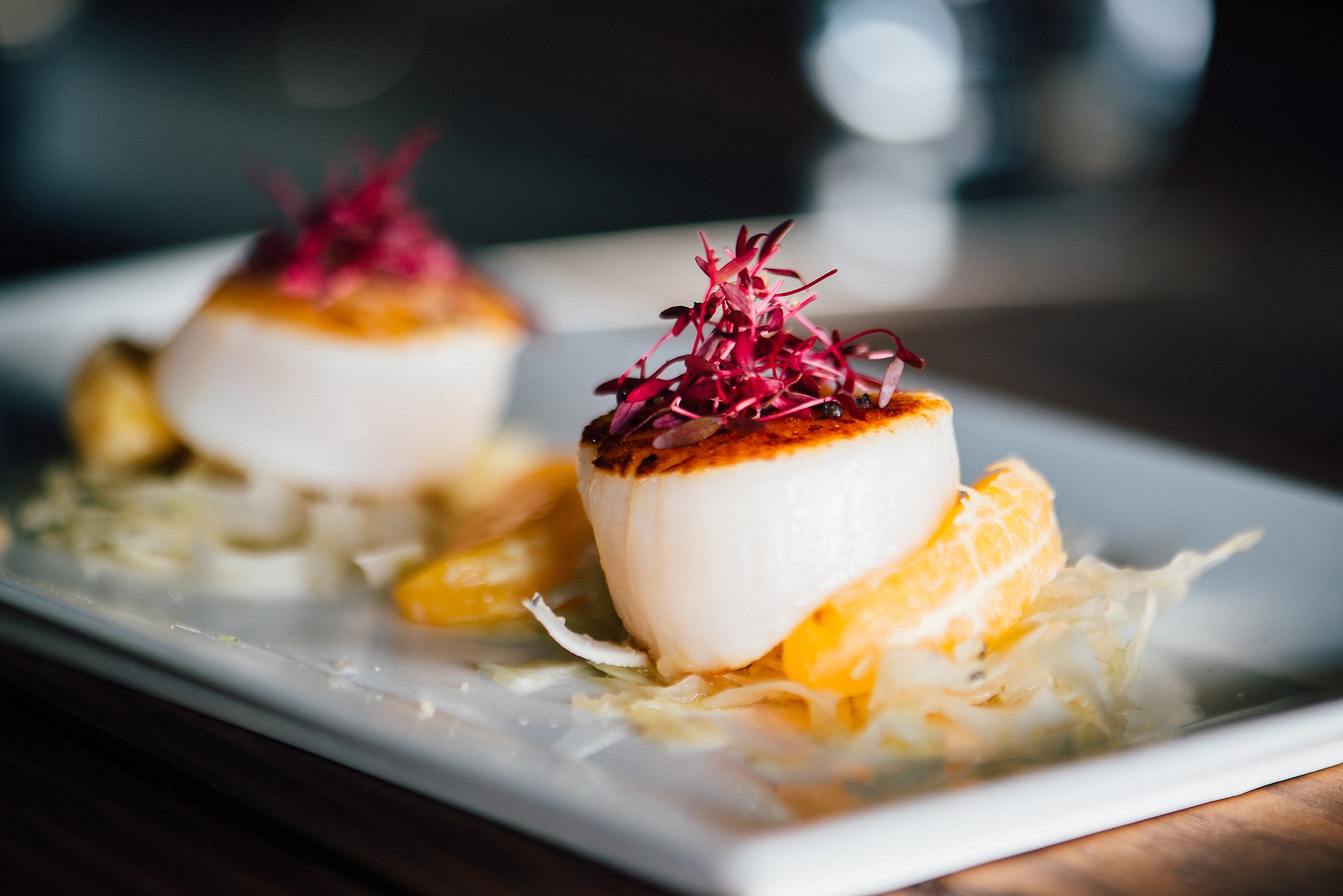 "It's the younger people now who are exposed to so much more who are initiating this change in Baton Rouge, and that gives me hope," Fulbright says. "So I want to serve them and make it global, but with local ingredients." Her creations at Cocha include cioppino, a San Francisco-inspired fisherman's stew made in smoked tomato broth and chili oil. The collard green dolmas combine a Southern soul food staple with her Mediterranean training by taking eggplant caponata and stuffing it into fresh collards "grape-leaf style."
Though she admits she was on the verge of moving at times, Fulbright has grown to love Baton Rouge, particularly for its potential to embrace a worldly cuisine and what that signals for the city at large. The food, she says, is always a reflection of a culture.
"The fact that our menu has been embraced, the fact that even when I was at Merchant the pork buns were the most popular item, I can honestly say that seeing people here in Baton Rouge try the unfamiliar has given me hope," Fulbright says. "Our goal with Cocha is to offer new dishes that are healthier for people using ingredients that are better for the community."