From the February issue: A Willow Grove home designed to suit its surroundings
The Settlement at Willow Grove is an area of Baton Rouge brimming with excitement. Miscellaneous restaurants and shops line Village Plaza Court, making this small corner of town feel more like a city of its own. When Elizeh and Josh Gomez first spotted this neighborhood, they couldn't help but gravitate toward the hustle and bustle.
"We used to live in Chicago, so this was the closest thing there was here to that lifestyle—a place where you could park your car, work out, walk to a restaurant. It felt more like city living," Elizeh says. "We loved the proximity to everything."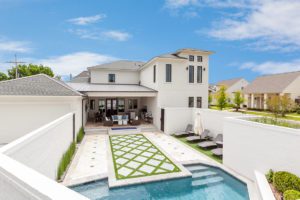 The Gomezes' next objective was to turn an angular-shaped lot into the site of their dream home. Brandon Craft, owner of Brandon Craft Developments, teamed up with Michael Hogstrom of Onsite Design and Jeb Barber of Makaira Landscape, to make the family's dreams a reality.
Once the team got together, working through the challenges became a breeze. Large, towering entryway? Done. Lounge spaces for young daughters? No problem. And as the girls grow, the house will be able to grow with them. What is now the girls' "slime factory" may one day be a different room to accompany a more age-appropriate hobby.
"It's all part of making the house be able to grow with us," Josh says. "We've learned what we like and don't like, and this house is just perfect for us."
To learn more about this home, read our article from the February issue of inRegister, on newsstands now.