Farmhouse fresh: The Gilded Sparrow goes back to basics in a style with staying power
---
Throughout the year, one will find Julie Guidry meticulously picking through the wares at flea markets around the country, sometimes even digging through barns, and hauling home one-of-a-kind vintage pieces to her store The Gilded Sparrow. When she unloads her loot in Denham Springs, she shuts down the store for days while restyling the entire space into different vignettes: a better way to display her found treasures.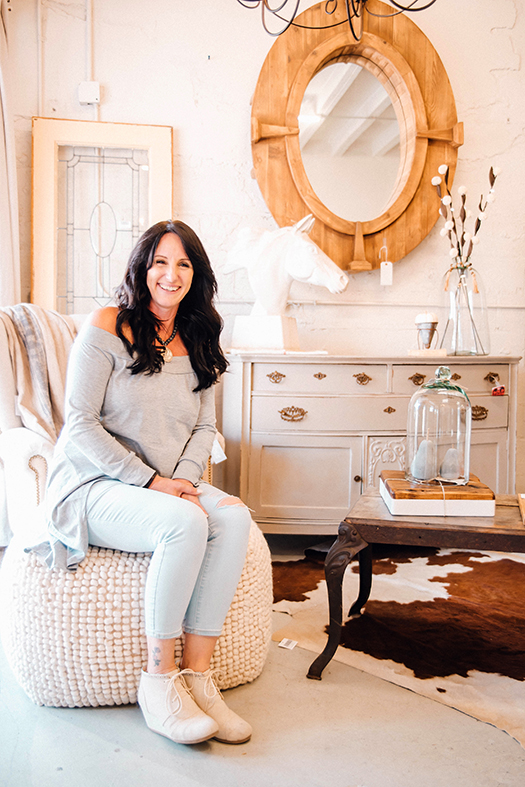 "We design areas to give customers an idea of how to use the pieces in their homes," says Guidry. "And restyling allows us to showcase pieces that we've had in our store in completely new ways."
Julie Guidry launched The Gilded Sparrow in January, but she is no stranger the antiques district of this vintage-loving town. She owned The Rusty Rooster for more than seven years, a venue that offered multiple booths in addition to her own items. With a desire to be completely on her own, Guidry started this store with a focus on farmhouse décor mixed with modern elements. Most items are handpicked by Guidry with a simple, clean, livable aesthetic
in mind.
"These industrial and architectural pieces are unique and bring character into any home," says Guidry of the items she seeks. "And rustic and primitive pieces go well with pieces that are little more elegant."
Guidry's farmhouse-meets-elegant style is such a hot home-interior trend now, that she's taking it beyond her bricks-and-mortar façade. Guidry has teamed up with national designer Kim Leggett of City Farmhouse in Franklin, Tennessee. (see related story, pg. 10) to host and produce a farmhouse pop-up fair locally. It will bring in nationally selected vendors offering farmhouse vintage pieces, antique furnishings and home décor. The fair will be held Feb. 22-24 at Lamar-Dixon Expo Center.
"I am really excited about the show, because it will be the first of its kind in Louisiana," says Guidry. "I'm also excited about the store. I'm getting to do what I love to do, and I plan on getting bigger and better."
For more information on the City Farmhouse Pop-Up Fair, go to thegildedsparrow.net.
---
For more photos from inside Guidry's store, see our gallery below: