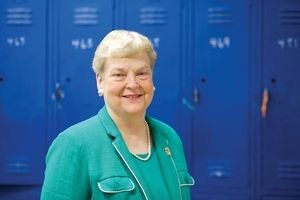 Phyllis Crawford knows dedication. The principal of Sherwood Middle Academic Magnet just entered her 51st year in the education system, and she still has a look of determination when discussing the future of her school and beyond. She supports her teachers. She loves her students. She has a detailed plan for the future that involves getting the community involved with the leaders of tomorrow–the mere babes donning backpacks now.
"I think that if we could do a better job at coming together–the business community, the schools, the churches–then every school could be exemplary," says Crawford. "Parents have to help us. Society has to help us. We are all responsible."
Crawford recognizes what it means to be exemplary. She received the 2013-2014 Principal of the Year award by the Magnet Schools of America. In addition, Sherwood Middle is an A-rated school, a National Magnet School of Excellence and a Blue Ribbon School of Excellence. It boasts 34 enrichment clubs, including chess and drum corps. In a city with a perennially struggling public education system, Sherwood Middle stands out. Crawford credits the teachers and the hiring process that gets them there.
"I hire no one alone. The administration and appropriate teachers must come to a consensus on the best candidate for the position before we offer anyone a position. We work as a team," says Crawford. "We have some of the most excellent teachers around. They are so dedicated and caring. They establish relationships with the children, and they are willing to do things that they don't get compensated for. When you have great teachers, everything else falls into place."
Although Sherwood Middle is thriving, Crawford is committed to helping it evolve and flourish. She wants her students to look beyond their home life and their school life to see the world and its possibilities. She wants them to have opportunities for growth. She also wants the students to give back to the community that supports them; they have collected socks for the homeless, given food to the food bank, donated money to Muscular Distrophy.
"We are an altruistic school," says Crawford. "If you don't teach children how to give and help others, what would happen to that part of our society?"
Crawford started her career at Red Oaks Elementary. She spent 33 years at Audubon Elementary before "walking across the grass" to join Sherwood Middle. She was born at Our Lady of the Lake hospital, she grew up in Baton Rouge, and she is dedicated to the generations that have walked down her halls.
"I think that's why I'm still working," says Crawford. "This is my city, my East Baton Rouge. It's my passion."