Dancing 'The Gumbo': A look into the world of competitive ballroom dancing in Baton Rouge
This weekend, competitors from over 18 states across the country and Canada will converge right here in Baton Rouge for the 19th annual USA Dance Gumbo DanceSport Championships, commonly known as "The Gumbo." Dancers of various ages, skill levels and styles will waltz, foxtrot and quickstep their way through the competition in hopes of qualifying for the National Championships next April. Included in the impressive pool of national and international talent are Baton Rouge competitors Richard and Melanie Stewart, who have spent the past several months rigorously preparing for their third Gumbo.
"I will say, out of all the competitions we do, the Gumbo is the best," says Richard. "The Crowne Plaza has a beautiful ballroom, a huge floor. We go everywhere–Chicago, Baltimore–but Baton Rouge really does have the best ballroom."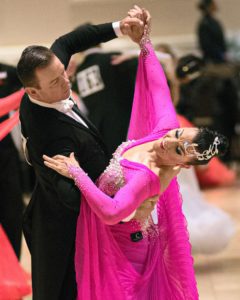 The couple has spent the past several months rigorously practicing their routines anywhere from two to four hours a day, four to six days a week. "We always practice, but when you sign up for a competition, then the pressure's on," says Richard. "Now you have a goal."
Brought together by a mutual love of ballroom dancing, the highly decorated couple has been competing together since 2010, attending as many as three to five national competitions a year. "If you're a single person, dancing is such a good way to meet other people who have common interests," says Melanie. "It's a wonderful way to spend time together and to get to know someone."
In fact, both Richard and Melanie agree that a huge aspect to the sport is the community it fosters. "Most people in competitive dance are health-oriented and very focused," says Melanie. "You root on your fellow competitors. There's not a lot of animosity in the sport, just a lot of support and lot of fun. You meet like-minded people and it's just a ton of fun."
Richard and Melanie are both members of Saturday Night Ballroom here in Baton Rouge. Richard has served on the board for over 13 years, and only recently resigned to put more focus on competing. "I have actually DJed for The Gumbo for probably 15 years, and usually help put the floor down and everything," he says. "But we're just really trying to focus on our dance right now."
At the 2018 Gumbo Championship, Richard and Melanie will compete as amateurs in the International Standard event, which includes five dances: waltz, tango,Viennese waltz, foxtrot and quickstep. The dances are done consecutively in closed hold, meaning that the couples don't break away or take a break in between. "I think there is a misconception about dance that minimizes the level of dedication and difficulty involved," says Melanie. "It's hard; very, very technical. Most folks don't realize that it's really a sport–a hard sport that demands a lot of conditioning and eating right and taking care of yourself. By the time you get to that quickstep, you better have something left in the tank."
In addition to the level of physical dedication required to be successful, Richard and Melanie emphasize the time commitment that the sport demands. "This is my hobby," says Richard. "I quit hunting, quit fishing. This is all we do is dance."
"This is the only thing we do other than work," says Melanie. "But the cool thing is, you get to do it with your person. It's awesome."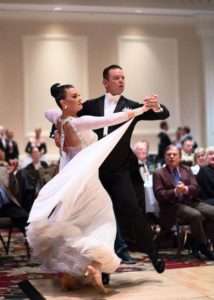 At The Gumbo, Richard says there are age groups ranging from 4- and 5-year-olds to 75 years and up. "This is truly a sport for life," says Melanie. "It follows you through all stages of life. There are so many different ways to express what you can do physically." She explains that research has shown significant benefits to dancing as a form of exercise including improved memory, balance, stamina and social interaction. "I've done a lot of sports, and to me this is one of the most well-rounded in terms of health and happiness," she says.
For the competition this weekend, the couple says that they are hoping to do well, but are less concerned with winning than they have been in the past. "In the end, it's about how well you danced, not necessarily against someone else," says Richard."Because there is always someone better than you. It's more about how you felt you danced. Did you improve from last time?"
Over the past eight years, the couple has been named National Champions in Senior 2 Novice Standard in the 2014 USA Dance National DanceSport Championships in Baltimore and have been finalists in the Heartland Classic, Carolina Fall Classic, Chicago DanceSport Challenge, Southeastern DanceSport Championships and, finally, the Gumbo DanceSport Championships.
Melanie says that the couple's current mantra going into this weekend's competition is, "We've already won!"
The Gumbo DanceSport Championship will be held at the Crowne Plaza this Friday, Saturday, and Sunday, June 29-July 1. For more information or to purchase tickets, visit gumboofballroom.com. To learn more about Baton Rouge's social ballroom dancing club, read this story commemorating Saturday Night Ballroom's 20 year anniversary in 2017.