These two popular Christmas decor trends suit nearly every style
With Thanksgiving arriving this week, we're already preparing to hang our stockings by the chimney with care, set up the Christmas tree, bake our favorite holiday treats, and, of course, decorate our home with small styles of the season. And while plenty of people still rely on tried-and-true touches of red-and-green, silver sparkle and twinkling lights, Fig & Dove owner Colleen Waguespack has noted a couple of particular items selling fast from her stock.
"People love acrylic. Acrylic everything," she says. "I think what's so great about acrylic items is that they look great in traditional environments, and also modern ones. If you have a traditionally decorated home, for example, something like an acrylic decor piece is going to freshen it up."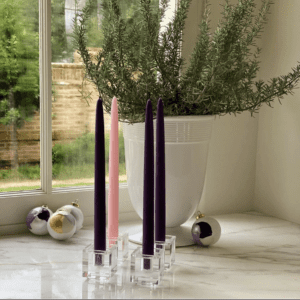 Waguespack names the acrylic nativity sets sold by her brand as on of her best-sellers, as well as her four-piece acrylic stackable candle holders popular for use in Advent wreaths.
"Those candle holders really put us on the map," she says. "They're classic pieces, but at the same time, they don't call too much attention to themselves. Lucite and acrylic work in old people's houses and young people's houses, so you can see why everybody kept asking us to offer more in those materials. They're also something you can use year-round, and not just for Advent wreaths."
Another popular item, says Waguespack, has been her brand's artificial greenery.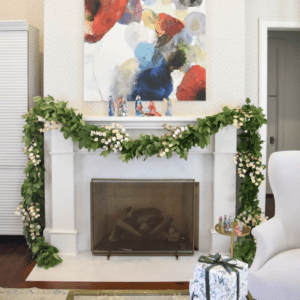 "Five or six years ago, I wouldn't have appreciated artificial greenery," she says. "But it's come such a long way and they look so realistic. Now I'll almost always recommend that people invest in quality artificial trees that come pre-lit, since it's so easy. But our artificial boxwood wreaths are also popular."
Waguespack also doesn't forgo the idea of mixing two worlds together, having flown in a natural plant garland for her door in the past, and often opting for adding real greenery into wreaths, trees or garlands made primarily of artificial material. Plus, in used for many years, a high-quality product of artificial greenery can still end up as a more sustainable option than more natural materials.
"Yes, a good quality faux tree or garland will be expensive," says Waguespack. "But if you look at the cost in the long-run, and add in the gas and other things it takes to transport real greenery, the right artificial greenery will last for a long time. Just because something is artificial doesn't mean it isn't sustainable."
For more on holiday décor, visit Fig & Dove's website, and follow us on Instagram @inregister.