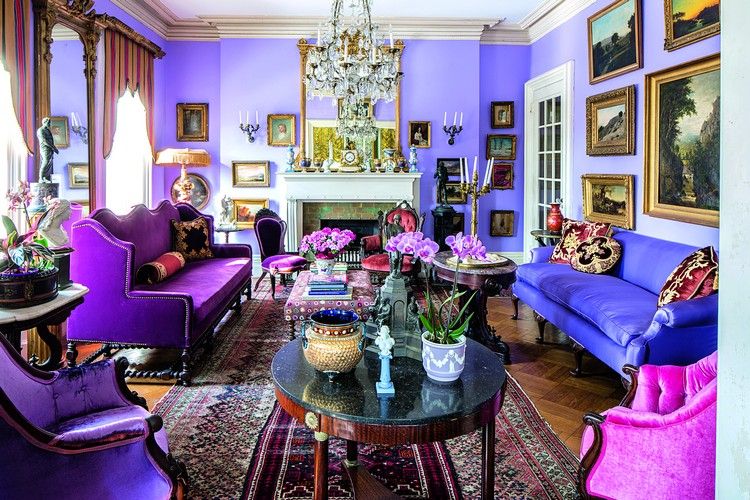 Photo © Marco Ricca
Hunt Slonem is one colorful character. The artist and owner of two historic homes in south Louisiana has earned widespread praise for his whimsical paintings of butterflies and bunnies that seem to leap from the canvas.
Slonem's antebellum houses are defiantly colorful, too. There's Lakeside Plantation in Batchelor, its pink exterior so distinct from its surroundings that The New York Times once likened it to "an aged diva in a pink organdy dress at McDonald's." The façade of Albania Plantation near Jeanerette is painted a more dignified white, but as at Lakeside, Slonem has transformed the interiors here into a fantasy world as vibrant as his artworks.
"Over the past few decades, the artist has fashioned an alternate reality, a surreal cocktail of tropical jungle meets baroque grandeur, in the combined 75,000 square feet in which he lives and works," writes design historian Emily Evans Eerdmans in the introduction to Slonem's new coffee table book, When Art Meets Design. The 300-page tome may be physically heavy, but its content is as light as air—a fun and frothy peek into Slonem's polychromatic existence.
"I had a burst of new vitality with this house," Slonem says of Albania, in which he painted a dining room cerulean blue and the adjacent parlor mango, layering each with objects of curiosity and framed artwork hung salon-style from top to bottom. Other walls still bear their original hues. "I cannot bear to cover up and freshen up the walls' patina because it took 150 years to look like that," he explains.
In addition to the two Louisiana mansions, Slonem's collection of residences and workspaces includes a massive Manhattan studio and a loft apartment there, as well as a 19th-century estate in the Hudson River Valley. When Art Meets Design offers full-page eyefuls of the treasuries of art and antiques that Slonem has amassed in each of these dwellings.
The world of Slonem, remarks Eerdmans, is "an antidote to the prevailing banal and homogenous world outdoors. It is a place not here or now, but 'somewhere over the rainbow.' "