From the April issue: Louis Mykoff puts his best foot forward to help those in need
Some run for exercise, others do it for sport, but Louis Mykoff doesn't run for himself. Mykoff's marathons benefit charities like the Team Gleason Initiative Foundation. The Gleason Initiative Foundation was founded by former New Orleans Saints player Steve Gleason in order to spark a worldwide conversation about ALS and help find a cure. It was Steve Gleason's battle with the disease that put things into perspective for Mykoff. He needed to challenge himself.
"When a friend suggested I train for a race, I felt I needed to do something for charity," says Mykoff. "Not just for myself."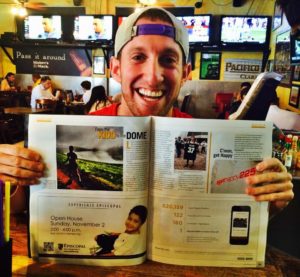 Three years of running from Baton Rouge to New Orleans and $20,000 later, Mykoff was making a huge difference and fulfilling his goal of becoming a part of something bigger than himself. The money raised from his marathons was donated to Team Gleason, and it seemed like every goal that Mykoff had set for himself had been accomplished.
But he's still going. On April 16–Mykoff's 33rd birthday–he ran the Boston Marathon to raise money in support of Silver Lining Mentoring, a local Boston nonprofit organization whose mission is to empower youth in foster care, a cause that is close to Mykoff.
"Making a difference in the lives of kids is huge," says Mykoff. "I was thinking it would actually be selfish for me not to run it."
He finished the Boston Marathon in 3 hours and 46 minutes–an 8:05-per-mile pace. It's clear that Mykoff's focus is not on the finish line. Instead, his sights are set elsewhere. He's putting his best foot forward, one race–and one charity–at a time.
To learn more about Louis Mykoff and how he races for a cure, read this story from the April issue of inRegister, on newsstands now.