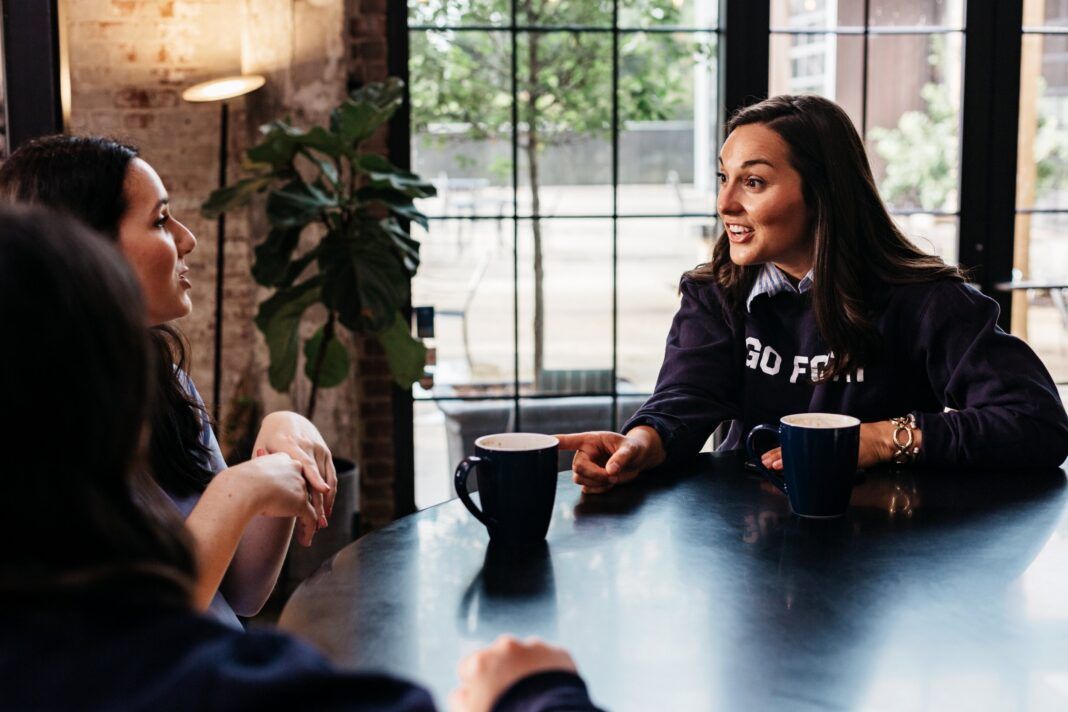 Advice for new graduates from a career counselor
Graduation season is often a time of celebration and new beginnings. However, it also means stepping into life outside of school and, for many, starting a full-time job.
Whether you're the parent of a graduate or looking for a job yourself, there's stress involved in the process. However, you don't have to wander the career journey alone. Career counselors, like Elle Overholt of Forth, are a resource for navigating the constantly changing landscape.
Overholt says a misconception many young people and recent graduates have is feeling the need to apply to as many jobs as possible. It's easy to get caught up in applying to several jobs a day on websites like Indeed and LinkedIn, but your resume may not be a fit for every job. According to Overholt, getting specific about the direction you want to go and applying to jobs within that field without getting distracted by jobs you may not even be interested in is important.
"I like to use the blind date example," she explains. "If you go on 100 blind dates and after every single date they say no thanks, you start to feel like you'll never get married. It's the same sort of thing that happens when you're applying over and over online."
Rather than applying at random, Overholt says networking is central to both getting a job and future success within that field. Think of it as making friends. You're building relationships that allow you both to grow.
"So when you think about networking more through the lens of making friends, it not only creates a more sustainable process but it also allows you to do it in a really natural way," Overholt says. "You don't have to feel like you need to ask all these interesting questions at a networking event and get everyone's business card. It's more just the authentic practice of meeting people and making new friends."
Overholt says an easy way to network after college is spending a few minutes daily connecting with people you already know on LinkedIn. When creating a LinkedIn profile, she suggests considering not just what you've done but where you want to go. Some ways to do this include ensuring your picture is up-to-date and professional, consistently updating your headline, and using the summary space to highlight what you've done and where you want to go. One way to optimize your headline is using keywords and visionary statements to project your desired work. For example, she suggests using a statement like "LSU finance graduate excited about investment banking" so recruiters can see what you've done and want to do in the future.
For graduates who haven't had as much professional experience as they would have liked in college, Overholt says "all experience counts," and there are several different ways to market yourself for the career you want.
"Even if you haven't had an internship, what have you spent your time doing? Were you involved in a club? Were you in a volunteer organization consistently? Did you work part-time as a nanny or even at a restaurant? What did you spend your time doing and how can you translate that information?" Overholt asks. "That's the most important thing. Just showing them how that experience is transferrable."
Another thing Overholt emphasizes is that it's normal to change your mind about what you want to pursue, and many people don't have a lot of experience in what they ultimately end up doing. When looking for jobs, considering what company can best invest in your growth is important.
"To me, that is the goal," she says. "So when you're thinking about what you want to do, don't get wrapped around the idea of 'I really want to go in this direction but I don't have that experience.' If you don't have that experience and you can't get a job, that's OK. Where can you go find experience that they're really going to pour into you and help you develop personally?"
Overall, Overholt says it's important to consider how you can make yourself memorable in the job search. People want to hire coworkers they connect with.
"I always say one of our core values at Forth is that we believe that people hire people, meaning yes, there is software. Yes, there's resume filters. There's all these things that exist," she explains. "But at the end of the day, one person or a group of people select a person for a role or a group of people for roles. So if that is true, we have to remember how people make decisions, and a lot of times people select people that they remember at the end of the day."
---
For more on Overholt and Forth, check out this story from the inRegister archives.