Survivor in style: Cancer survivor Erin Mosely gives back as a 2018 Best Dressed honoree
Glitz and glamour are to reign high in Baton Rouge next weekend at the 51st annual Best Dressed Ball. The true lifeblood of the grand production, however, lies in its mission to help raise funds for the American Cancer Society.
"These days, unfortunately, cancer is just so prevalent," says 2018 Best Dressed honoree Erin Mosely. "Almost everyone knows someone who has been affected by it, and even if not, they see how easily it could happen to them."
As a breast cancer survivor herself, the event holds particular significance for Mosely. "The American Cancer Society has provided resources to me personally and has done so much more for people who don't have all the things I was lucky enough to have," she says. "It's such an important organization."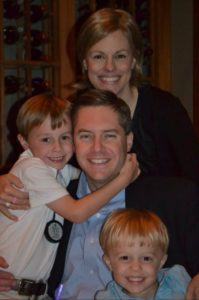 In September of 2010, at the age of 35, a mammogram revealed that Mosely had stage 1 of an aggressive form of breast cancer. "I didn't have a lump or any signs of cancer," she says. "No family history. None of the markers like smoking or drinking applied to me. But something in my gut–a guardian angel, I always say–just kept telling me to get a mammogram."
Mosely, whose two sons were 5 and 2 at the time, says she remembers just praying to get to her 40th birthday. "You hear the 'C' word, and you think death," she says. "It was very overwhelming and very frightening."
After a double mastectomy with immediate reconstruction, six months of chemotherapy, and medicine for a year, Mosely was officially cancer free. Today, she says she makes a serious effort to reach out to anyone who gets a diagnosis. "So many great women reached out to me and really helped me," she says. "It makes such a difference to hear from someone who has walked in your shoes and understands what you're going through. Not a club you want to be in, but it's definitely a special bond."
The experience, though challenging, deepened her relationships with others and deepened her faith, Mosely says. "I try to live just grateful for the fact of today," she says. "I woke up, and I'm healthy."
When the 2018 Best Dressed committee asked her to be an honoree, she says there was no way she could refuse. "This is really outside my comfort zone," she says, laughing. "I'm not really one to flaunt myself on stage, but how can anyone say no to the American Cancer Society, especially when they've done so much for survivors like me?"
Over the past 51 years, the Best Dressed Ball has become known as one of Baton Rouge's most elegant and extravagant parties. [Read about some of the ball's most memorable moments in our 2017 story commemorating its 50th anniversary.] But, more impressively, the event has raised about $4 million for the American Cancer Society and $900,000 last year alone. This money is used to fund innovative research, education on prevention, access to care for everyone, and support for patients.
"This event certainly is incredibly meaningful for me, and I'm glad to be a part of it," says Mosely.
To become a sponsor or purchase a ticket for the 2018 Best Dressed Ball on Saturday, August 11, visit brbestdressedball.org. For more information about the American Cancer Society, visit cancer.org.