10 questions with Dr. Boyce Clark of Lubricity Labs
After graduating in biogeochemistry at LSU and working as a consultant for energy companies–sometimes spending weeks at a time conducting research in the Arctic Circle–Dr. Boyce Clark now finds himself in a different line of work. When his daughter Alden was running out of solutions for taming her unruly hair, Clark took matters into his own hands–literally. He spent plenty of nights researching the science of hair, and ultimately concocted what he believed to be the perfect frizz-fighting potion. What was meant to be a secret solution for Alden turned into a business by mere happenstance. For this Baton Rouge resident, Lubricity Labs' signature products used to be something he stored in Home Depot buckets in his kitchen. Now, they're the answers to plenty of women's prayers. We sat down with Clark to learn more about Lubricity Labs and how he's changing the game in hair care–one beaker at a time.
---
1.What is a typical day like for you and your team? 
There is no typical day at Lubricity Labs, which is one of the things we love so much about this business. Some things, like shipping out orders or making/bottling product are scheduled, but others such as responding to press inquiries, setting up salon demos, playing with new compounds and formulating new products in the lab are usually unscheduled, which is fine with us–it keeps us on our toes and makes every day a new adventure!
2. Why did you start Lubricity Labs? How has it grown or changed since then?
When I began this journey, I was just trying to find a way to help my daughter Alden tame her frizzy, unruly hair. I had no intention of turning that pursuit into a business, but after friends and family noticed the change in Alden's hair and wanted those results for themselves, I realized that my creation filled a gap in the marketplace, and I decided to take a gamble and founded Lubricity Labs as an entrepreneurial pursuit. I've gone from mixing products in my kitchen to a full-scale production facility at the LSU Innovation Park, with four full-time employees and thousands of customers who swear by Lubricity Labs.
3. What is your professional background? How did you get into hair care? 
I have a Ph.D. from LSU in biogeochemistry and worked as a consultant to the energy industry for over a decade. I was simply applying my scientific background to try to find a solution for my daughter's unmanageable hair. I've gone from working in nuclear science facilities and petrochemical refineries to making shampoo–it's been a wild ride, one I could have never predicted.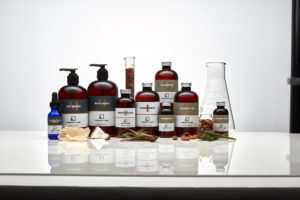 4. What sets Lubricity Labs apart from other hair care lines? 
Because I was creating this for my daughter, I did not skimp on ingredients–everything had to be safe but still highly effective. Lubricity Labs products use only 100% naturally derived ingredients, are certified cruelty-free by Leaping Bunny, require no damaging heat to activate, contain no harmful toxins, and let customers keep their hair's natural curl and body–all they lose is the frizz!
5. What is one thing you think customers should know about Lubricity Labs that they may not be aware of? 
I think people tend to put our products in the same category as salon straightening treatments–our products smooth, they don't straighten. What this means is that customers have more flexibility with their styles when they use our products–they can wear their hair curly, wavy or straight, depending on how they style, and their hair will maintain that style without frizzing or fuzzing. With straightening treatments, hair is chemically altered to become board-straight, with curl and body removed.
6. Can you share a hint about any upcoming new projects or products?
We are very excited to be launching our first range of styling products as well as a smoothing masque very soon. Look for news about them later this summer!
7. Is there anywhere around town that customers might find your products? What is the first thing that they will notice after using them? 
Bumble Lane carries our full line of products, as do several local salons. Please visit our website for a full listing: www.lubricitylabs.com. The first thing new customers usually notice is how soft, shiny and healthy their hair is, and they rave about it!
8. What are some of your best-selling products?
Lubricity Labs Q-Shampoo and Q-Condition are standard favorites. In fact, we had so many customers request large-volume sizes that we added 32-ounce bottles a few months ago–those are a huge hit!
9. How do you keep your offerings up to date? 
About eight months ago, we did a total revamp of our website and our packaging, adding metallic touches to the labels and making sure to highlight before and after photos on our site to really showcase results. We also value client feedback on how we can improve upon our products and our marketing–that's why we're launching styling products and a smoothing masque. We love being able to respond to client needs and preferences, and we're very excited about these new additions to the Lubricity family.
10. What has been the most important thing you've learned since starting Lubricity Labs?
When I first started out, I don't think I appreciated the relationship that people, women in particular, have with their hair. It's been very rewarding to hear about how our products have helped people save time in their daily routines and how much having healthy, manageable hair has positively impacted their lives. It's very humbling to be a part of their daily routine and to help give them the confidence boost that comes from having only good hair days.
To learn more about Lubricity Labs, visit www.lubIMG_1500.jpegricitylabs.com and read this story from inRegister's archives.