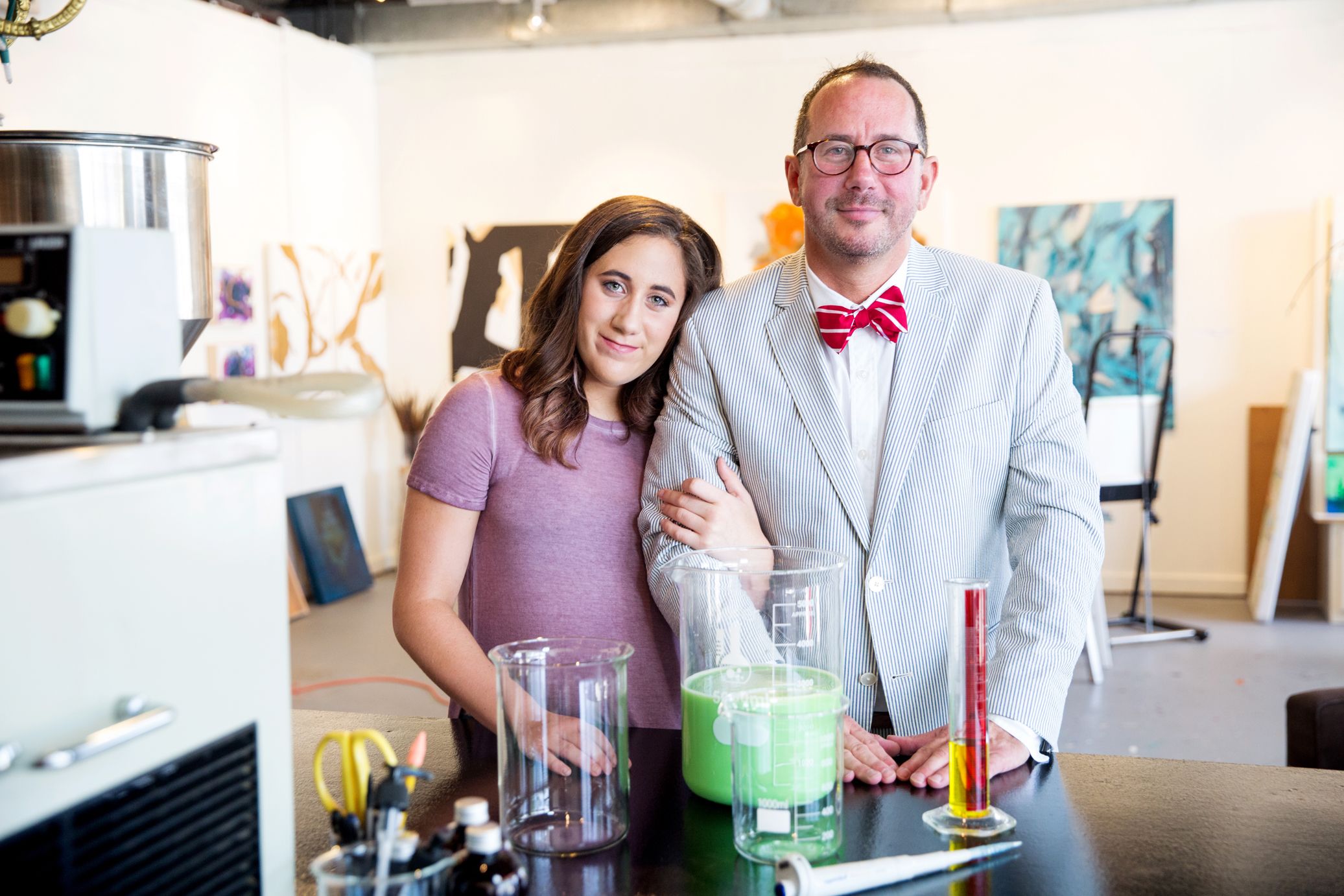 Frizz fighter: Boyce Clark becomes a scientific superhero for tangled tresses
Every morning, Boyce Clark attempted to comb through the tangles. His 12-year-old daughter, Alden, winced from the pain. She was miserable. He was miserable. The single father tried a flat brush, a round brush and, he says, tons of different hair-care products.
Nothing worked.
"It often ended with me just cutting the knots out," says Clark. "I tried everything on the market, and all the ingredients were the same, and none of them worked."
That's when Clark took matters into his own hands. Using his scientific background as a biogeochemist, he invented his own hair-care system to tame his daughter's frizzy, unmanageable and knotty hair.
"When I realized there wasn't anything on the market, I began writing to pharmaceutical companies to come up with my own product," he says.
With his understanding of the dynamics of chemicals, Clark began poring over science books to learn more about the physiology of hair. He began mixing different ingredients in an orange Home Depot bucket in his kitchen, trying to find a solution that would work for his daughter's unruly hair.
"If I could figure out the physiology of hair, I knew I could come up with a solution," says Clark.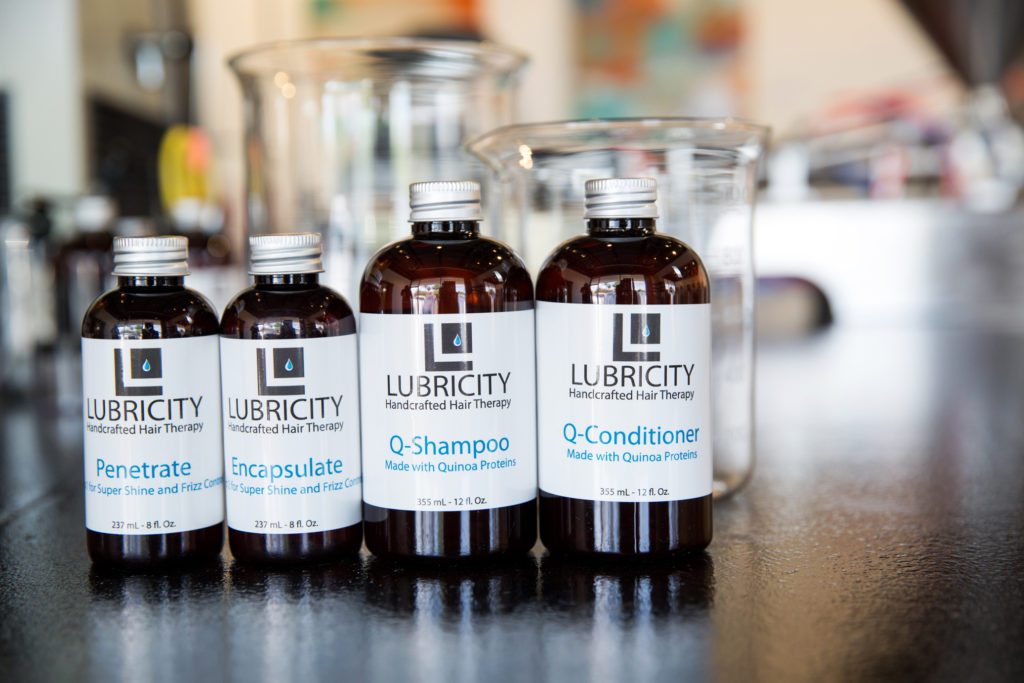 There in the kitchen, Lubricity Labs was born. Its two-step process aims to tame frizz from humidity, create shine and protect all hair types from pollutants. Clark packed the products with vegan and non-GMO ingredients including quinoa, silk proteins, coconut and palm oils, and other proprietary ingredients.
"The plan was to make enough to fix her hair, but when she went to school and everyone noticed how good her hair looked, I began getting calls," Clark says. "And word started getting around."
Along with the two-step system, which includes products named Penetrate and Encapsulate that are used once or twice per year, Lubricity Labs now also offers Q-Shampoo and Q-Conditioner, as well as a line of men's care products. The products are available both online and locally at Bumble Lane, Gaudet Bros., Mercer Supply Co., Lux Salon and Evolve.
His business is about two years old, and he says sales are already 200% more this quarter than last quarter.
"It's great how much people love these products," he says. "It was invented to help manage hair in the humidity, and it is making people's hair stronger. Many clients say the result is immediate."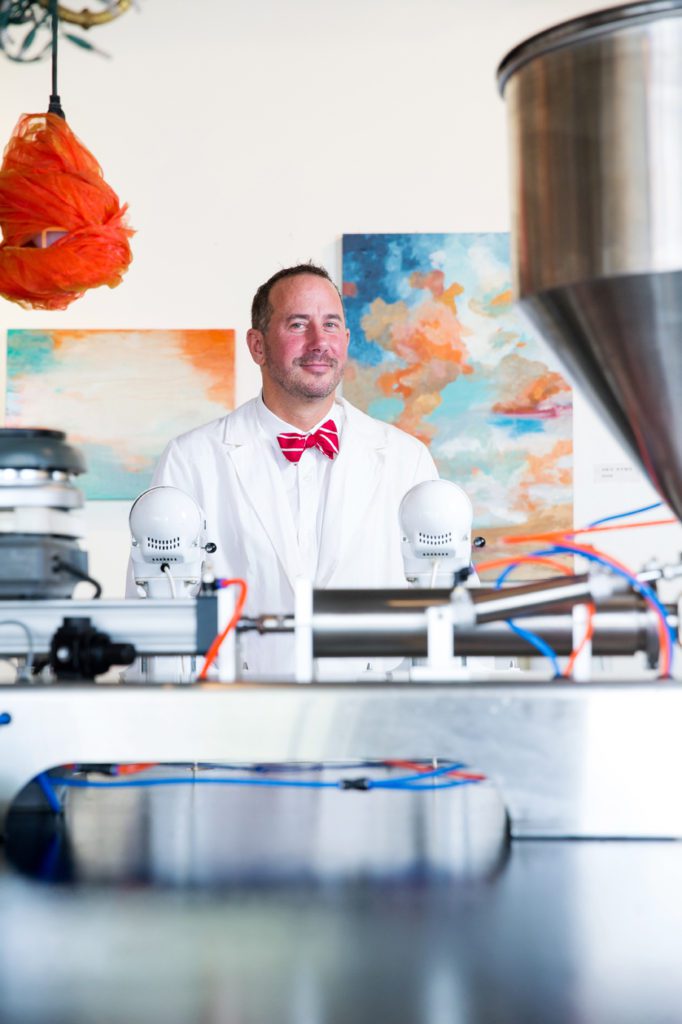 Clark's scientific credentials—including an undergraduate degree from Millsaps College, a Ph.D. from LSU, and a stint as a fellow at Oak Ridge National Laboratory in Tennessee—have allowed him access to pharmaceutical company ingredients not found in typical hair products. He was also an energy company consultant who used to spend 21 days at a time conducting research in the Arctic Circle. He quit that job to focus on Lubricity Labs.
"Uranium geochemistry versus fabulous hair," he says, holding his hands up and down like a scale and grinning. "Tough choice."
Clark was drawn to science at a young age. "This is always what I wanted to do," he says. "I was the kid that would get beakers and test tubes for Christmas."
He now manufactures and bottles each product in an industrial space he shares with an artist off of Government Street in Mid City. And while he has the chops to succeed in the competitive hair-care market, he never forgets how this journey began.
"This was a solution," he says. "To make a dad's life easier."