You don't have to take a trip to Napa to delve into luxurious al fresco dining where wine pours are just as plentiful as farm-to-table feasts. Think like a Californian (pretend it doesn't rain) and choose to dine at a rustic table outside. As autumn ushers in cooler weather, now is the time to take advantage of the lush greenery and austere oaks that surround our city. It's the perfect backdrop for a small banquet of friends or for an intimate dinner for two.
"Outdoor parties are always gorgeous," says Angela DiVincenti Babin, owner of Angela Marie Events. "String festoon lights and use lots of beautiful candles if your meal goes past dark."
And these outdoor meals should truly take their time. No dinner rush here—just a feast for all the senses. Consider Napa's simple yet sophisticated take on outdoor dining, and choose only the best food, best wine and best friends to cap off your night.
Resources
Styling: Angela Marie Events
Menu, place card and map: Anna Claire Calligraphy+Design
Food: Gourmet Girls
Wine: Matherne's Supermarket
Flowers: Rickey Heroman's Florist
Table and chairs: Event Rental
Hair: Alison Smith, Paris Parker Salon Perkins Rowe
Makeup: Brittany Brignac Devall, A Britt Face
His outfit: McLavy Ltd.
Her outfit: Anthropologie
Venue: Highland Road Farm
Farro and arugula salad with cherries
1 cup farro
1 cup apple cider
2 cups water
1 Tbsp. kosher salt
2 bay leaves
2 oz. goat cheese crumbles
6 cups arugula
1 cup fresh mint leaves, chopped
1⁄2 cup shelled pistachios
2 honeycrisp apples, peeled and chopped and soaked in lemon juice to prevent browning.
1⁄2 cup dry cherries
1⁄2 cup diced celery
Vinaigrette:
1⁄3 cup apple cider vinegar
1⁄2 cup extra-virgin olive oil
1 Tbsp. Dijon mustard
1⁄2 tsp. coarse ground black pepper
1 tsp. salt
2 Tbsp. honey
In a medium saucepan, combine farro, apple cider, water, salt and bay leaves. Bring to a boil, reduce heat and simmer for approximately 30 minutes or until tender. Remove from heat, and set aside until chilled. In a small bowl, whisk together vinaigrette ingredients until emulsified. In a large serving bowl, combine chilled farro, arugula, mint, pistachios, apples, cherries and celery. Toss with vinaigrette. Place in a serving bowl and sprinkle with goat cheese.
—Gourmet Girls
Almond and Fig Galette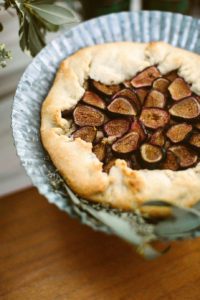 Dough:
2 cups flour
8 oz. unsalted butter, cut into 1-inch pieces and chilled
1⁄4 cup sugar
1⁄2 tsp. kosher salt
1⁄4 cup ice water
In a food processor, combine flour, butter, sugar and salt. Pulse until combined and looks like fine crumbs. With motor running, drizzle water until it just comes together into a ball. Remove dough from bowl, wrap in plastic wrap and chill for 30 minutes. On a lightly floured surface, roll out dough to approximately a 12-inch circle. Transfer to a parchment-lined baking sheet and set aside until ready to fill.
Filling:
3 oz. unsalted butter, softened
1⁄4 cup sugar
1⁄2 tsp. vanilla extract
1 egg yolk
2⁄3 cup almond meal
2 Tbsp. flour
2 cups sliced fresh figs
Demerara sugar for sprinkling
Preheat oven to 350 degrees. In a food processor, combine butter and sugar until fluffy, about 2 to 3 minutes. Add vanilla, egg yolk, flour and almond meal and process until combined. Make a mound of almond filling on rolled-out dough, and spread to 8-inch diameter, leaving enough room on the edges to fold over. (Neither dough nor filling needs to be an exact circle). Place figs over almond filling, slightly overlapping them neatly. Fold dough edges over figs overlapping and crimping edge. Sprinkle with Demerara sugar, and bake until lightly browned, 25 to 30 minutes.
—Gourmet Girls