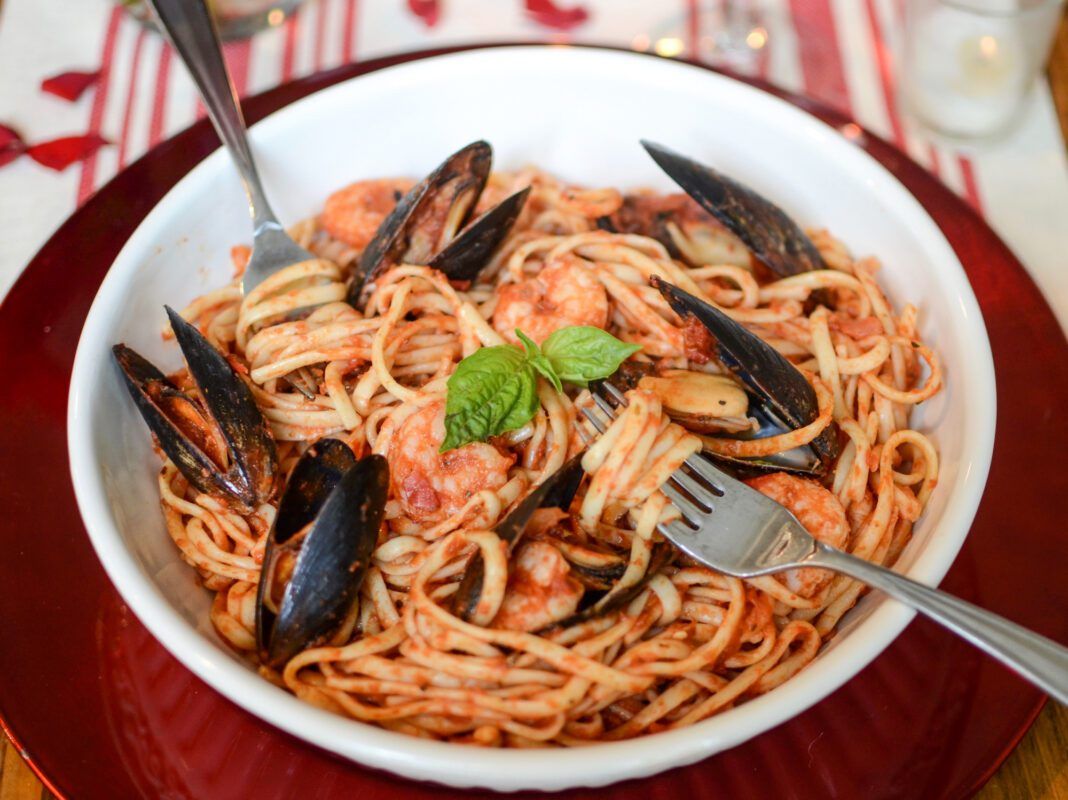 Steal your valentine's heart with this swoon-worthy dinner at home
Valentine's Day is almost here, but that doesn't mean you have to spend a lot of money on expensive gifts or dramatic declarations. More often than not, a simple gesture and quality time spent together can make for a memorable way to show your love—especially if food is involved.
In these recipes from food columnist Aimee Broussard, a Simple Seafood Pasta takes center stage as a surefire dish for any celebration, with rich Dulce de Leche Brownies ready to stick the landing on a quiet evening spent at home. With only a bit of elbow grease and minimal time at the stovetop or oven, a fine dining experience is yours for the taking.
---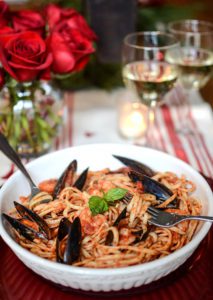 1 lb. linguine
2 Tbsp. olive oil
2 cloves garlic, minced

1

⁄2 tsp. crushed red pepper flakes


1

⁄4 cup dry white wine
1 (28-oz.) can crushed tomatoes
1 lb. large shrimp, peeled and deveined


1

⁄2 lb. black mussels, scrubbed and cleaned


1

⁄4 cup fresh basil leaves, chopped
Bring a large pot of salted water to a boil. Add linguine to boiling water and cook until al dente.
Add olive oil to a large skillet over medium heat. Once hot, add garlic and red pepper flakes, and cook just until garlic is golden (less than 1 minute) and fragrant while stirring. Carefully add wine and tomatoes; bring to a simmer and allow sauce to cook for 10 minutes, stirring occasionally.
Add shrimp and mussels to sauce, cover, and cook for about 3 to 5 minutes, just until mussels begin to open and shrimp turns pink. Give sauce another stir, then add cooked linguine and basil to pan. Toss. Garnish with an additional sprig of basil. Makes 4 servings.
---
1 cup light brown sugar
1 cup heavy whipping cream

1

⁄2 cup sweetened condensed milk
1 stick butter, melted
1 cup semisweet chocolate chips


1

⁄4 cup unsweetened cocoa powder
1 tsp. vanilla
1 cup sugar


1

⁄2 tsp. salt
1 cup flour
3 eggs, beaten
For Dulce de Leche Sauce, add brown sugar and whipping cream to a small or medium saucepan, and stir over medium heat until sugar dissolves. Continue to cook for 5 minutes, stirring throughout. Stir in sweetened condensed milk. Remove from heat, and set aside.
Preheat oven to 350 degrees. Line an 8-inch square pan with foil or parchment paper, and spray with nonstick spray. Set aside. In a medium saucepan, melt butter over medium heat. Add chocolate chips, and stir until melted. Remove from heat; stir in cocoa powder and vanilla.
In a large bowl, whisk sugar, salt and flour. Pour chocolate mixture into flour, and add eggs. Mix well. Spread batter evenly in prepared baking pan.
Drizzle 
1

⁄3 of Dulce de Leche Sauce over brownie batter. Use a knife to swirl sauce into batter. Bake for 30 to 35 minutes or until brownies are set. Allow to cool before cutting into squares, and serve drizzled with remaining Dulce de Leche Sauce. (If sauce has cooled too much, reheat in microwave for about 20 seconds.) Makes 8 servings.