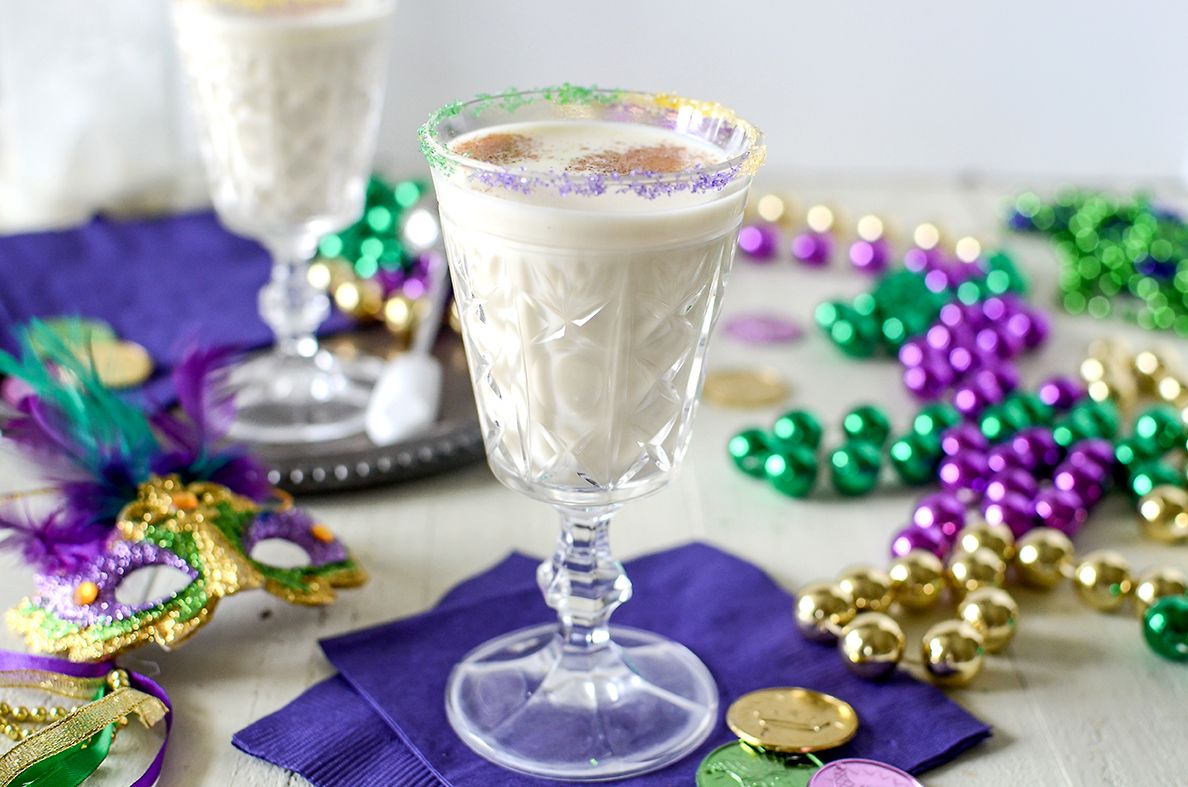 Aimee's Pretty Palate: Something to celebrate
Oh, February, how sweet you are! I dare say you are one of my favorite months of the year. A month combining Valentine's Day plus my birthday plus Mardi Gras? Oh, good gracious! In true celebratory fashion, I am including a recipe suitable for each of these delicious occasions. Pull out your apron and let's get festive!
The Simple Seafood Pasta is date-night perfection and ideal for a quiet Valentine's Day evening at home. Light and a little bit spicy, the pasta pairs nicely with a glass of Pinot. Take my advice and skip the restaurant chaos on this day designed for love.
Know someone who shares a February birthday with me? Treat them to the Dulce de Leche Brownies and ensure their friendship … for life. We featured these brownies on In the Kitchen with David during my appearance on QVC, and he gave them two thumbs up. And should you forget to buy some boxed chocolate for your Valentine's Day sweetie, the brownies also work well for your Valentine's Day date-night finale.
And while I'm best known for my contest-winning Pecan Praline King Cake Cookies (the recipe is on my website), I'm also one never to shy away from a King Cake Cocktail. A spin on Food Network's festive drink, I've included a bit of half-and-half to tone down all the alcohol. Pure Mardi Gras party heaven!
---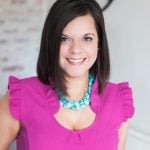 Aimee Broussard is a Southern food blogger and award-winning author. Her recent cookbook Picnics, Potlucks & Porch Parties debuted exclusively on QVC. Join Aimee for weekly recipes with a side of Southern hospitality on her blog, www.aimeebroussard.com.
---
Simple Seafood Pasta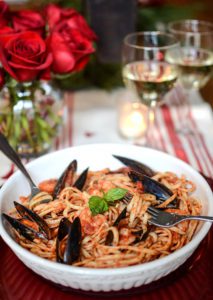 1 lb. linguine
2 Tbsp. olive oil
2 cloves garlic, minced

1

⁄2 tsp. crushed red pepper flakes


1

⁄4 cup dry white wine
1 (28-oz.) can crushed tomatoes
1 lb. large shrimp, peeled and deveined


1

⁄2 lb. black mussels, scrubbed and cleaned


1

⁄4 cup fresh basil leaves, chopped
Bring a large pot of salted water to a boil. Add linguine to boiling water and cook until al dente.
Add olive oil to a large skillet over medium heat. Once hot, add garlic and red pepper flakes, and cook just until garlic is golden (less than 1 minute) and fragrant while stirring. Carefully add wine and tomatoes; bring to a simmer and allow sauce to cook for 10 minutes, stirring occasionally.
Add shrimp and mussels to sauce, cover, and cook for about 3 to 5 minutes, just until mussels begin to open and shrimp turns pink. Give sauce another stir, then add cooked linguine and basil to pan. Toss. Garnish with an additional sprig of basil. Makes 4 servings.
---
Dulce de Leche Brownies
1 cup light brown sugar
1 cup heavy whipping cream

1

⁄2 cup sweetened condensed milk
1 stick butter, melted
1 cup semisweet chocolate chips


1

⁄4 cup unsweetened cocoa powder
1 tsp. vanilla
1 cup sugar


1

⁄2 tsp. salt
1 cup flour
3 eggs, beaten
For Dulce de Leche Sauce, add brown sugar and whipping cream to a small or medium saucepan, and stir over medium heat until sugar dissolves. Continue to cook for 5 minutes, stirring throughout. Stir in sweetened condensed milk. Remove from heat, and set aside.
Preheat oven to 350 degrees. Line an 8-inch square pan with foil or parchment paper, and spray with nonstick spray. Set aside. In a medium saucepan, melt butter over medium heat. Add chocolate chips, and stir until melted. Remove from heat; stir in cocoa powder and vanilla.
In a large bowl, whisk sugar, salt and flour. Pour chocolate mixture into flour, and add eggs. Mix well. Spread batter evenly in prepared baking pan.
Drizzle
1

⁄3 of Dulce de Leche Sauce over brownie batter. Use a knife to swirl sauce into batter. Bake for 30 to 35 minutes or until brownies are set. Allow to cool before cutting into squares, and serve drizzled with remaining Dulce de Leche Sauce. (If sauce has cooled too much, reheat in microwave for about 20 seconds.) Makes 8 servings.
---
King Cake Cocktail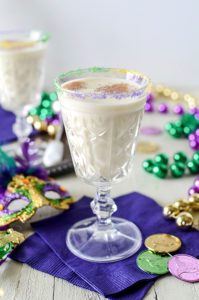 Green, purple and yellow sanding sugar for glass rimming
3 oz. king cake vodka
1 oz. Grand Marnier liqueur
1 oz. Baileys Irish Cream liqueur
3 oz. half-and-half
Ground cinnamon for dusting
Pour a small amount each of green, purple and yellow sanding sugar on a plate, keeping colors separate.
Moisten the rim of a glass, then press part of rim into each colored sugar, being careful not to mix colors.
Combine vodka, Grand Marnier, Baileys and half-and-half in a cocktail shaker with ice. Shake well, then strain into prepared glass. Dust with cinnamon. Makes 2 servings.