---
Citrus season is truly one of my favorites times of year, and grapefruit has to be my absolute favorite citrus of them all. I wanted to come up with a delicious way to use those perfectly ripe and beautiful grapefruits—both in a beverage and a dessert.
I created a Glazed Grapefruit Bundt Cake that is infused with not only grapefruit juice, but also the zest, giving it the ultimate grapefruit flavor throughout each bite. I gave it double the grapefruit flavor by not only using the zest and juice inside the cake, but also by using the juice in the glaze that goes on top.
The cake is simply made by combining wet ingredients with dry ingredients and baking in a traditional Bundt pan. You can use a 9- or a 12-inch pan here, but the difference will be how high the cake rises, and also the cook time can differ. For reference, I used a 12-inch pan here, and it works great with my directions.
I love the flavor of grapefruit that sits subtly in the background of each bite you take. I used Winter Sweetz grapefruits, which are just gorgeous when you slice them open. They are perfectly sweet and make this Bundt cake extra special.
To pair with this pretty cake, I made a twist on the classic Aperol spritz. This cocktail, made up of very few ingredients, is the perfect aperitif to serve up before any meal or to enjoy on a sunny day. This recipe for my Grapefruit Aperol Spritz is refreshing, delicious and easy to make. The in-season grapefruit is so sweet, and the color is absolutely stunning.
Traditionally, an Aperol spritz is served with an orange slice as a garnish, but I not only switched the garnish to a grapefruit slice, but I also added some fresh grapefruit juice that I hand-squeezed right before adding to the drink for the ultimate freshness.
If you have never tasted Aperol before, it has a citrusy undertone with a slight bitterness, which pairs so well with the floral notes of prosecco and the beautifully sweet grapefruit. Dare I say I prefer this version of an Aperol spritz to the original? It's just that good!
Grapefruit is at its peak ripeness from November to March, making it the ideal citrus to have on hand for recipes and snacking right now. Cheers!
---

Glazed Grapefruit Bundt Cake
Ingredients:
Cake:
3 cups cake flour
1 tsp. salt
½ tsp. baking powder
½ tsp. baking soda
½ cup unsalted butter, room temperature
2 cups granulated sugar
4 large eggs, room temperature
2 tsp. vanilla extract
½ cup grapefruit juice
1 tsp. grapefruit zest
1 cup whole milk, room temperature
Glaze:
1 cup powdered sugar
2 Tbsp. grapefruit juice
Extra grapefruit zest for topping
Instructions:
Preheat oven to 350 degrees. Grease a Bundt pan liberally by covering every inch with butter and then sprinkling flour on top of the butter. Shake pan to evenly distribute flour.
Whisk together cake flour, salt, baking powder and baking soda in a large bowl.
In a separate bowl, using a hand or stand electric mixer, beat butter until smooth and creamy. Add sugar and beat for another couple of minutes until combined well. Add eggs and vanilla, and continue to beat on medium speed until combined. Add grapefruit juice and zest and milk, and continue to mix. Reduce speed to low, and slowly incorporate dry ingredients a little at a time until all is combined, being careful not to overmix. Pour batter into greased Bundt pan, and bake for 40 to 50 minutes or until a toothpick can be inserted and come out clean.
Allow cake to cool for 10 minutes, and then carefully turn out onto a cake plate.
Allow cake to continue to cool while you mix together Glaze by combining powdered sugar and grapefruit juice and whisking until smooth. Drizzle Glaze over top of cake, and then sprinkle with extra grapefruit zest.
---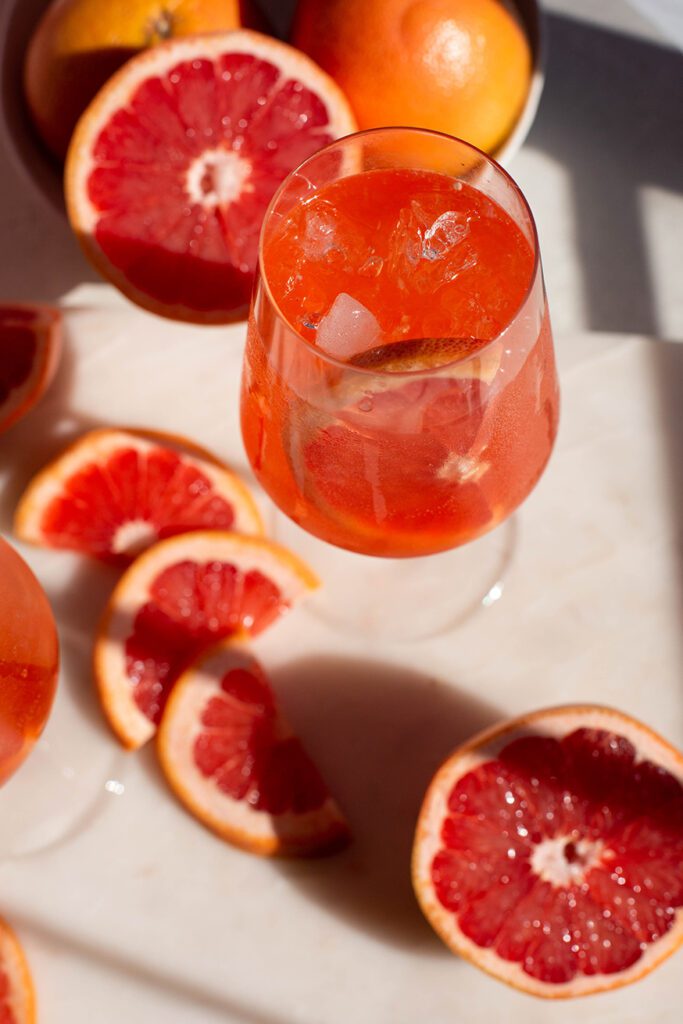 Grapefruit Aperol Spritz
Ingredients:
2 oz. grapefruit juice
3 oz. prosecco
2 oz. Aperol
Grapefruit slices for garnish
Crushed ice
Instructions:
Fill a glass with crushed ice halfway full. Pour grapefruit juice into glass, and then add prosecco.
Add Aperol and gently stir. Add a grapefruit slice into glass, and serve immediately.
Makes 1 cocktail.