Spice of Life: Recipes from the new 'Acadiana Table' cookbook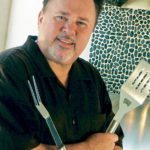 Jambalaya, crawfish pie, filé gumbo—these iconic dishes are all that most know about the food culture of Louisiana. But there's so much more. A few years ago, I embarked on a journey to peel back the layers of history and culinary mystery to reveal the cultural mystique of Cajun and Creole cooking and make it accessible for all.
What began with a love of eating, and then cooking, quickly turned into recipe development, writing, photography and blogging. So my new cookbook, Acadiana Table: Cajun and Creole Home Cooking from the Heart of Louisiana, was inevitable.
One of the recipes in the book is Chicken Leg Fricassée. I like to call this "frickin' chicken," and if you've ever had Cajun smothered chicken in wine, you'll know exactly why: This dish is so frickin' good! Butter, garlic and fresh herbs combine with a splash of dry white wine that pulls it all together into a distinct flavor combination. These wine-bathed chicken legs are addictive. But before you even bite into a chicken leg, dip a crusty piece of French bread into the sauce and give it a taste—sensory overload.
To satisfy your sweet tooth, try my Stuffed Creole Pumpkin Bread Pudding with Bourbon Sauce. When I saw a stack of pumpkins at the farmers' market, I decided to turn a beautiful gourd into a vessel of sweetness with a classic Creole bread pudding. The pulp of a pumpkin is a natural enhancement to the cream, eggs and spices that go into the typical custard.
---
Stuffed Creole Pumpkin Bread Pudding with Bourbon Sauce
Bourbon Sauce: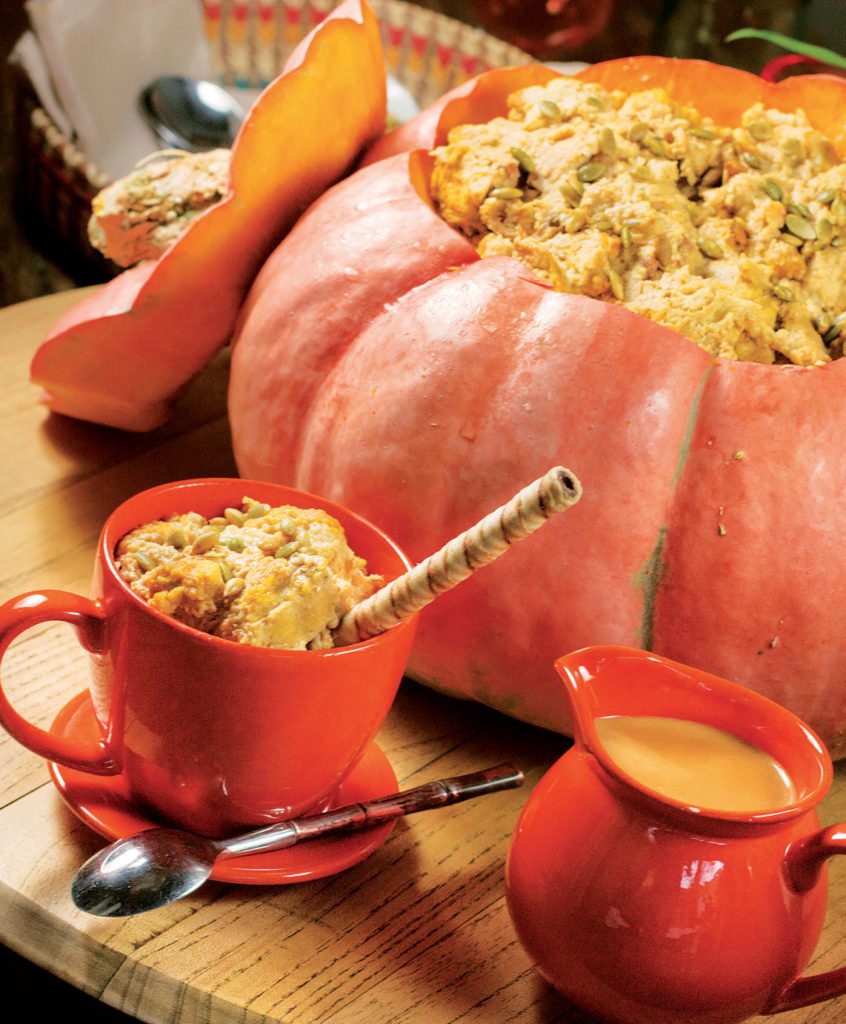 1 cup bourbon

1

⁄4 cup sugarcane molasses
4 Tbsp. (

1

⁄2 stick) unsalted butter, melted


1

⁄2 cup granulated sugar
1 Tbsp. cornstarch
1 cup whole milk
Bring bourbon to a simmer in a medium saucepan over medium heat. Add molasses and stir to combine. In a small mixing bowl, combine butter, sugar and cornstarch and add to pan.
With a wire whisk, begin stirring in milk. Increase heat to high and whisk while sauce thickens. Once it comes to a boil, turn off heat and continue to whisk until thick enough to coat back of spoon. If too thick, add a bit more milk. Remove from stove and keep warm.
Bread Pudding:
1 large pumpkin (4 to 6 lbs.)
8 large eggs
3 cups whole milk
3 cups heavy cream
1 Tbsp. vanilla extract
8 Tbsp. (1 stick) unsalted butter, melted

1

⁄2 cup granulated sugar


1

⁄4 cup sugarcane syrup
1 Tbsp. ground cinnamon
1 tsp. ground nutmeg
1 tsp. ground allspice
1 (29-oz.) can pure pumpkin purée (not pumpkin pie filling)


1

⁄2 cup pecans, toasted and chopped
12 cups cubed day-old bread, such as brioche or French
1 cup shelled and roasted pumpkin seeds
Rolled wafer cookies
Preheat oven to 350 degrees. Coat a 9 x 13-inch baking pan with nonstick spray and set it inside a larger roasting pan.
With a sharp knife, plunge into top of pumpkin and carve a large round hole to expose inside of pumpkin. Reserve top stemmed portion. Pull out membrane, seeds and pulp and discard. Scrape inside with a spoon to clean.
Place eggs in a heatproof bowl. In a large saucepan over medium heat, combine milk, cream and vanilla and bring to a simmer. Slowly add some of hot mixture to eggs while whisking to temper eggs. Return egg/cream mixture to saucepan and add butter, sugar and sugarcane syrup. Cook on low until mixture begins to thicken, about 10 minutes. Turn off heat and add cinnamon, nutmeg and allspice, along with canned pumpkin purée. Stir while adding pecans.
Put bread in a large bowl and pour over custard mixture. Make sure all bread is soaking in liquid, and let rest for 1 hour until bread has absorbed all liquid.
Add bread mixture to prepared baking pan. Make a water bath by pouring hot water into larger roasting pan to
1

⁄4

 

of the way up sides of bread pudding pan. Bake uncovered just until mixture begins to set, about 45 minutes.
Remove pan from oven and spoon mixture into pumpkin. Place top on pumpkin and transfer to a large baking sheet. Put pumpkin into hot oven and bake for 30 minutes longer.
Present bread pudding inside pumpkin vessel and serve by scooping into coffee cups or small bowls. Garnish with toasted pumpkin seeds and a cookie. Pour warm Bourbon Sauce over top. Makes 12 servings.
---
Chicken Leg Fricassée
Fricassée is a slow-simmered stew that produces an unmistakable gravy. Usually made with an older hen or rooster, a fricassée renders a tough old bird tender after a long braise in stock and vegetables (sometimes thickened with a dark roux).
1

⁄4 cup vegetable oil
12 skin-on chicken legs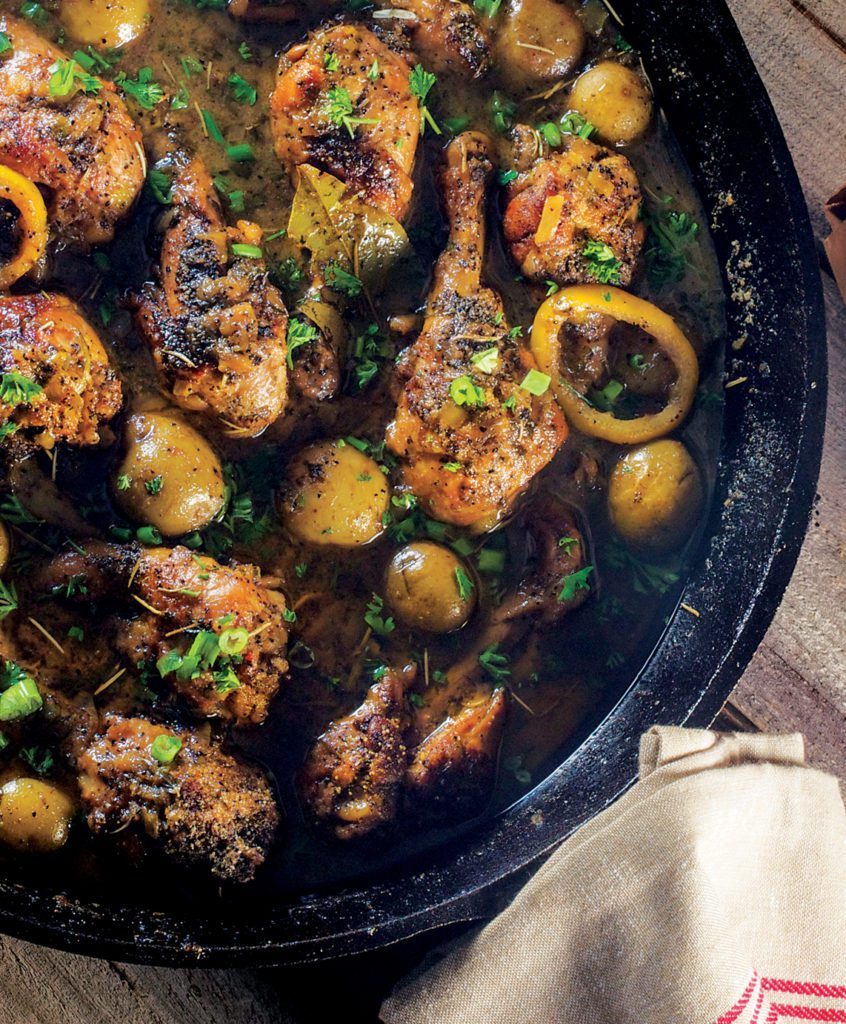 2 cups diced yellow onion
1 cup diced green bell pepper
1 cup diced celery
2 Tbsp. minced garlic

1

⁄2 cup chopped flat-leaf parsley
2 Tbsp. chopped fresh rosemary


1

⁄2 cup dry white wine
4 cups dark chicken stock, plus more if needed
3 Tbsp. dark roux, plus more if needed
2 bay leaves
1 tsp. Cajun seasoning
16 small new potatoes
2 slices fresh lemon
Kosher salt and freshly ground black pepper
Dash hot sauce
6 cups cooked long-grain white rice
1 cup diced green onion tops
Heat oil in a large skillet with a cover over medium-high heat. Once sizzling
hot, add chicken legs and brown on all sides. Remove chicken from skillet and keep warm.
In the same skillet over medium-high heat, add onions, bell pepper and celery. Sauté until onions turn translucent, about 5 minutes. Add garlic, parsley and rosemary and stir until combined. Add wine and cook until reduced by half. Add chicken stock and roux, along with bay leaves and Cajun seasoning. Stir to combine and bring to a boil. Immediately lower heat to a simmer and add potatoes and lemon slices. Distribute chicken legs back into skillet, cover and cook on stovetop for 1 hour.
Uncover and skim surface of any excess oil. Taste fricassée gravy and season to taste with salt, pepper and hot sauce. Cover pot and simmer for 15 minutes longer.
Remove bay leaves.
Ladle chicken legs and fricassée gravy over white rice. Garnish with green onions. Makes 4 to 6 servings.
---