Make appetizer magic happen with these simple recipes
Everyone knows nothing beats a home-cooked meal by your mom. But personally, I think my mom has everyone beat.
Co-owner of Ingle Eats, my mother, Joan Chastain, raised my siblings and me to love cooking for the experience. She also taught us nothing in your pantry should be wasted and, just as importantly, being thrifty doesn't have to be boring.
She can turn the simplest pantry staples into a restaurant-level dish. Carrots are never just carrots, they're slow roasted carrots with salted yogurt sauce, crushed pistachios and herbs. And if you think that's extra, you should see what she can do with a pack of ramen noodles.
But that is what I loved about growing up with my mom: She makes magic happen by elevating everyday ingredients to share with our family over a dip, spread and, of course, a glass of chardonnay.
With these easy and inventive recipes from Mom and her business partner Shannon Countryman, you can use the ingredients you already have to impress your guests—and family—at your next happy hour or dinner party.
---
Tomato Confit with Burrata (or Boursin) Cheese on Crostini
Ingredients:
1 lb. grape  tomatoes
1/2 cup extra virgin olive oil
2 tsp. kosher salt
1 Tbsp. sugar
1/2 tsp. red pepper flakes
1/4 cup rice wine vinegar
Fresh thyme sprigs
6 cloves of fresh garlic, peeled
Combine ingredients in a small baking dish. Bake uncovered at 350 degrees for 45 minutes.
Correct seasoning with more sugar, salt and red pepper flakes.
Arrange confit around boursin or burrata cheese on a serving dish with crostini.
---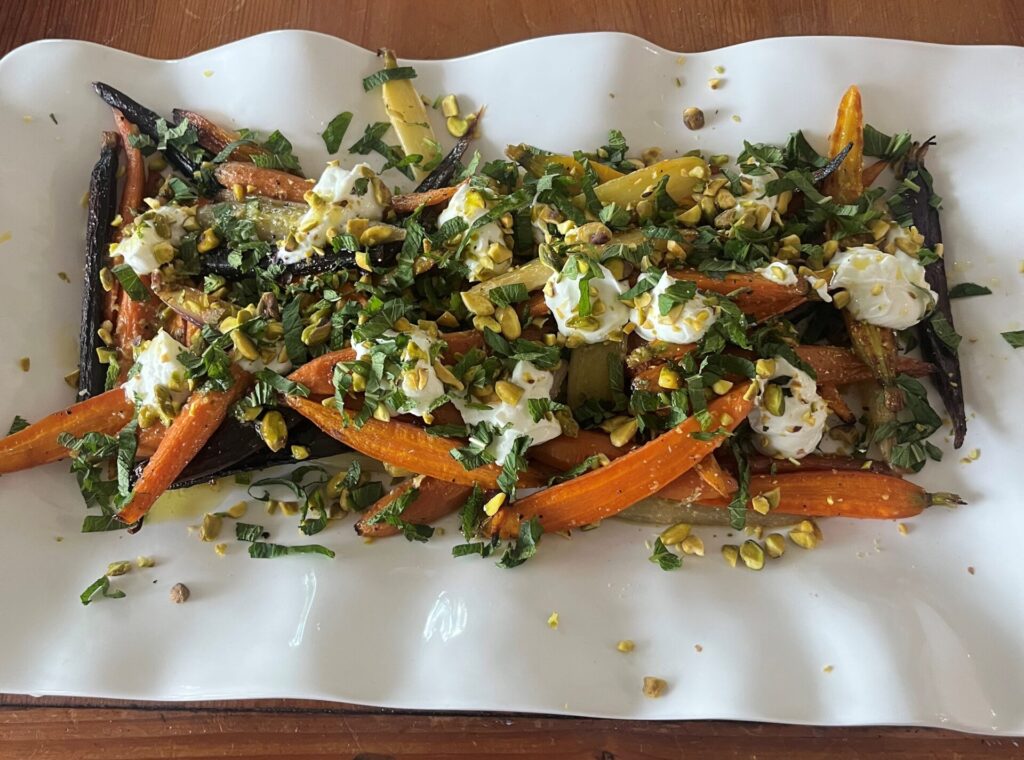 Roasted Carrots with Salted Yogurt and Pistachios
Ingredients:
Vinaigrette
1 Tbsp. lemon juice
3 Tbsp. olive oil
1/2 tsp. minced garlic
Pinch of oregano, cumin seeds and red pepper flakes
Kosher salt to taste
Roasted Carrots
2 one-pound packages of tri-color carrots with stem (such as Les Petites Carrots from Trader Joes)
2 Tbsp. olive oil
2 cups water
1 Tbsp. sugar
Kosher salt to taste
Salted Yogurt Sauce
6 oz. Greek yogurt
Kosher salt to taste
Garnish
1/2 cup roasted pistachios, chopped
2 Tbsp. chopped mint
1/4 cup chopped parsley
Preheat the oven to 450 degrees.
In a bowl, whisk together all the vinaigrette ingredients and set aside.
Cut carrots in half vertically. In a large baking dish, combine 2 cups of water with sugar. Then, add carrots and coat them in the mixture. Tightly cover dish with foil and place in the oven to steam until carrots are tender when pierced with a fork, approximately 30 minutes.
Drain off any excess water, then toss the carrots with salt and lightly coat with 2 Tbsp. of olive oil.Spread carrots out on a rimmed pan and return to oven uncovered to roast until brown, about 20 minutes. While carrots are hot, toss them with half the vinaigrette.
Meanwhile, chop nuts, parsely and mint and set aside. Separately, combine the yogurt with a good bit of salt.
Spread the bottom of the serving platter with one layer of yogurt sauce, reserving some of the mixture for a garnish. Arrange carrots on top of the yogurt layer. Drizzle the remaining vinaigrette over the carrots, dollop the remaining yogurt and top with the herbs and nuts.
---
Find more food and drink recipes from inRegister here.