Party-perfect dishes for May
---
Springtime and early summer in Louisiana mean celebration. Whether it's graduations, crawfish boils, team victory parties or weddings, we pack in lots of entertaining while the weather is mild and the days are long. It also doesn't hurt that springtime means the markets are brimming with gorgeous, fresh produce, plus lots of straight-from-the Gulf seafood. Finding the right ingredients is certainly easy, but finding the time to get it all done can be a challenge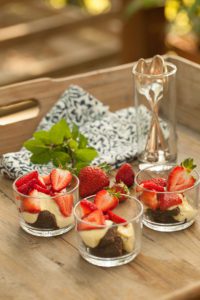 These two recipes are perfect for a gathering with friends and family, and when you're prepping for guests, there's no better words to read than "can be prepared in advance." Get to work on these recipes the day before and save yourself precious time the day of the party.
The Gruyere Polenta Cakes benefit from a day-long chill in the fridge. Give them a quick dredge in flour and then sear before guests arrive. They park beautifully in a low oven as you prepare the smoky shrimp, andouille and mushroom topping. While this dish may not have you laboring for long, the flavor definitely tastes like you did! Hot smoked paprika provides just the right amount of heat and that can't-quite-put-your-finger-on-it flavor that makes this dish something really special.
The rich, dark chocolate and coffee-studded crust in these fun Strawberry Parfaits can easily be baked days in advance, along with the delectable vanilla-flecked custard. Assemble these parfaits a few hours before party time. They're sure to wow your guests while you feign exhaustion from the preparation of these little cups of perfection.
Two beautiful dishes for an equally beautiful time of year. Let's celebrate!
---
Anne Milneck is a trained chef and the owner of Red Stick Spice Company, which offers spices as well as loose teas, olive oils and other goodies both at its Jefferson Highway location and online at redstickspice.com.
---
Gruyere Polenta Cakes with Smoky Shrimp, Mushrooms and Andouille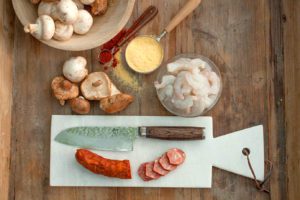 Polenta:
4 cups unsalted stock or water
Salt to taste
1 cup polenta
1 cup grated Gruyere cheese
1 to 2 Tbsp. butter, cut into small pieces
All-purpose flour for dredging
Bring stock or water to a boil. Add salt and carefully taste water. Water should taste like the ocean. Slowly pour polenta into water. Whisk vigorously so that there are no lumps. Allow to come to a boil, then reduce heat to low. Cover and cook until thickened, about five minutes. Whisk in Gruyere cheese. Add bits of butter to get things moving, if necessary, to help fully incorporate cheese.
Spray a 9-inch square pan with nonstick spray, and pour in polenta. Smooth with a spatula. Cover and refrigerate until completely cooled. This can be done the day prior.
Shrimp topping:
1 lb. wild mushrooms

1

⁄2 onion


1

⁄2 stalk celery
6 cloves garlic, lightly crushed
Smoked extra-virgin olive oil
1 cup andouille, cut into small cubes
1 lb. peeled and deveined shrimp


1

⁄4 tsp. baking soda


1

⁄4 tsp. cornstarch


1

⁄2 tsp. smoked hot paprika
1 shallot, minced
3 cloves garlic, minced


1

⁄2 to 1 cup heavy cream
Salt and cayenne pepper to taste
Fresh parsley and chives, finely chopped
Slice and set aside mushrooms, reserving stems. Place stems in a stockpot with 5 cups water. Add onion, celery and 6 lightly crushed garlic cloves. Bring to a boil, then reduce heat to low. Simmer for 20 minutes. Remove mushroom stock from heat and allow to cool.
Cut cooled polenta into round, square or triangular "cakes." Dredge in flour. Heat a nonstick pan over medium-high heat. Drizzle olive oil to coat bottom of pan. Sear cakes on both sides until golden brown, adding more oil as needed. Move to a rimmed baking sheet and place in oven set at a very low temperature to keep warm.
Wipe out pan, then sauté andouille until brown and crispy. Move to plate.
In a bowl, combine shrimp, baking soda, cornstarch and paprika. In the same pan, add a little more olive oil and sauté shrimp until firm, opaque pink and cooked through, about 5 minutes. Move to a plate. Add mushrooms to pan and sauté until liquid evaporates. Add shallot and 3 cloves minced garlic. Sauté for about 6 minutes or until golden brown. Be sure to incorporate browned bits from pan.
Return andouille and shrimp to pan. Add about
1

⁄

4

cup reserved mushroom stock. Bring to a simmer and add

1

⁄

2

cup heavy cream. Simmer and allow to thicken a bit. Add more cream or stock to adjust consistency. Taste and season with salt and cayenne. Serve over warm polenta cakes. Garnish with parsley and chives.
Makes 4 dinner servings or 8 appetizer servings.
---
Louisiana Strawberry Parfait with Vanilla Flecked Cream and Mocha Crumble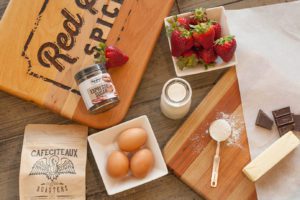 Crust:
1 pkg. chocolate wafers (we used Nabisco Famous Chocolate Wafers)

1

⁄2 cup semisweet chocolate chips
1 stick unsalted butter, melted
1 tsp. finely ground coffee (we used Cafeciteaux)


1

⁄3 cup espresso sugar
Preheat oven to 350 degrees. Place chocolate wafers and chocolate chips in a food processor. Pulse 8 to 10 times or until finely crushed. Move to a bowl. Add butter, coffee and espresso sugar. Stir to combine. Press mixture into a pie tin or square baking pan—type of pan is not important because you'll be breaking crust into shards when assembling parfaits. Bake for 10 minutes. Move to a rack and allow to cool completely.
Vanilla-flecked cream:
1
1

⁄2 cups whole milk


1

⁄2 cup sugar


1

⁄4 cup flour


1

⁄4 tsp. salt
4 egg yolks
2 tsp. pure bourbon vanilla extract


1

⁄2 tsp. ground vanilla beans
In a medium saucepan, heat milk until you see steam forming on top and just a few bubbles around edges. Remove from heat. In a bowl, whisk together sugar, flour, salt and yolks until light yellow. Mixture will be a thick paste.
Using a ladle, begin adding milk in a slow, thin stream to egg mixture while whisking constantly. Ladle in about
1

⁄

3

of milk mixture to temper the egg yolks so they will not scramble. A great way to know if yolks are tempered is to use a metal bowl; if bowl feels warm to the touch, then enough warm milk has been added, and yolks are tempered. Whisk mixture back into milk in pot and heat pot over low heat. Switch to a wooden spoon and stir constantly as you wait for bubbles to pop on surface and for mixture to thicken. Transfer to a clean bowl. Whisk in vanilla extract and ground vanilla beans. If there are lumps, press mixture through a sieve into a clean bowl. Press plastic wrap onto surface of cream and chill.
Strawberry topping:
2 pints fresh strawberries, sliced
2 Tbsp. sugar
1 tsp. vanilla purée
Stir together all ingredients. Refrigerate for at least 30 minutes to allow juices to form and a syrup to develop.
To assemble parfaits:
Break up crust into bite-size pieces. Using individual parfait bowls or stemless wine glasses, place a few pieces of crust in bottom of dishes. Top with a dollop of vanilla-flecked cream. Add a spoonful of strawberry topping, drizzling some syrup into each glass.
Makes 8 parfaits.