Spoil your picky pup with these mushroom meatballs
If you're having trouble getting your canine to take his medications or supplements, these turkey and mushroom mini meatballs could be an easy fix. Food writer Aimee Broussard says they were a lifesaver when her dog refused to take a series of pills, and they also work as a healthy meal topper. She turned to mushrooms for their numerous health benefits (including their potential for prevention and treatment of cancer) when creating these special treats, with a recipe you can recreate at home.
---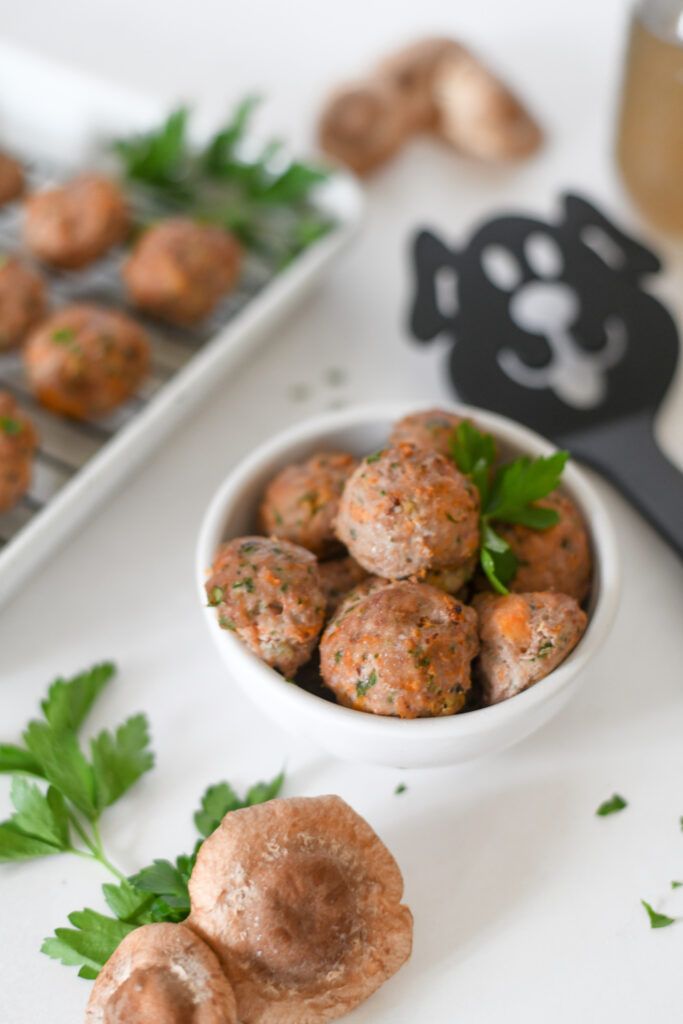 TURKEY AND MUSHROOM MINI MEATBALLS
Ingredients:
1 lb. ground turkey
1 Tbsp. fresh ginger root, grated
6 oz. butternut squash, finely chopped
4 oz. kale, finely chopped
4 oz. shiitake mushrooms, finely chopped
Preheat oven to 325 degrees. Line a rimmed baking sheet with aluminum foil (for easy cleanup); set aside. (Because we are not adding eggs or rice, these meatballs will release a lot of moisture as they cook.)
In a large bowl, combine all ingredients. Use a mini cookie scoop to form meatballs and place on prepared baking sheet. Bake for 25 to 30 minutes or until centers of meatballs are no longer pink. Once cooled, serve as a snack, in lieu of a pill pocket to conceal medications, or as a tasty dinnertime addition.
Meatballs can be refrigerated for up to 1 week or frozen and thawed when needed for up to 3 months when sealed in an airtight container.
Makes approximately 24 mini meatballs.
---
Columnist Aimee Broussard writes more about dog-friendly dishes using mushrooms in this story from our January issue.