A Mother's Day menu meant to be made by little hands
---
Greetings from April's empty nest: the sequel. As Mother's Day approaches, I reflect on my first celebration of this holiday when I received the best gift possible, the birth of my first daughter. Nothing compares to this gift that keeps on giving (two more joined the party, though not on Mother's Day proper. All blessings counted!) 
Even before her arrival, I vowed to make my first daughter my kitchen assistant. I practiced cooking lessons with my young niece and nephew years before I became a mom, certain that if they had a hand in playing with fresh ingredients, they would eat their creations, no nutrition lecture necessary. Sweet success!
We enjoyed the full house of 2020 and beyond, extracting every drop of juice from the proverbial abundance of lemons. We exercised all the kitchen lessons from our 20-plus years cooking together and learned some new ones. It was a 24/7, all-hands-on-deck, anything-goes kitchen session. I can't think of a thing that would make me happier.
And just like that, everyone has abandoned the mothership, off to resume pursuing their dreams. The quiet is alarming. Where did everybody go?! Rather than fret, I recruited some new students who can skip across the street from their house to mine and make merry. I invited Jude and Cassidy Mazingue, 13 and 10 years old respectively, to cook a kid-friendly, mom-approved menu that they could make for their mother, Tabetha Boyajian, on Mother's Day. 
Better known as Tabby, Boyajian is an astrophysicist and professor at LSU who happens to have a star named after her. When you discover a star, it bears your name. Cool is an understatement. I proposed a star theme for the menu, so we wove in some stellar croutons for our Caesar salad. Jude was salad-skeptical and came back for seconds. They asked for chicken tenders for the main dish, so we oven-fried them and served with Jude's secret sauce recipe. I suggested seasonal strawberries in the dessert, and Cassidy opted for straight chocolate, crumbling the scooped-out cupcake bit into sprinkles. My favorite part of cooking with kids? They can tailor to their tastes, and everyone has a ball in the process. 
We made a magical mess in my kitchen, and after our feast they said, "We need to help clean up." I'm the head dishwasher in my house, so I ushered them home to get back to their after-school routine. From across the street, Tabby could hear our laughter and smell the chocolate cupcakes baking. She will get her turn to taste on Mother's Day, and though my empty nest will echo on that day, I will always cherish that first gift and all the blessings that followed. And if Jude and Cassidy are game, they can continue to help keep my kitchen humming.
---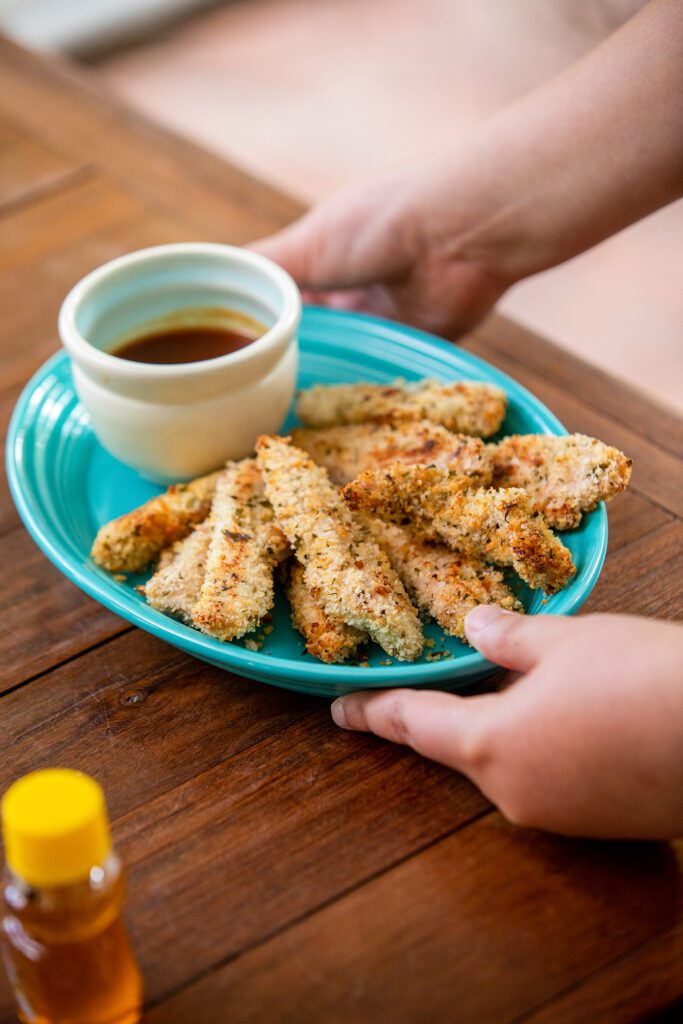 Oven-Fried Chicken Tenders
Coated with seasoned panko breadcrumbs and baked in the oven, these chicken tenders are a safer (and healthier) cooking method for kids. Having all equipment and ingredients assembled in advance keeps raw meat contamination at bay
Ingredients:
1 cup panko
½ tsp. salt
¼ tsp. pepper
¼ tsp. garlic powder
1 Tbsp. olive oil
4 boneless chicken breast halves, about 1½ lbs. total
1 Tbsp. prepared mustard
Preheat oven to 350 degrees with rack in middle position. Line 1 large or 2 small rimmed baking sheets with parchment paper.
Combine panko with salt, pepper and garlic powder in a shallow baking dish. Stir together, then drizzle with olive oil and mix it in.
Slice chicken on the diagonal into ¾-inch strips. Toss with mustard to lightly coat each strip. Transfer chicken to dish with panko and toss well to coat, pressing crumbs into any bare spots on chicken. Arrange coated chicken strips on prepared baking sheet, leaving a little space between them. Bake on middle oven rack for 10 minutes. Carefully remove sheet from oven and, using tongs, turn chicken over. Continue cooking until chicken is done, about 8 to 10 minutes longer (remove 1 piece and cut in half to ensure it's no longer pink in the middle).
Let cool a few minutes on baking sheet before transferring to a serving platter with a sauce for dipping.
Makes 4 to 6 servings.
Jude's 1-2-3 Sauce
Jude came equipped with his favorite sauce recipe. Three ingredients, choose your ratio. One part of this, two or three parts of that and that. I'm for three parts Buffalo.
Ingredients:
Barbecue sauce of your choice (I used Franklin's)
Buffalo sauce of your choice (I used Tabasco)
Honey
Combine your preferred ratios of the ingredients in a small bowl, and serve with the chicken.
---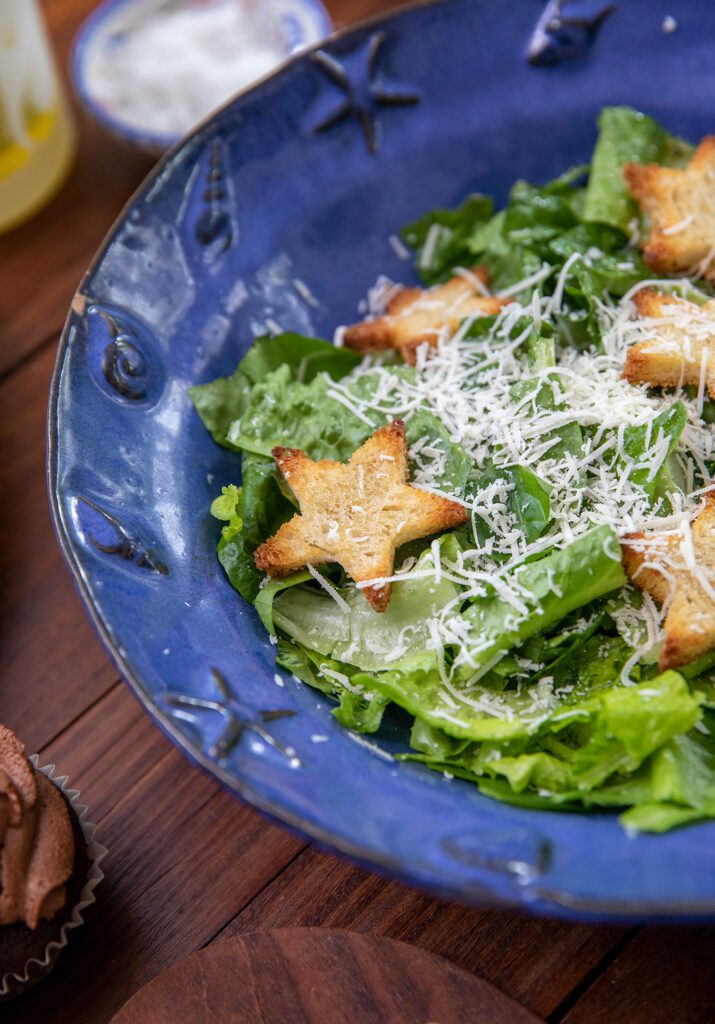 Reilly's Dressed in the Bowl Caesar Salad
My daughter Reilly's favorite salad, from my cookbook Counter Intelligence: The Best of April's Kitchen.
Ingredients for salad:
1 head Romaine lettuce
Zest and juice of 1 lemon
1 tsp. mustard
1 clove garlic, crushed or minced
Pinch of salt and a few cracks pepper
3 Tbsp. extra-virgin olive oil
½ cup freshly grated Parmesan cheese, divided
Wash and dry lettuce (a salad spinner is a big time-saver) and tear into bite-size pieces. Keep chilled until ready to serve.
Mix lemon zest and juice, mustard, garlic, and salt and pepper in a large salad bowl. Whisk in olive oil and 2 Tbsp. Parmesan. Add lettuce to bowl. Toss salad and top with remaining Parmesan. Add Croutons if desired (recipe at right) and serve.
Makes 4 to 6 servings (unless you're serving Reilly, who will happily eat the whole bowl).
Ingredients for croutons:
Sliced bread
1 Tbsp. olive oil per 2 slices bread
1 clove garlic, smashed
Preheat oven to 350 degrees and line a rimmed baking sheet with parchment paper. Lay bread out on a cutting board. Combine olive oil with smashed garlic in a small bowl. Brush oil onto both sides of bread. Cut into desired shapes with a cookie cutter. (Hearts are fun for Mom! We used stars for Tabby.)
Lay bread shapes on prepared baking sheet and bake until golden and as crisp as you like, about 10 to 15 minutes. (Remaining trimmings from bread can bake along with croutons for a chef's snack). Serve on salad.
---
[caption id="attachment_111652" align="aligncenter" width="683"]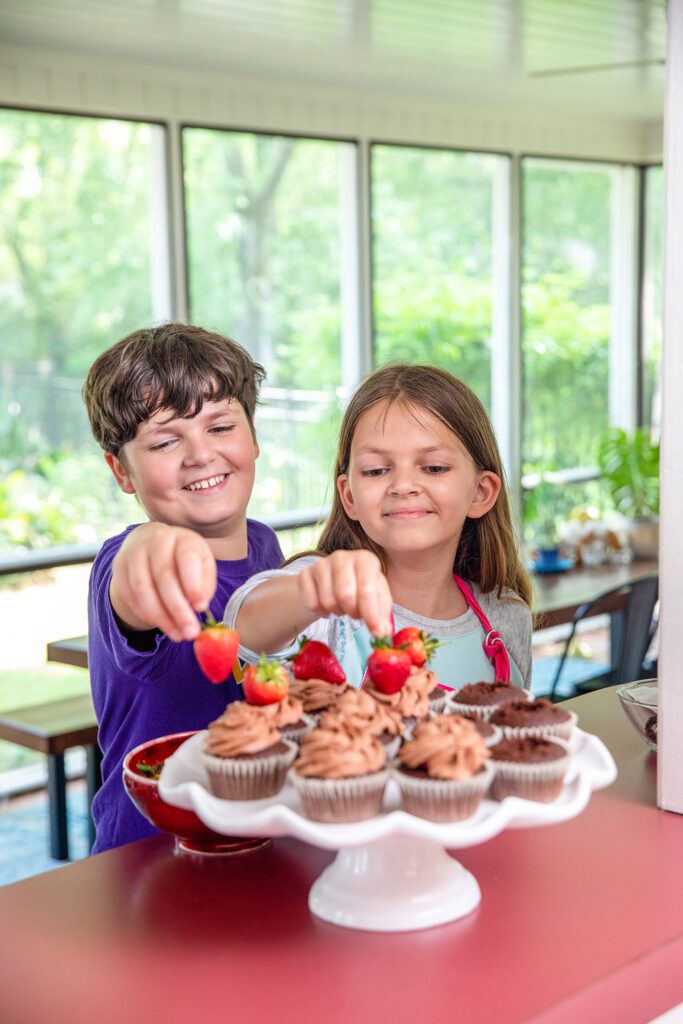 *Cassidy is not a strawberry fan, so she opted out of the strawberries and instead filled the cupcake's cavity with the chocolate whipped cream and crumbled the melon scoop of cupcake on top for sprinkles. This made a fun alternative for a double chocolate delight.[/caption]
Chocolate Goddess Cupcakes
My daughter Emma's creation, another favorite from my cookbook. Bake a batch of chocolate cupcakes, scoop out the center with a melon baller, fill that cavity with a fresh strawberry, and pipe it with a swirl of chocolate whipped cream. 
Ingredients for cupcakes:
1 cup unbleached flour

1

⁄

3

cup cocoa powder
½ tsp. baking soda
½ tsp. baking powder
½ tsp. salt
½ cup butter (1 stick)
1 cup packed brown sugar
¼ cup milk
1 egg
1 tsp. vanilla extract
½ cup hot coffee or hot water
Preheat oven to 350 degrees with rack in middle position. Line a regular-size muffin pan with 12 cupcake liners.
Whisk together flour, cocoa powder, baking soda, baking powder and salt in a medium bowl.
Place butter in a large microwavable bowl and melt at 30-second intervals. Whisk in brown sugar. Add milk, egg and vanilla extract, and whisk to combine. Add flour mixture and whisk just to combine (mixture will be thick). Stir in hot coffee (or water) and mix into a nearly smooth batter. Scoop batter into prepared muffin pan, dividing evenly.
Bake for 18 to 20 minutes or until tops are slightly puffed and set in center.
Remove pan from oven, and cool cupcakes in pan on a rack for 5 minutes. Carefully turn cupcakes out and let them continue to cool, right side up, for about 10 minutes. When cool, scoop a melon-ball-size cupcake out of each cupcake and reserve for another use.*
Ingredients for icing and filling:
¼ cup powdered sugar
3 Tbsp. cocoa powder
1 cup whipping cream
½ tsp. vanilla extract
12 small strawberries, rinsed, dried and hulled, plus additional for top garnish (raspberries also work well) *
Combine powdered sugar and cocoa in a mixing bowl and whisk to combine. Whisk in cream gradually. Chill mixture for 15 minutes.
Add vanilla extract to cream mixture and whip using an electric mixer or hand beater on medium speed until soft peaks form. Finish whipping on low to slowly create firmer peaks. (Goddess trick: whisk by hand!)
Transfer chocolate whipped cream into a piping bag fitted with a star tip or into a large zip-top bag with 1 corner cut off about ½ inch.
Place a hulled strawberry into each cupcake cavity and pipe with cream. Garnish each with a whole berry if desired. Refrigerate any extra cupcakes in an airtight container for up to 3 days.
Makes 12 cupcakes.