Matriarch recipes we'll be cooking up long after Women's History Month
In the South, two of the most important things in life are food and family. And for good reason, too. Keeping family recipes alive can connect us to our heritage and give a sense of comfort and nostalgia, and no one does it quite like our matriarchs—the mothers, grandmothers and other leading ladies tasked with passing those recipes down through the generations.
In honor of Women's History Month, we're rounding up five recipes passed down from mothers to the pages of inRegister. From Creole seafood gumbo to a Cajun bundt cake, these family recipes are all Southern comfort food that will please the whole family for years to come.
---
This gumbo recipe from Cooking with MeMe's Kathryn Middleton Bankston Smith is a fan-favorite with her children and grandchildren, especially around the holiday season.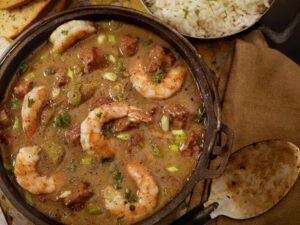 Ingredients:
5 lbs. peeled shrimp
2 cups okra, sliced thin
1 large white onion, chopped fine
3 cups minced green onion
2 cups celery, chopped fine
1/2 cup bell pepper, cut finely
3 pods garlic, minced
2 cans chicken broth
8 cups seafood stock
2 Tbsp. salt
1 Tbsp. Tony Chachere's seasoning
1 Tbsp. black pepper
1/3 cup Pickapeppa sauce
1 Tbsp. Lea & Perrins Worcestershire sauce
1 tsp. McCormick Seafood Seasoning, to taste
1/4 tsp. thyme
4 Tbsp. parsley
2 bay leaves
1 to 2 lbs. white lump crab meat
1 cup cooking oil
1 cup flour
Optional: 1/2 cup finely cut tasso pork (I always use it!)
Optional: 1 (16-oz.) can stewed tomatoes
Gumbo is not an easy task, so plan on being in the kitchen for a while. Peel all of your shrimp, and prepare all of your veggies ahead of time, maybe even the day before. Some people don't like so much green onion, so you can cut down on the green onion buy adding another white or yellow chopped onion. You can even serve the green onion raw on the side if you wish.
Make a shrimp stock in advance too.
Some go all out with this, but I make my stock by taking the shrimp shells and boiling them in about 10 cups of plain water for about 4 hours (put burner on medium/low after it comes to a boil). If you don't have tasso, you can add a ham bone to the stock instead. The shrimp stock will turn a copper color, and there isn't a precise science, but it does add a lot of flavor to the gumbo as opposed to just adding plain water. After 4 to 5 hours, drain the stock from the shells and discard the shells.
Make a roux by heating a 1/2 cup of the oil on LOW heat and then adding the flour. STIR CONSTANTLY!!! It usually takes about an hour to get it the color of dark leather. In a large skillet put in 1/2 cup of oil or a stick of butter and sauté the okra (you can add more okra if you like it), garlic, and white onions until they are wilted. Add the remaining vegetables with salt and pepper and stir them until they are wilted and soft. When the roux is brown, add the chopped vegetables and stir well. Add the chicken broth, only 5 cups of the shrimp stock (freeze the rest), 2 cups of water, 1/4 of the shrimp, and all of the seasonings. Add the tasso and canned tomatoes, if using. Let this simmer for about 2 hours. Check seasoning to taste. About 20 minutes before serving, add the remaining shrimp. Simmer and stir until shrimp is pink. Turn off the burner or turn to low, and add the crabmeat. Serve over cooked rice. Top with potato salad if you like.
You will never find a tomato or okra in a Cajun gumbo; only the Creole version.
---
This is a recipe beloved by the grandmother of Aimee Broussard, who, after her grandmother's passing, scooped up the well-used 1970s Louisiana Chapter of the Alpha Delta Kappa cookbook in which it appeared. In case of emergency evacuation, says Broussard, this recipe is coming with her.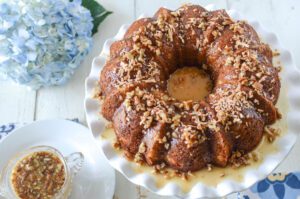 Ingredients:
Cake:
2 cups all-purpose flour
1½ tsp. baking soda
Pinch salt
1½ cups sugar
2 eggs
1 (20-oz.) can crushed pineapple
Topping:
1 cup sugar
½ cup butter
1 (5-oz.) can evaporated milk
½ tsp. vanilla extract
1 cup pecans, chopped
1 cup shredded coconut, lightly toasted
Preheat oven to 325 degrees. Coat a 10-in. Bundt pan with nonstick baking spray.
For cake, in a medium bowl, sift together flour, baking soda and salt. Add sugar, then eggs, 1 at a time. Fold in pineapple. Pour into prepared pan and bake for 45 to 55 minutes or until a toothpick inserted into the center comes out clean. Allow cake to cool for at least 10 minutes, then turn out onto a wire rack or cake stand to cool completely.
With oven still heated, spread shredded coconut onto a baking pan in an even layer and toast for about 3 minutes.
While cake is cooling, for topping, combine sugar, butter, evaporated milk and vanilla in a medium saucepan, and boil slowly for 5 to 6 minutes. Remove from heat and stir in pecans.
Place cake on a cake stand with extra room (for runaway topping). Pour half of topping over entire cake while cake is still hot. Use remaining topping to serve alongside cake for extra drizzle. Sprinkle toasted coconut on top of cake.
Makes 8-10 servings.
---
Another favorite whipped up by Broussard's grandmother, this creation is a simple people-pleaser that finds success at any summer gathering.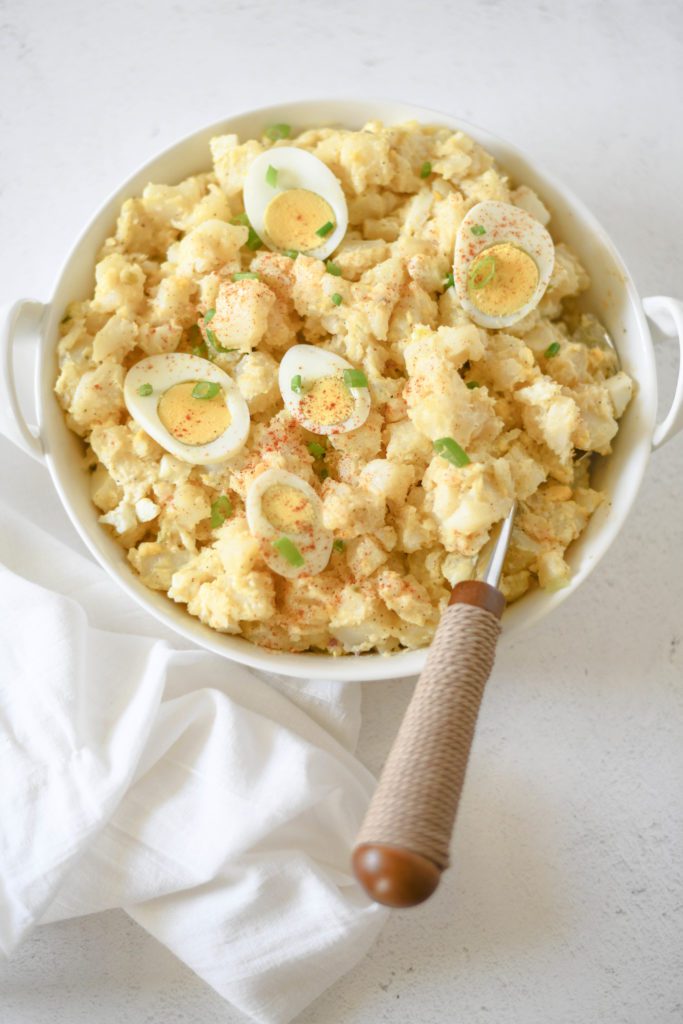 Ingredients:
4 lb. red potatoes (about 8)
4 hard-boiled eggs (3 chopped, 1 for topping)
¾ cup mayonnaise
1½ tsp. sweet pickle relish
1 Tbsp. spicy brown mustard
1½ tsp. salt
¾ tsp. black pepper
1 green onion, chopped, for garnish
Paprika for garnish
In a large stockpot, cook potatoes in boiling water for about 40 minutes or until tender; drain and cool. Peel potatoes, and cut into 1-in. cubes. Add eggs, and mix.
Stir together mayonnaise, relish, mustard, salt and black pepper; gently stir into potato mixture. Garnish with green onion, a sprinkle of paprika, and the remaining boiled egg, sliced. Serve immediately, or cover and chill until ready to serve.
Makes 8 servings.
---
When culinary historian Elizabeth Williams published her cookbook, Nana's Creole Italian Table, she included many family recipes, including this one passed down from her grandmother, who taught it to her mother, who taught it to Williams (with some slight modifications).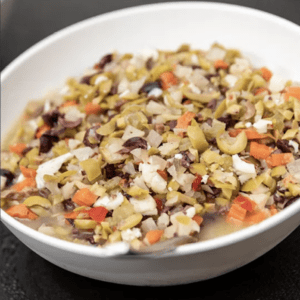 Ingredients:
1 anchovy filet
About 1½ cups fruity olive oil, divided
About 10 boiled and quartered baby artichokes (fresh is best, but if frozen, about 2 packs, boiled and cooled)
3 cups coarsely chopped cured green olives with pimento
2 cups coarsely chopped black olives
1 cup finely diced celery
1 cup finely diced raw carrot
1 cup finely diced raw cauliflower (optional)
1 very, very thinly sliced lemon, including any juice you can save
1 fennel bulb, sliced thinly on a mandoline
4 cloves garlic, minced
6 Tbsp. chopped fresh oregano or
4 Tbsp. dried oregano
¼ cup coarsely chopped capers
Freshly ground black pepper to taste
Salt (optional)
1 cup fresh basil leaves (optional)
In a large bowl, mash anchovy with 1 Tbsp. olive oil until anchovy totally dissolves. If you think you need more olive oil, add another 1 Tbsp. Mix in all other ingredients except remaining olive oil and basil leaves.
Add enough olive oil to barely cover mixture. Stir well so everything is evenly distributed. Let it sit an hour, then taste. If it needs more acidity, add a bit more lemon juice. Because of the olives and anchovy, this salad will probably not need additional salt, but add it if you like. If you want, throw in fresh basil leaves right before serving.
Makes about 2 quarts.
---
Food writer April Hamilton turns to her mother's recipe for beef stroganoff whenever she finds herself in need of a comforting, cool-weather approved dish.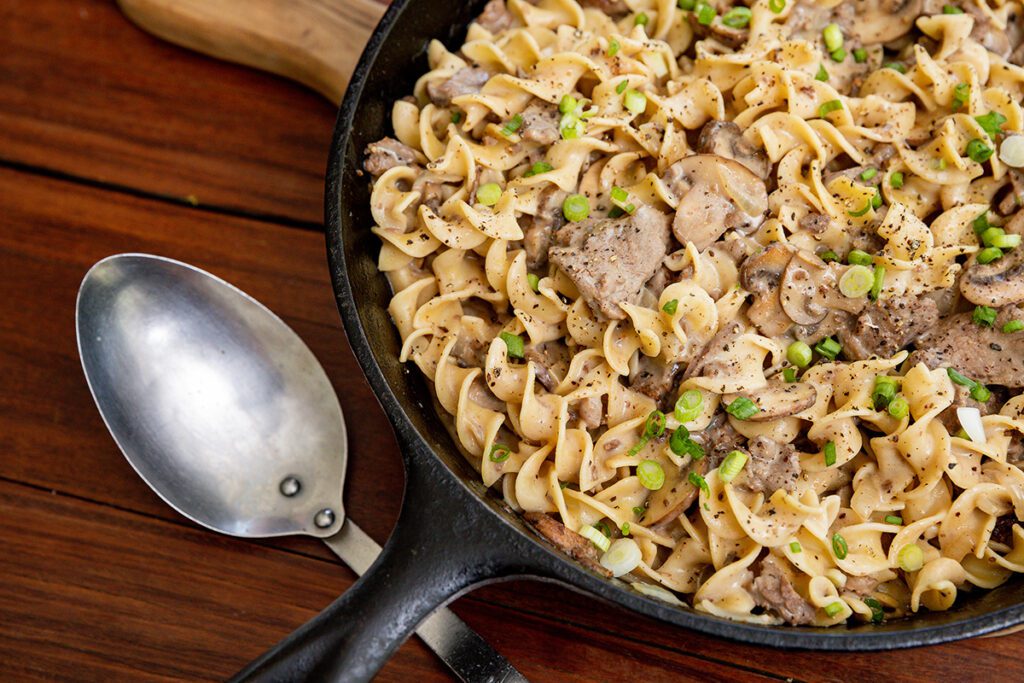 Ingredients:
8 oz. egg noodles
1 (½ lb.) piece of beef tenderloin "tail," thinly sliced
1 Tbsp. olive oil
1 tsp. coarse salt
½ tsp. ground pepper
1 small onion, finely chopped
8 oz. fresh mushrooms, thinly sliced
¼ cup dry sherry*
2 cups beef or chicken stock
2 Tbsp. butter, softened
2 Tbsp. unbleached flour
¼ cup sour cream
2 Tbsp. chopped green onions
Cook noodles according to package directions to roughly time them to finish cooking when the sauce is done.
Heat olive oil in a large skillet over medium-high heat. When oil is shimmering, add sliced beef, and sprinkle with salt and pepper. Toss with tongs to brown meat evenly, then remove to a bowl and set aside. Reduce heat to medium, and in the same skillet, sauté onion to soften, about 5 minutes. Add mushrooms, and cook until tender. Pour in sherry and stir to deglaze browned bits that have accumulated in skillet. Add stock and bring to a boil, then reduce heat to a lively simmer.
Mash butter and flour together in a small bowl, and drop marble-size pieces into simmering sauce, whisking to blend. When sauce has thickened, add reserved browned beef and stir to heat through. Remove from heat, and stir in sour cream. Toss with noodles, and divide into 4 bowls; serve with a green onion garnish.
Makes 4 servings.
---
For more food and drink recipes, follow @inregister.