Some Like It Hot: A Sizzling Summer Fiesta
Photos by Angela DiVincenti Babin
The sidewalk sizzles in August, but that's no reason to eschew entertaining with favorite friends. Take the party inside and kick up the heat with a Mexican-style celebration. It's a perfect idea for wedding showers, back-to-school bashes or just a gathering of neighbors.
"Taco bars are a new trend that makes parties more interactive," says Angela DiVincenti Babin, owner of Angela Marie Events. "Here we set up a self-serve station so that everyone could create their own perfect tasty taco. It was a hit!"
Babin set the scene at a recent couple's shower with bold colors splashed on fabrics, napkins, flowers and flags. Purples and hot pinks took center stage instead of the traditional reds and oranges typical of fiesta décor. Cactus cupcakes in real terra cotta pots keep with the theme in a creative way. And guests took home favors that included a package of simple pepper, a bottle of Mexican hot sauce and a gourmet chili chocolate bar.
"It's all in the details, really," says Babin. "Invitations, food and even refreshing drinks can keep the theme of the party alive. This one was easy to plan and a blast to pull off!"
Click on the photos below for a closer look at the party details:
---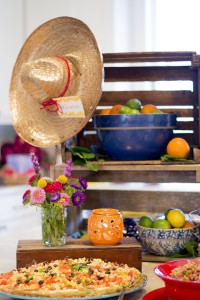 Resources
Stylist & coordinator: Angela Marie Events
Invitations & signage: Rachael Lagarde
Crates: Timeless Vintage Rentals
Plates: Anthropologie
Napkins: World Market
---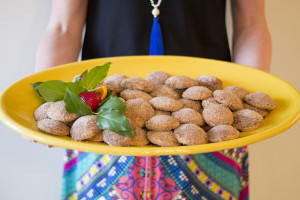 Churro Cookies
This is a simple and sensational take on the cinnamon-laden Spanish pastry. A perfect dessert!
4 oz. cream cheese
1 tsp. vanilla extract
3⁄4 cup sugar, divided
Pillsbury pie crust (2 ct.), defrosted
2 Tbsp. cinnamon
2 Tbsp. melted butter
Heat oven to 350 degrees. In a medium bowl, combine cream cheese, vanilla extract and 1⁄4 cup sugar. Set aside. Unroll both pie crusts and smear one of them with cream cheese mixture. Place other crust on top, and cut out cookies with any size cookie cutter you choose. Gently seal edges with a fork. Bake on a parchment-lined baking sheet for 12 minutes or until firm and slightly golden.
Combine 1⁄2 cup sugar and cinnamon in a small bowl. Once cookies cool, brush both sides with melted butter and sprinkle with cinnamon sugar. Makes about 11 churro cookies.
---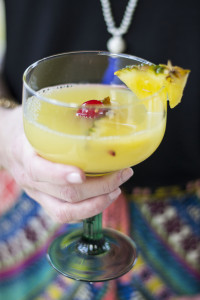 Pineapple Cilantro Margarita
This refreshing hot-weather drink is bursting with flavor. 
1/4 cup fresh pineapple, cut into chunks
1 Tbsp. packed fresh cilantro
1 1/2 ounce Blanco or Silver tequila
1/2 oz. agave nectar
1 oz. pineapple juice
3/4 oz. freshly squeezed lime juice
Ice
In a shaker or quart-size Mason jar, combine pineapple, cilantro and tequila. Muddle to break down pineapple and cilantro. Add agave, pineapple juice, lime juice and a handful of ice. Place lid on shaker and shake vigorously for 1 minute to fully combine all ingredients. Strain into an old-fashioned glass with fresh cubed or crushed ice. Garnish with a piece of pineapple and sprig of cilantro. Makes 1 cocktail.