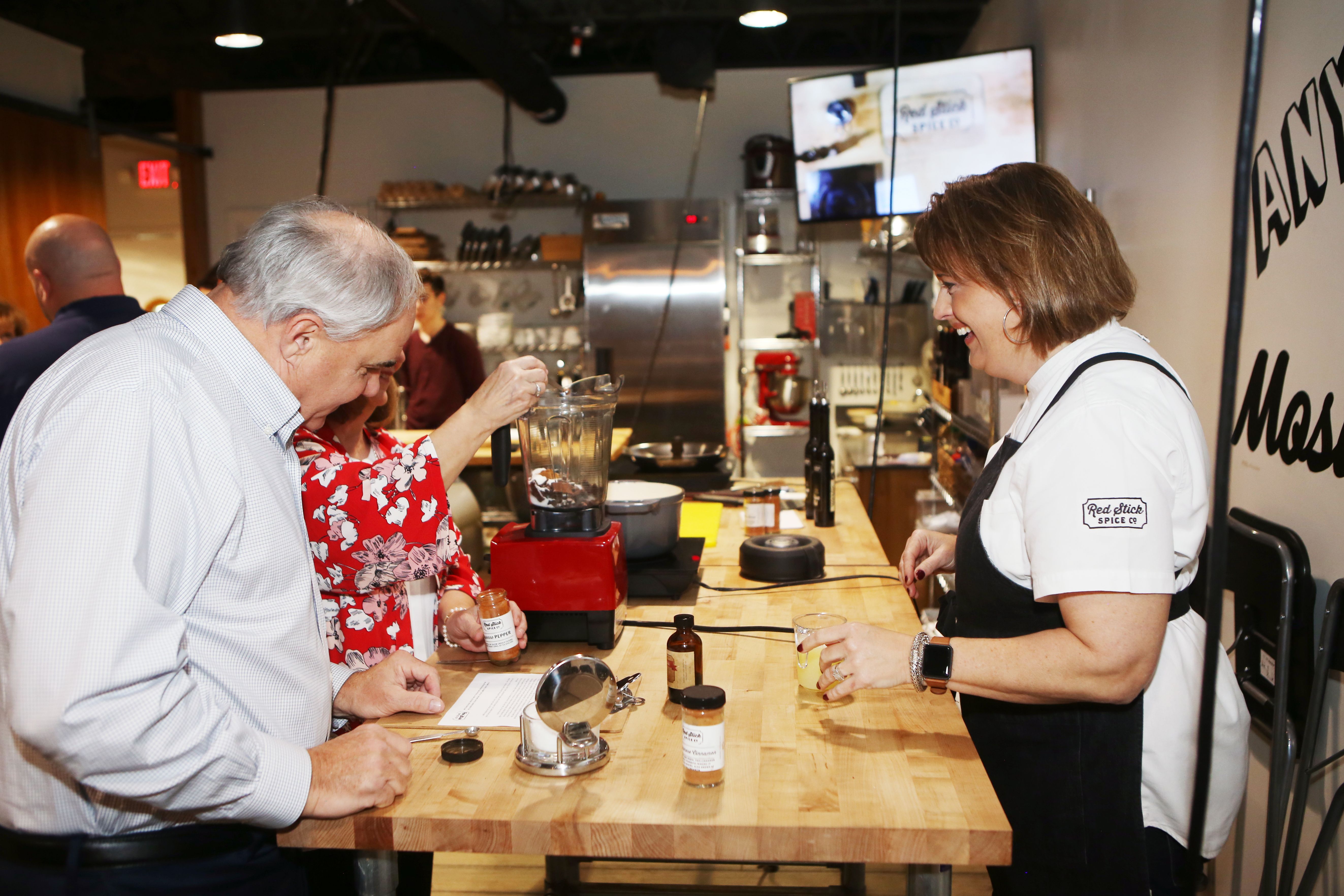 Home plates: Anne Milneck's Red Stick Spice Company is adding fuel to the family dinner
---
First you salivate. Then you sigh.
There are more than 250 million Instagram images tagged #food—the social media giant's most popular hashtag—and with every scroll through your feed at least one will turn up in all of its mouth-watering, envy-inducing glory.
Once the stomach-punching hunger pains have settled in for good, the real cursing begins. Turns out the dish before you is the latest creation of an oh-so-humble home cook, an impossibly exuberant young mother of three. She makes artisanal birdhouses with her adorable brood, quotes Walt Whitman and TEDTalks in equal measure, and you swear you saw her kitchen in the Anthropologie catalog. Her clutter-free den looks ready to host a Lululemon yoga retreat or Oprah. Her apron game is always on point, but her favorites are sold out everywhere, so don't bother.
She could be Reese Witherspoon's little sister with her quirky, pouty charm presented in bohemian chic wrapping and hair perfectly tossed in a top knot because even though her Miso-Tahini Avocado Toast looks like a Van Gogh and makes you cry she is totally carefree.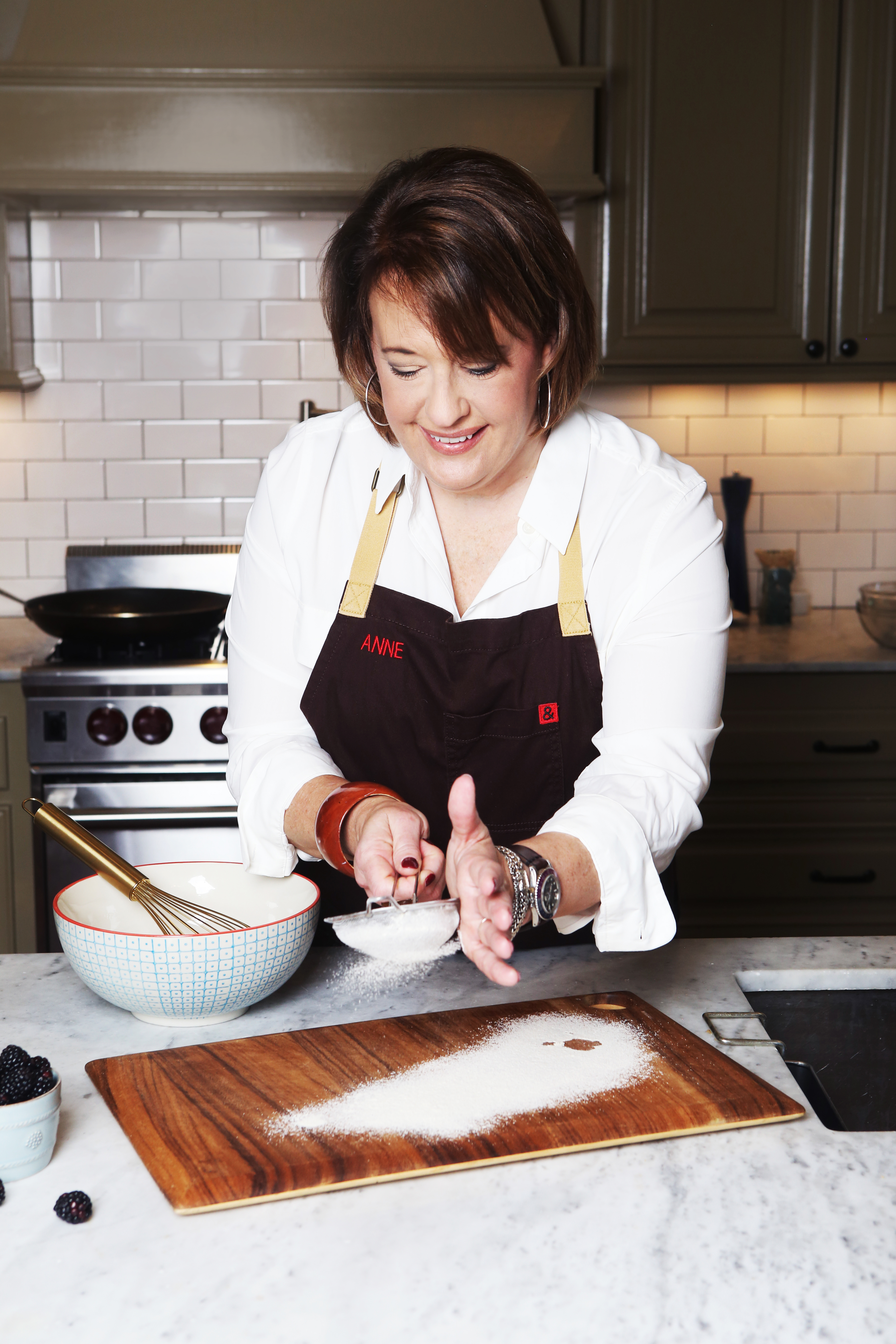 Tapping the post blots out the entirety of her gorgeous face and her gorgeous scene with branded tags. Even the cheese parts. Oh, the cheese. How is she still thin?
You snap out of it just in time to realize your own children are shouting so loud you can't even hear if the microwaved beeped.
It's all enough to make you throw your phone in a pot and set the burner for boil.
What hath Martha Stewart wrought?
"A woman came in, and she was very sheepish in admitting, 'I still do red beans and rice on Mondays,'" recalls Anne Milneck, owner and chief flavor-maker at Red Stick Spice Company on Jefferson Highway. "And I thought, 'Red beans are wonderful—why do we need to apologize for making that?'"
But thanks to a food television and social media culture that shows cuisine as status symbol more than sustenance, and aims for picture-worthy perfection on every plate—yes, 69% of millennials photograph or video their food before eating, according to a recent Maru/Matchbox study—cooking at home has grown less adventurous and more stressful. Which is why fewer Americans are trying it. According to The Washington Post, fewer than 60% of meals that are eaten at home are prepared at home.
"Food imagery is at an all-time high, but cooking is at an all-time low," Milneck says. "We have so much food information, but families are doing so little with it. People feel intimidated by these images of food perfection."
This doesn't look like the Pinterest photos. This isn't even worth posting. Am I worth a damn?
"And that's where Red Stick Spice can really serve," she adds.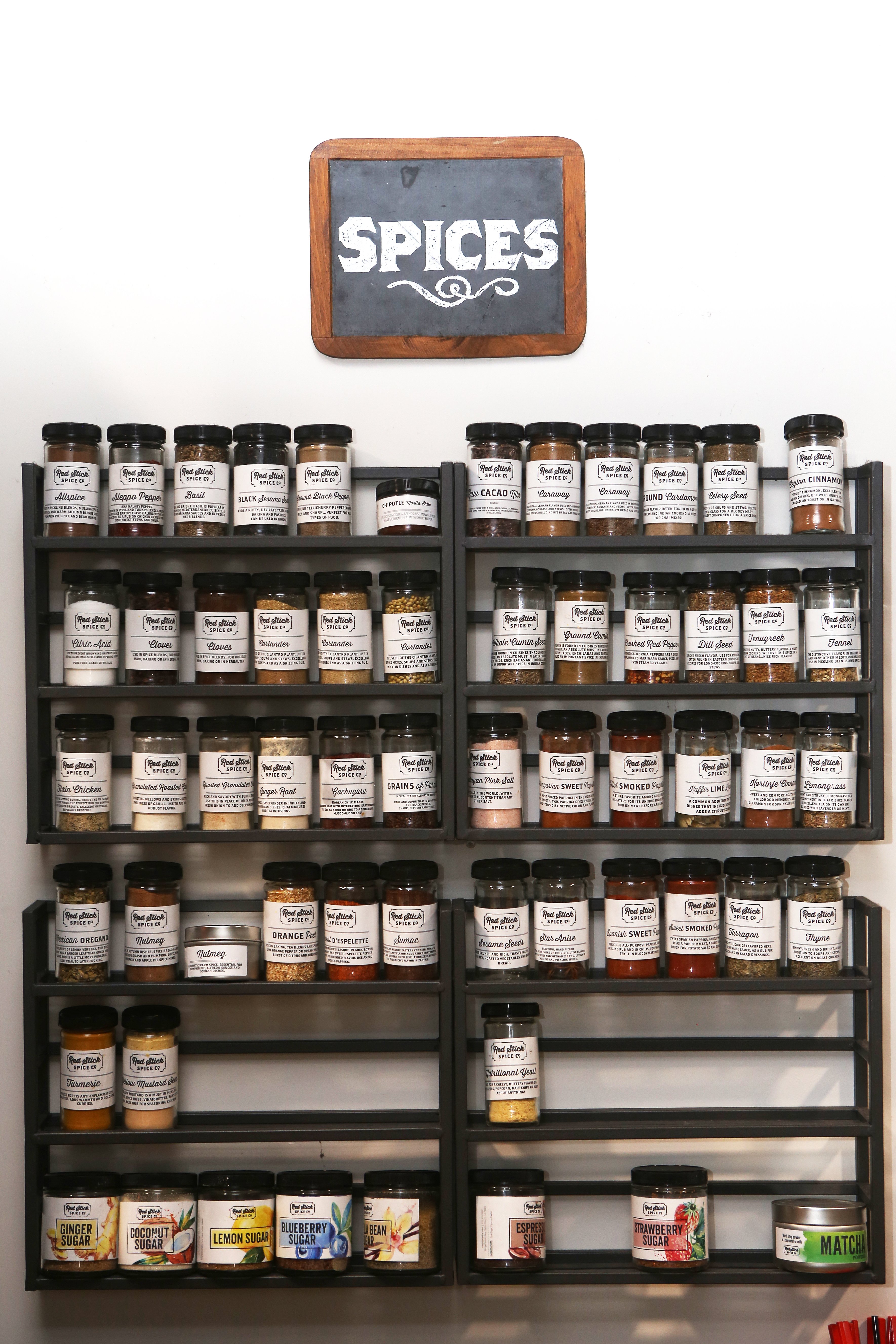 Not long after talking with the customer we'll call Red Beans Mom, Milneck took stock of the spice store she had bought earlier that year, and a good hard look at the feeling her patrons experienced walking through her doors. She decided to add healthy servings of accessibility, encouragement and education to Red Stick Spice with the goal of empowering women—and men—to confidently feed their families well and leave all those negative comparisons on the cutting board.
"There was an air that this was a destination for foodies, which can feel a little elitist," Milneck says. "What we are really about now is 'How can we make Taco Tuesday better?' or 'Let's return to red beans and rice on Mondays.'"
Milneck has always connected food and family in her mind. Growing up in LaPlace, her street was lined with the homes of aunts, uncles and cousins. Most nights as a young girl she would walk from house to house to say hello to her relatives.
"Really I was seeing what everyone was making for dinner," Milneck says with a little laugh. "They were all great cooks."
Milneck believes the value is less in the specifics of bread making and more in the bread breaking, that communal ceremony of sharing place, words, laughter and touch with loved ones over a meal. She and husband Greg, owner of production company Digital FX, keep chickens, so they often cook breakfast for dinner with their children using the harvested eggs. "A quiche or omelet with fresh basil and cheeses and a roasted veggie is a great quick dinner," Milneck suggests. "Or we like to grill salmon, which sounds fancy but is so quick and easy."
Bridget Akin is a mom of three in Baton Rouge who doesn't like buying seasonings and oils without tasting them first, but Red Stick Spice encourages testing, and Akin has become a regular. "They clearly love what they do," Akin says. "They're extremely knowledgeable and patient with questions and have given us so many ideas to try at home. I'm definitely a more confident cook."
Families and communities at large have long been tethered together by the table, with our cuisine-centered culture of south Louisiana being no exception, and yet modernity seems to be tugging the seams of those traditions.
"I had those overscheduled kids, and days when we all were very busy, but we still sat as much as possible together for meals," Milneck recalls. "It wasn't always pretty, but we recognized the importance of eating together."
At age 40, with two elementary-age children, and inspired by a Viking Cooking School class she and Greg had taken on an anniversary trip, the freelance writer and full-time mom decided to get her culinary degree from Nicholls State University.
"Basically, I was in school while [my children] were," she says.
In 2013, Milneck purchased Red Stick Spice Company from the shop's founding owner and began offering house-blended spices, infused olive oils from California estates, and a variety of whole-leaf and blended teas. She sources produce locally from Luckett Farms and Fullness Organic Farm, and offers spices running the gamut from traditional Cajun and Creole to off-the-beaten-path Southwestern, Indian and trending North African flavors.
When the freezes in January kept area farmers from tending their citrus trees, a regular at the shop dropped off a satchel of satsumas and Meyer lemons, which Milneck dried and used in tea blends. This is how commerce becomes community.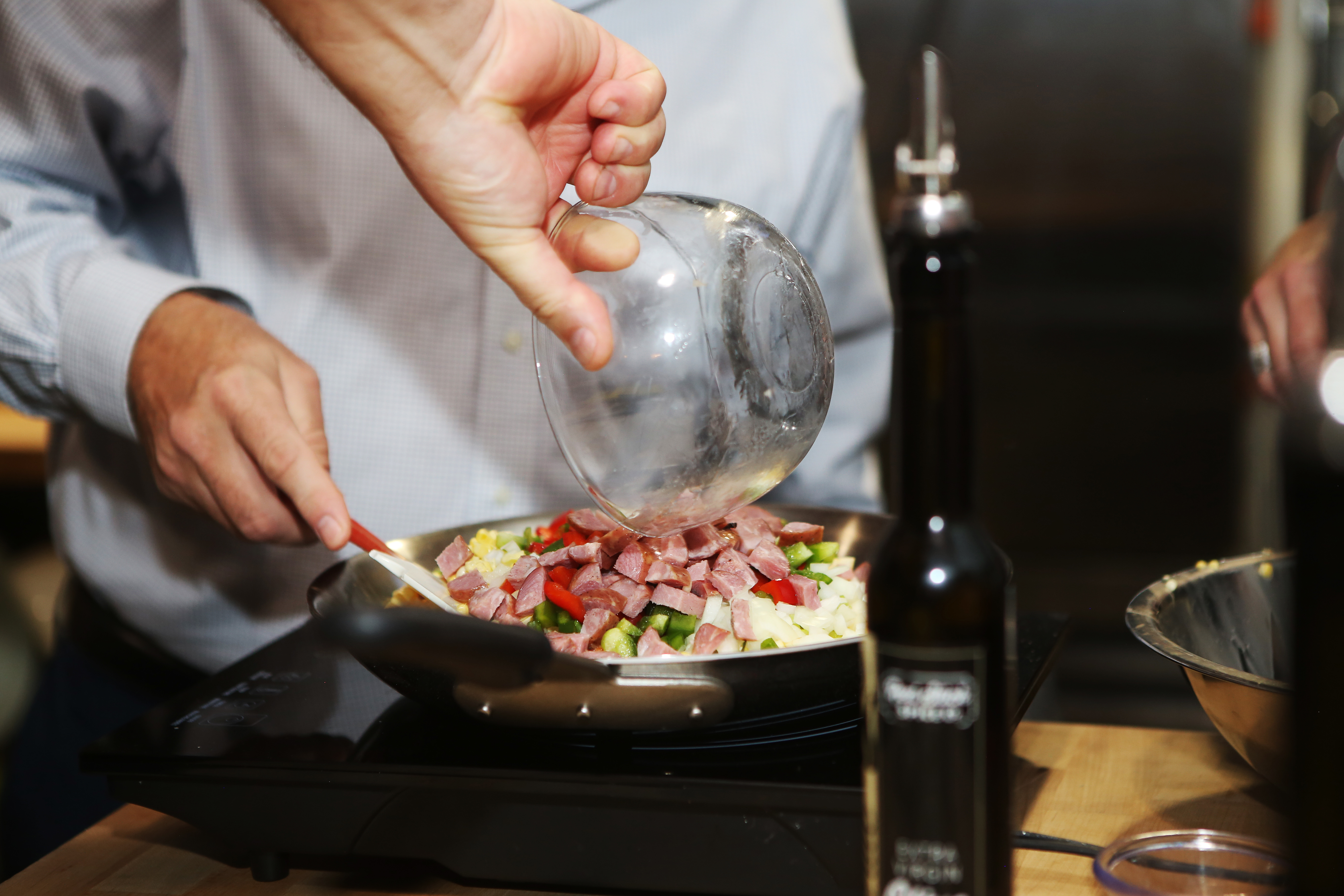 Milneck started with a single worker and now employs 15—including one devoted solely to blending and another for coordinating online sales—but most importantly they put home cooks at ease while sharing their expertise.
Charlie Buller is a graphic designer for Community Coffee and a health-conscious creative who exercises and cooks at home to control exactly what she's eating. "Red Stick Spice makes it easy to add creative depth and flavors to my recipes without adding any extra junk," Buller says. "The Rougarou spice blend is my current go-to."
Among Milneck's loyal customers are some of Baton Rouge's most successful chefs and restaurateurs. "The difference between using fresh spices and spices that have been in the cupboard for a year is huge," says Katia Mangham, chef and owner of Gourmet Girls catering company. "I love that I can buy small quantities of spices, which keeps everything fresh. The flavors are bolder and the difference comes shining through."
Milneck's pivot to focusing on the family came full circle when Red Stick Spice moved to a new Mid City location on Jefferson Highway near Government Street and re-opened with a larger, more lived-in general store vibe and a well-appointed test kitchen for cooking classes. The calendar is filled with courses, and sometimes there's an offering every day of the workweek, like a new class on sourcing and assembling the perfect charcuterie board and more classic, Grandma-approved courses like "Jams and Jellies" or "Biscuits, Scones and Pie Crusts."
"Skills-based classes are our most popular," Milneck says. "There's a need to connect with the past but also a movement toward less waste, which leads people to cook more seasonally and connect with local farmers."
The classes may start with a group of strangers, but by the end they are more like cooking cousins, taking selfies together and sharing and enjoying their edible feats. "That's the most important end result—gathering together," Milneck says.
In 2018, the entrepreneur aims to connect with more local chefs and roll out a Blue Apron-style subscription service for delivering Red Stick Spice products to doorsteps every month. Anything to empower home cooks to make confident and healthy choices.
"If you are cooking at home and gathering with friends and family, you are doing it right," Milneck says. "Forget perfection."
---
Upcoming classes at Red Stick Spice Company in March and April will feature such topics as cast-iron cooking, breakfast on the go, and pastry basics. Get details at redstickspice.com.
Anne shares with inRegister readers a few easy recipes for cooking at home from breakfast to dinner and beyond. Click here to check out her delicious dishes.