Easy recipes straight from the kitchen of Anne Milneck
---
Whole Grain Pancakes with Roasted Pecans and Spiced Cane Syrup
Several Louisiana farmers are processing cane syrup that is light in color and taste—similar to maple syrup. Look for it at farmers' markets and local grocery stores.
4 cups whole wheat flour
1 cup all-purpose flour
3 ½ cups old-fashioned oats, ground to a flour in a food processor
3 Tbsp. sugar
3 Tbsp. baking powder
1 Tbsp. sea salt
1 cup vegetable oil
1 cup buttermilk
1 egg
½ cup roasted, chopped pecans
1 cup cane syrup (we used a lighter version from a local farm)
½ tsp. Vietnamese cinnamon
1/8 tsp. cardamom
To make pancake mix, combine first 6 ingredients in a stand mixer. With mixer running, drizzle in vegetable oil. Store mix in an airtight container in the refrigerator or freezer for up to 6 months.
To make roasted pecan pancakes, combine 1 cup mix, buttermilk, egg and pecans. Heat a lightly greased griddle to medium-high. Drop batter using a ¼-cup measure. Griddle until bubbles burst on top, then flip. Repeat with remaining batter.
To make spiced cane syrup, combine cane syrup with Vietnamese cinnamon and cardamom. Microwave for 30 seconds on high. Stir to combine.
---
Rosemary Roast Chicken with Sweet Potatoes
1 fryer chicken
Dry Brine Blend
Rosemary extra-virgin olive oil
1 onion, sliced
1 large sweet potato, peeled and diced
Salt to taste
2 cloves garlic, minced
1 Tbsp. minced fresh rosemary
Preheat oven to 450 degrees. Rinse and pat chicken dry. Tie (truss) chicken with butcher twine to bring legs together and press wings close to body. (Trussing creates a compact package that ensures even cooking.) Generously season bird with dry brine, and rub with rosemary extra-virgin olive oil.
Place sliced onion in the bottom of a cast-iron skillet. Place chicken on top of onions and arrange diced sweet potato around chicken. Season sweet potato with salt, and sprinkle with minced garlic and rosemary.
Roast chicken for 30 minutes or until golden brown. Reduce heat to 350 degrees and continue roasting for another 30 minutes or until a meat thermometer inserted into breast registers 165 degrees and juices run clear when thigh is pierced.
---
Sunday Supper: Milk Chocolate Cake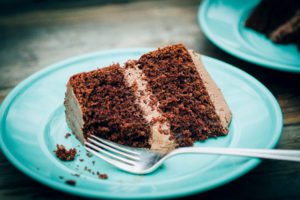 It's difficult to coax a punch of flavor from milk chocolate when it comes to cake. Chocolate extract to the rescue! It heightens the flavor and pulls it forward. The whipped ganache is, well, the icing on the cake. Time to pour yourself a tall glass of milk.
¼ cup vegetable oil
4 Tbsp. unsalted butter
2 eggs
¾ cup sugar
18 oz. milk chocolate (chopped or chips), melted, divided
½ tsp fleur de sel
2 ½ cups cake flour
1 ¼ tsp. baking soda
1 Tbsp. chocolate extract
1 tsp. vanilla extract
¼ cup cocoa powder
1 cup buttermilk
1 cup heavy cream
Preheat oven to 325 degrees. Prepare two 8-inch round pans or one 9 x 13-inch pan by spraying with nonstick spray and dusting with cocoa powder.
In the bowl of a stand mixer, beat oil, butter, eggs and sugar until well combined. Add 6 oz. melted chocolate, fleur de sel, cake flour, baking soda, extracts and cocoa powder. Mix until combined; mixture will be thick and the consistency of clay. With mixer running on low, begin adding buttermilk in small additions until well combined. It will be shiny and the consistency of pudding.
Pour into prepared pans and bake for 18 to 20 minutes for two rounds or 25 to 28 minutes for a
9 x 13-inch pan.
To make whipped ganache frosting, heat heavy cream to just below a simmer. Pour over 12 oz. milk chocolate. Stir to combine. Refrigerate for at least 1 hour. Transfer chilled ganache to a stand mixer with whip attachment. Whip until lightened in color, doubled in volume and light and fluffy. Frost cooled cake with whipped ganache. If there is any left over, refrigerate cake.
---
Anne Milneck's Red Stick Spice Company is adding fuel to the family dinner. Click here to check out our cover story on Milneck that goes along with these recipes.