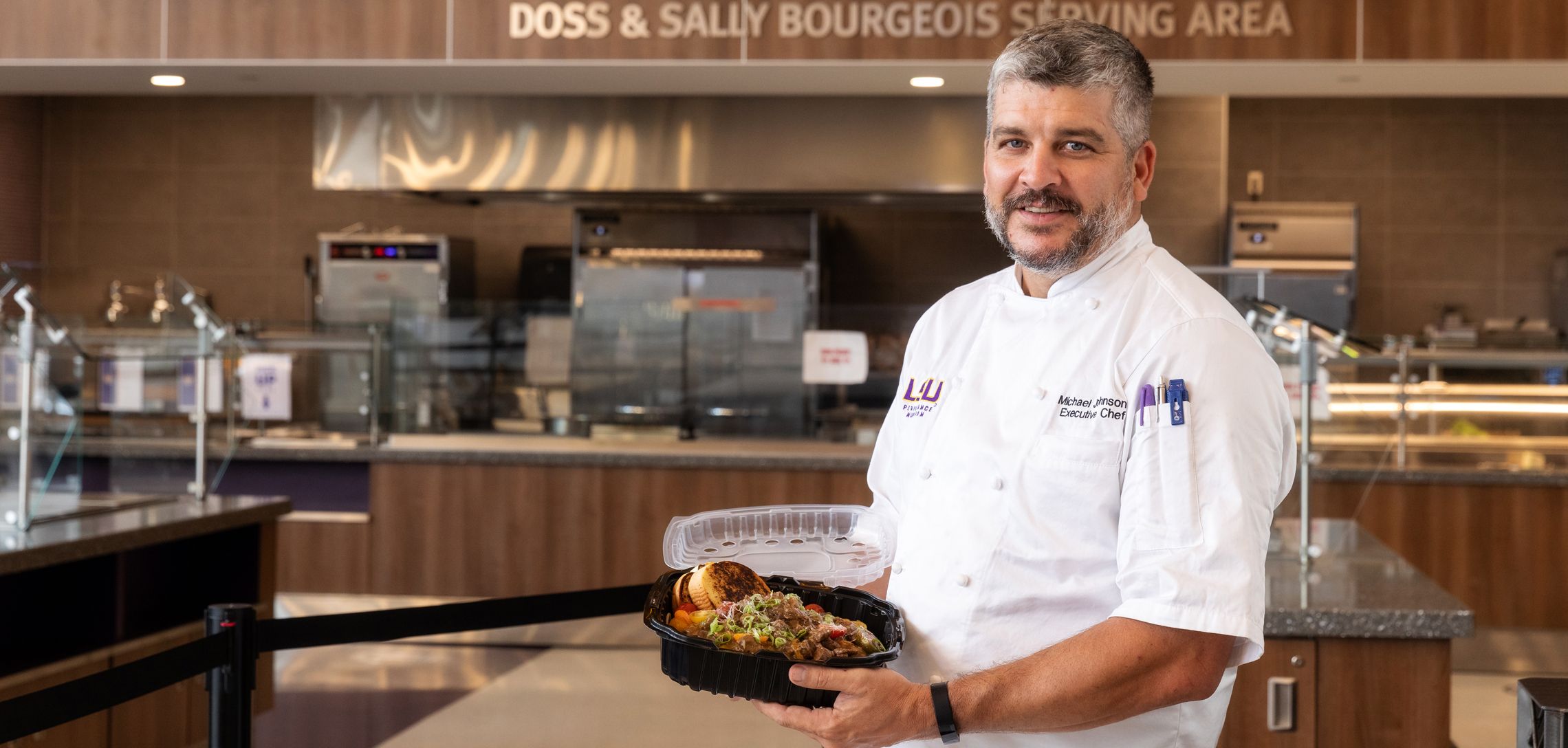 Feeding the Tigers: Hungry athletes find hearty and healthy offerings at the LSU Performance Nutrition Center
When Joe Burrow says thank you, he covers the whole spread. His unforgettable teary tribute to Coach O at the Heisman Trophy presentation is a testament to his sincerity. "I sure hope Coach O gets a lifetime contract," he said. "He deserves it." Again as the world watched and LSU crowned an undefeated season with a national championship, the winning quarterback recognized all the people who made the trifecta season possible, many of whom work behind the scenes.
While the confetti cascaded, the announcement heard around the world was music to chef Michael Johnson's ears. His friends and colleagues far and wide also noticed. "My phone blew up when everybody heard him say thank you to the chefs and caterers," Johnson recalls. "I was emotional. It was a really powerful moment. All the energy and investment that we put into it being recognized right there live in front of you. I'm tearing up right now thinking about it."
"Chef Mike" joined LSU as the executive chef of the Performance Nutrition Center just before the ribbon cutting of the renovated Football Operations Center, which features the state-of-the-art dining hall for student athletes. Working in partnership with another newcomer, registered dietitian and director of football nutrition Zach Bennett, Johnson is passionate about feeding athletes. It is exponentially more than serving three meals a day.
"It's a balance," Johnson says. "Provide exceptionally nutritious foods that are comfortable for them. Good tasting with healthier results. Three times a day we have an opportunity for our team to be creative. I love coming to work every day. We have a committed staff who want to support the health of the students. It speaks volumes to the culture of LSU."
A full season ago, the sparkling space was buzzing at full throttle with meal service for student athletes from every LSU sport, breaking bread together. "Everybody usually eats in here," Bennett says. "Our chef likes to promote a family environment. He and I share the same vision. It's really powerful."
"Zach is a super smart guy and I love working with him," Johnson says. "This is a family culture. We designed a 'Taste of Home' program to build relationships with athletes and their families. We feature families' recipes. We've done taste of England, taste of the Pacific Islands, taste of north and south Louisiana." The duo is eager to return to business as usual without the obstacles of a global pandemic.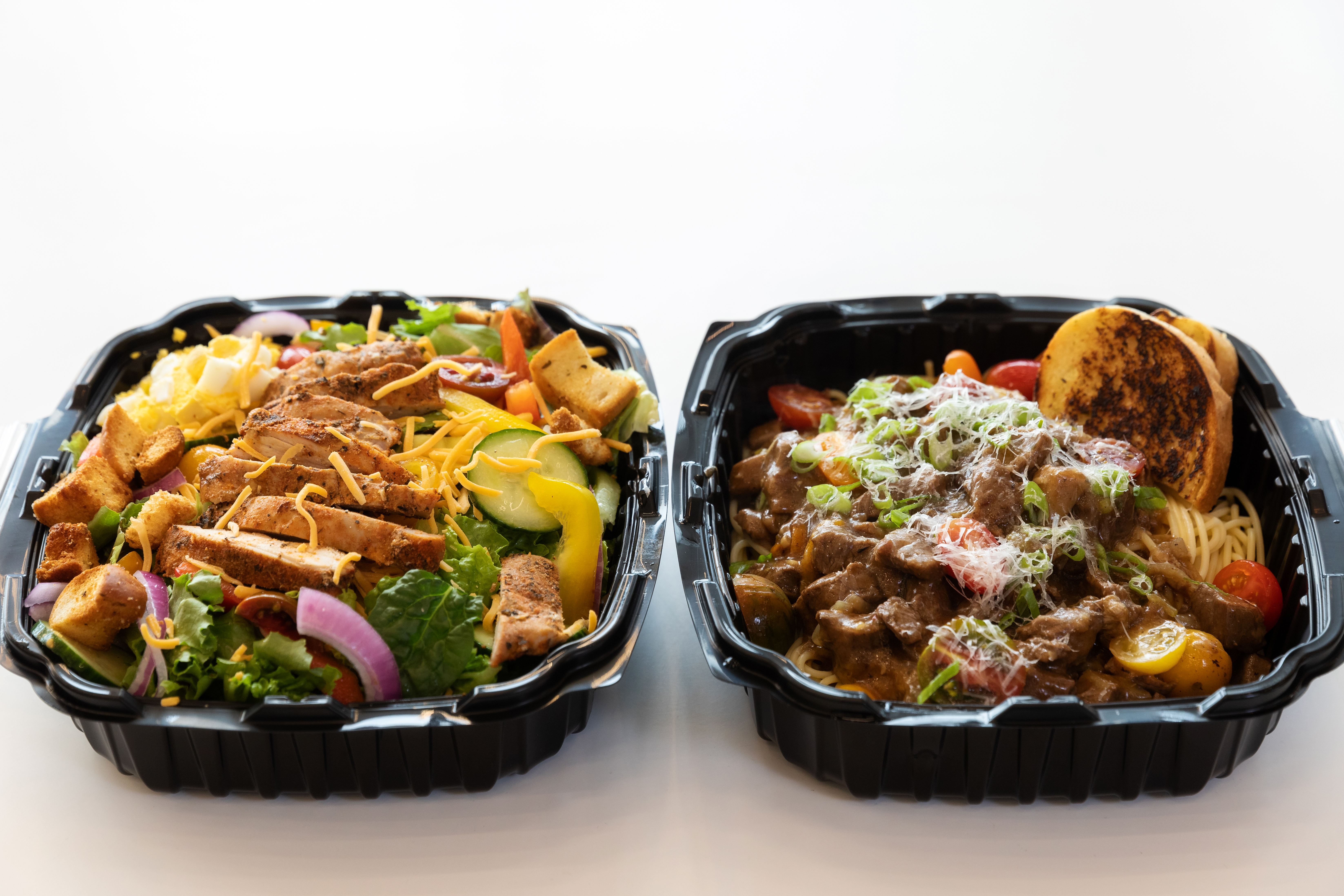 Now the polished purple, white and gold terrazzo floor is temporarily marred with "Keep a safe distance" footstep stickers at 6-feet intervals. The educational screens above the dining buffet that normally promote hydration and nutrition now include messaging about hand washing and social distancing. "When the whole country was in quarantine, we faced some of our biggest challenges and made sure our kids had safe access to healthy food. Our dining hall was able to stay open when some of our athletes were unable to return to their homes," Bennett says.
Until they can reopen at full capacity, the meals are packed in compostable or recyclable to-go containers for easy pickup or delivery. "Right now we are serving two or three choices," Bennett says. "We normally serve a big variety to offer everyone an option that appeals to them and fuels them. We know if they are not comfortable eating our food, they will go somewhere else. We are here to offer them help and guide them. We are not the food police. We want the kids to make their own choices."
Since his arrival, Johnson has also worked to develop a network with LSU Agriculture Sciences, the Horticulture Club and LSU Campus Sustainability to build relationships across campus and make the kitchen one of the greenest in Baton Rouge. Up next is a garden that encourages athlete participation with the harvest featured in the Performance Nutrition Center, giving credit to the athletes who grew it.
"The food has changed a lot with Mike coming in," Jack Marucci, director of athletic training, says. "Every little piece is important. Also, we've never had this many dietitians. We have four full time and an intern, plus the university has students who get involved. It's a lot about educating the student athletes. The athletes make us look good. We're fortunate we have such high-quality athletes who are interested in joining our environment."
As the students return to campus for their teams' camps and a new school year, there is palpable enthusiasm for things to return to normal. An amended football game schedule has been posted, and without a doubt one thing is certain. The gameday menu before the Tigers hit the field will stay the same. "Chef travels two days ahead to ensure the quality of our meals on the road," Bennett says. "It obviously paid off! When you win a national championship, it's everyone pulling their weight."
---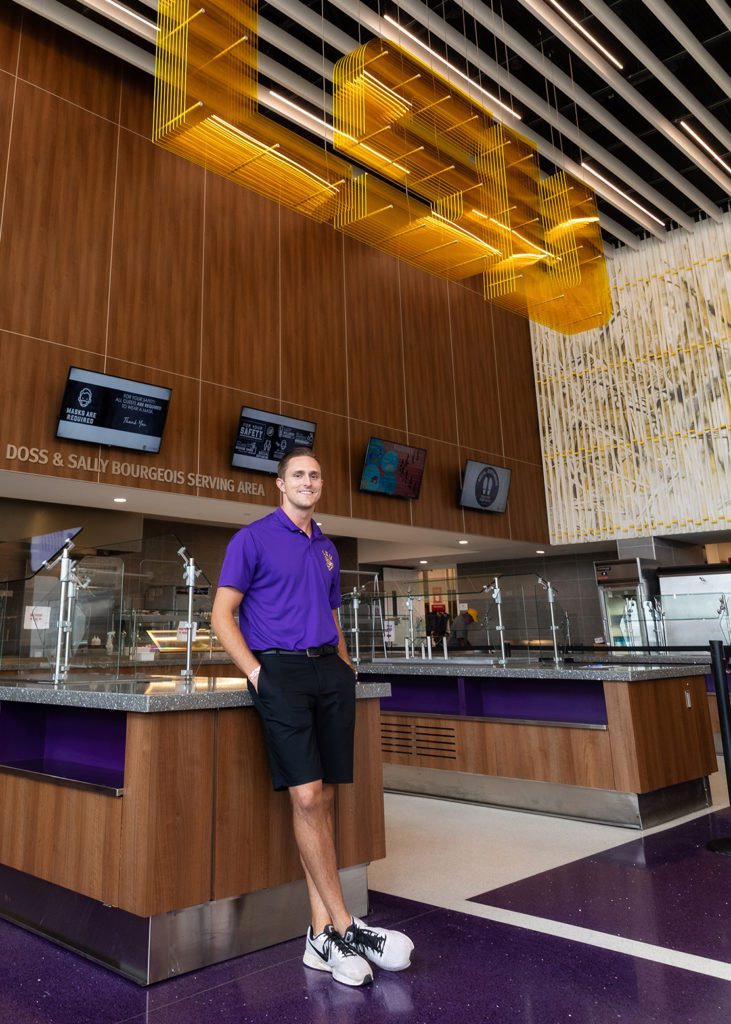 From the Playbook

of Sports Nutritionist

Zach Bennett

Whether you are a performance athlete or watching from the sidelines, here are some of Zach's tips for how to (and not to) fuel. He likes the 80%-20% rule. "Eighty percent of the time, do the best you can," he says. "Twenty percent of the time, you can take a break from it. It's important to have that balance, then you don't feel guilty. One hundred percent causes people to give up. I truly believe in giving yourself permission, and I try to embody what I say. I have fried chicken every now and then."
Recommended:
• High fruit and vegetable intake—"Eat the Rainbow"
• Pineapple—Good for muscle tissue recovery
• Yogurt/Greek yogurt
• Spinach
• Walnuts
• Turmeric—Can help in recovery and fight inflammation
Foods to limit:
• Processed meats—Instead, go with a natural choice without preservatives
• Candy—Choose 80% cacao for a high-quality option
• Packaged desserts
• White bread—Choose wheat bread with fiber and B vitamins (an exception is right before competition; weekday guidance is way different than gameday)
• Soda and energy drinks
---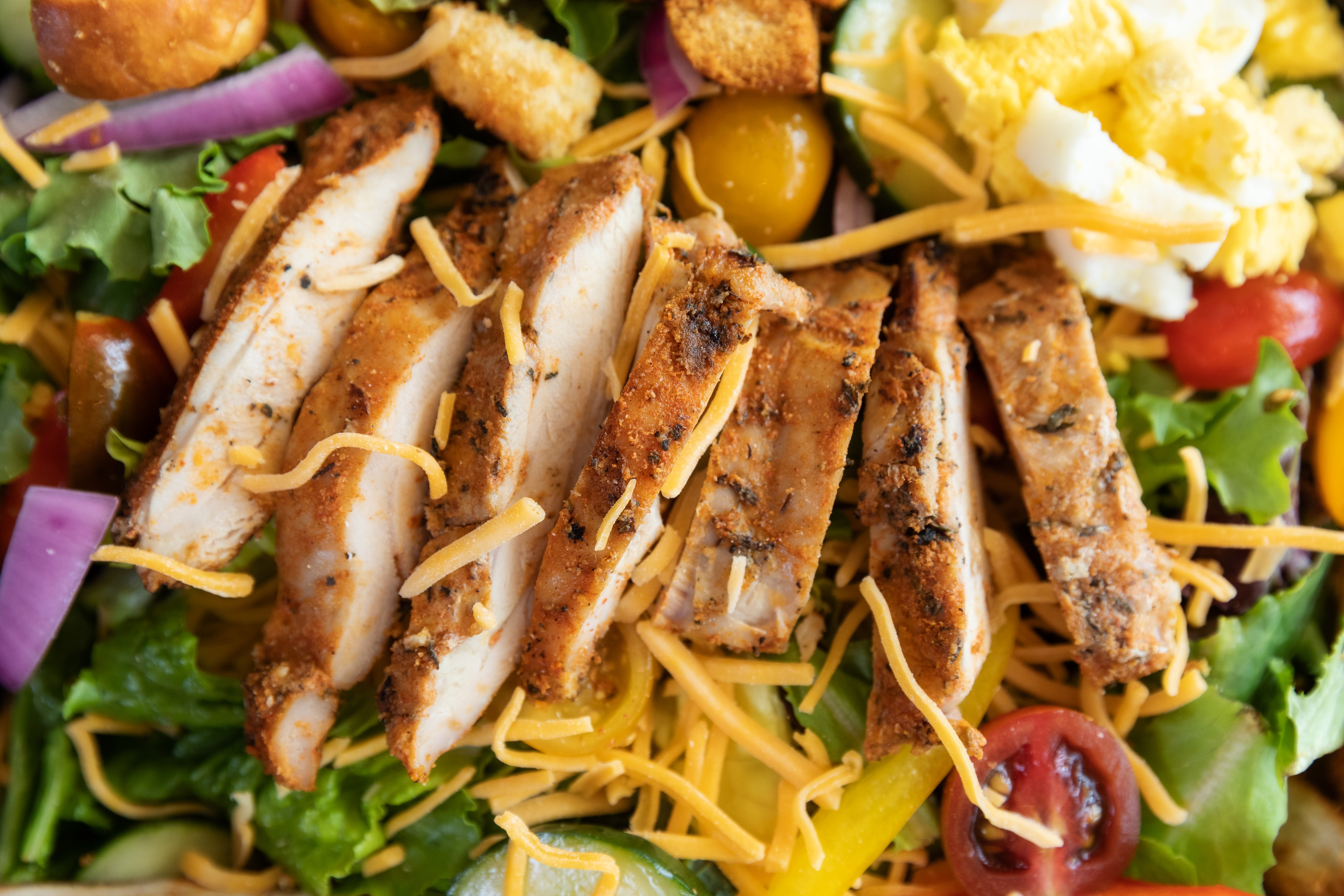 GRILLED CHICKEN SALAD
MARINADE/DRESSING:
2Tbsp. olive oil
Juice of 1 lemon (
1

⁄

4

cup fresh squeezed lemon juice)
2Tbsp. water
2Tbsp. red wine vinegar
2Tbsp. fresh chopped parsley
2tsp. dried basil
2tsp. garlic, minced
1tsp. dried oregano
1tsp. salt
Cracked pepper to taste
1lb. skinless, boneless chicken thigh fillets (or chicken breasts)
SALAD:
4cups Romaine lettuce leaves, washed and dried
1large cucumber, diced
2Roma tomatoes, diced
1red onion, sliced
1avocado, sliced
1

⁄

3

cup pitted Kalamata olives (or black olives), sliced (optional)
Lemon wedges, to serve
Whisk together all marinade/dressing ingredients in a large jug. Pour out half of marinade into a large, shallow dish. Refrigerate remaining marinade to use as dressing later.
Add chicken to the marinade in bowl; marinate chicken for 15 to 30 minutes (or up to 2 hours in the refrigerator if time allows). While waiting for chicken, prepare all salad ingredients and mix in a large salad bowl.
Once chicken is ready, heat 1 Tbsp.
oil in a grill pan or a grill plate over medium-high heat. Grill chicken on both sides until browned and completely cooked through.
Allow chicken to rest for 5 minutes; slice and arrange over salad. Drizzle salad with remaining untouched dressing. Serve with lemon wedges.
---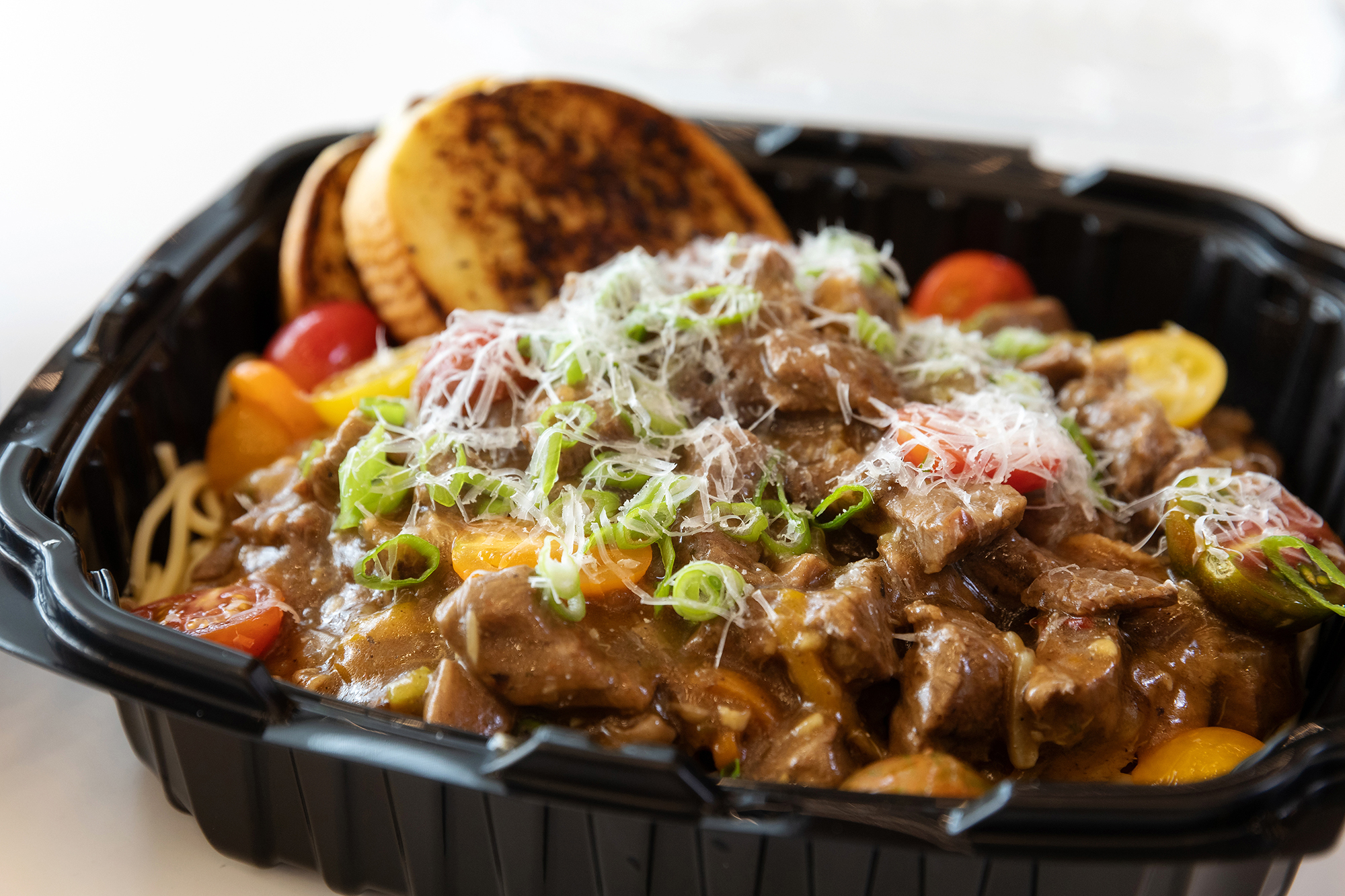 BRAISED BEEF OVER HERBED PASTA
INGREDIENTS: 
6lbs. bone-in short ribs
Kosher salt and freshly cracked
black pepper, as needed
Vegetable oil, as needed
1 onion, diced
3 medium carrots, diced
2 celery stalks, diced
2 garlic cloves, minced
3 Tbsp. all-purpose flour
1 cup red wine
1(14-oz.) can crushed tomatoes
1(29-oz.) can tomato sauce
2 bay leaves
2 large sprigs thyme
1 sprig sage
3 cups beef stock
1½lbs. spaghetti
2 Tbsp. butter
High-quality grated parmesan, to garnish
Fresh parsley or fried sage, to garnish
Let short ribs sit at room temperature for 15 minutes. Season generously with salt and black pepper on all sides. Heat a large, heavy-bottom pot or Dutch oven over medium heat. Add enough vegetable oil to just coat bottom of pot.
Working in batches, sear short ribs really well, about 3 to 4 minutes on all 4 sides. Transfer each batch of meat to a foil-lined sheet pan or plate once seared.
To pan drippings, add onion, carrots and celery. Season with salt and black pepper. Sauté vegetables for a few minutes until tender and caramelized. Stir in garlic and cook for another minute. Stir in flour and let cook for a minute or so, stirring continuously. Deglaze pot with red wine. Bring to a simmer, scraping bottom of pan to release all of the flavors. Let simmer for another minute. Stir in crushed tomatoes, tomato sauce, bay leaves, thyme, sage and another pinch of salt. Let tomatoes simmer for 5 minutes. Stir in beef stock. Add short ribs back to pot. Bring liquid to a simmer. Cover pot, leaving a small crack open to allow some steam to escape. Turn heat all the way to low and let short ribs braise for 3 hours, stirring occasionally.