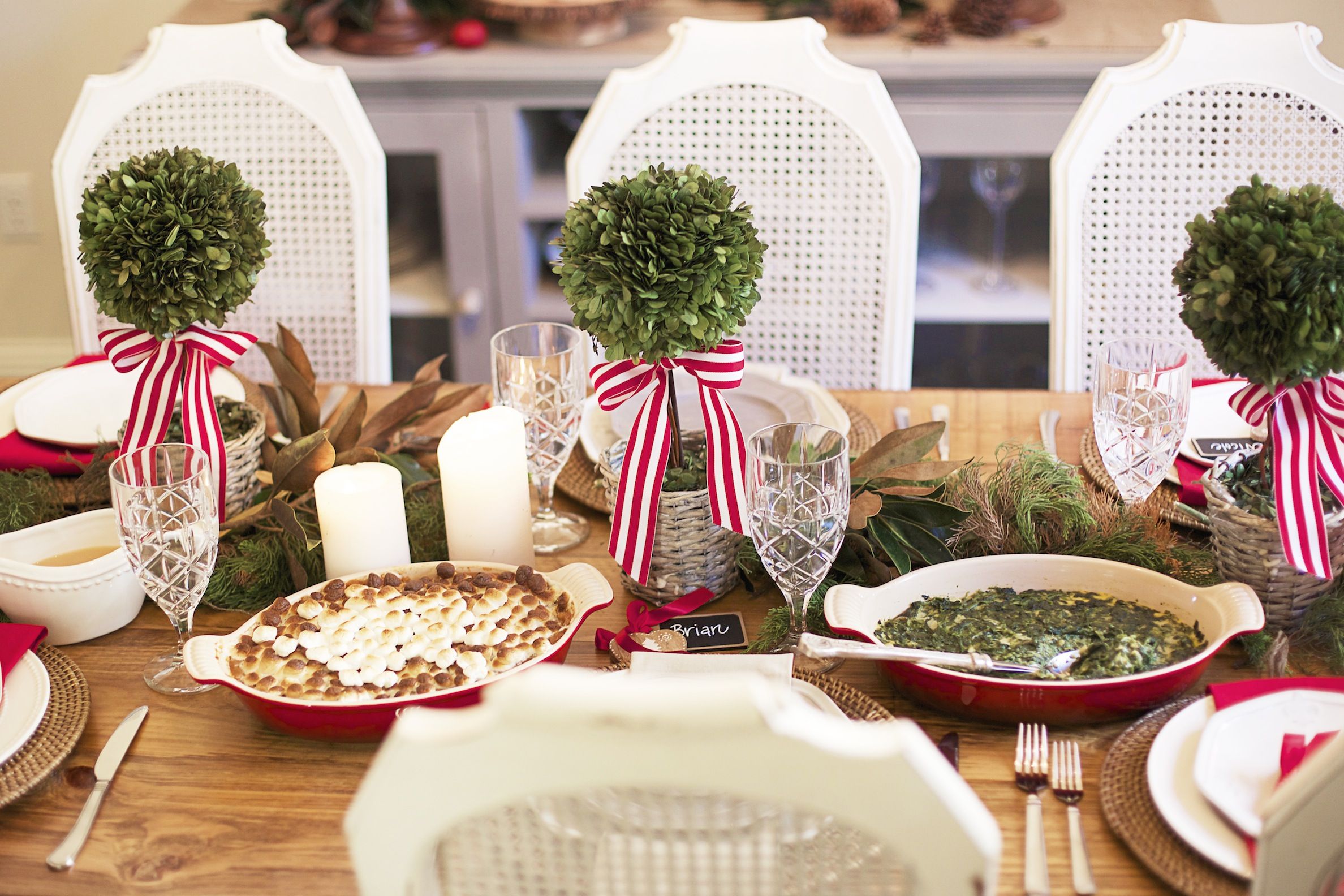 Photos by Kaela Rodehorst • Styled by Aimee Broussard • Prepared by Jessica McVea
Favorite holiday dishes from River Road Recipes help hostesses serve in style
Delectable aromas wafting from the kitchen whet the palate, but a festively decorated table engages the eyes. During the holiday season, all the senses come into play. Homes are decked in fresh greenery and lights, a fire warms up the rooms, and sumptuous dishes emerge from the oven. With this in mind, members of the Junior League of Baton Rouge created a Christmas dinner setting that not only inspires a gathering of family or friends, it also includes favorite dishes from the group's River Road Recipes cookbook series.
"A holiday table should be elegant without being stuffy, beautiful without being overdone and—most importantly—inviting and comfortable for the guests you are hosting," says Aimee Broussard, a River Road Recipes committee member. The rustic farm table, custom made using old floor planks salvaged from an abandoned New Orleans warehouse, set the informal tone for the entire party. "We left the table décor simple and natural by clipping a few magnolia limbs and lighting soft candles to welcome conversations without obstructions," Broussard says.
Once the tone was set, it was time to don the aprons. Roasted turkey, Spinach Madeleine, corn pudding and more were created for this holiday feast using instructions from the River Road Recipes cookbooks. Generations of Baton Rouge women have relied on these recipes to prepare memory-making meals.
"I think it is important to incorporate family favorites into holiday dinners," says Jessica McVea, River Road Recipes marketing and special events chair. "A dish as simple as sweet potato casserole evokes childhood memories of spending time with family and loved ones."
And while entertaining at home was paramount in the late 1950s when the first River Road Recipes cookbook was published, it is still an important way to celebrate today. In addition to setting a proper table, today's hostesses are creating menus, place cards and clever tablescapes to produce a special scene worthy of the dishes prepared. But Broussard believes that enjoying the guests is the most important job for a hostess.
"I think it's helpful to remember that you don't (and shouldn't) do everything yourself," says Broussard. "Delegating a dish not only relieves you of part of the obligations that come with being a hostess, but it also gives your guests an opportunity to be included by sharing their own treasured recipes."
Read on for a few River Road Recipes dishes that would make any festivity a special one.
Spinach Madeleine
When Kraft Foods discontinued its jalapeño cheese roll—an essential ingredient in this classic dish—south Louisiana home chefs were dismayed. River Road Recipes gurus developed a substitution so that generations to come will continue to enjoy this holiday staple.
From River Road Recipes I.
2 (10-oz.) pkgs. frozen chopped spinach
4 Tbsp. butter
2 Tbsp. flour
2 Tbsp. chopped onion
1/2 cup evaporated milk
1/2 cup vegetable liquor (reserved from spinach)
3/4 tsp. celery salt
3/4 tsp. garlic salt
Salt to taste
2 tsp. finely chopped fresh jalapeño peppers
1/2 tsp. black pepper
1 tsp. Worcestershire sauce
Red pepper to taste
6 oz. Kraft Velveeta
Cook spinach according to directions on package. Drain and reserve liquor. Melt butter in saucepan over low heat. Add flour, stirring until blended and smooth but not brown. Add onion and cook until soft but not brown. Add evaporated milk and 1/2 cup reserved liquor from spinach slowly, stirring constantly to avoid lumps.
Cook until smooth and thick; continue stirring. Add seasonings, peppers and cheese, which has been cut into small pieces. Stir until melted. Combine with cooked spinach.This may be served immediately or put into a casserole and topped with buttered bread crumbs. The flavor is improved if the latter is done and kept in refrigerator overnight. This may also be frozen. Makes 5 to 6 servings.
Spinach Madeleine is an extremely versatile dish. It can be served with crackers as an appetizer, as a side dish, or even as a main course when stuffed in a tomato!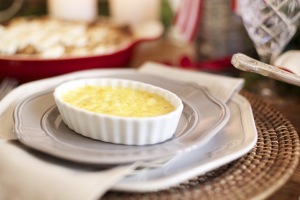 Corn Pudding
From River Road Recipes IV.
3/4 cup heavy cream
3/4 cup milk
2/3 cup unsalted butter, melted and cooled
1 1/2 Tbsp. sugar
3/4 tsp. sugar
3/4 tsp. salt
1/4 tsp. freshly ground pepper
5 eggs, lightly beaten
3 cups fresh or frozen corn
Coat bottoms and sides of 12 (1/2-cup) ramekins with butter. Whisk heavy cream, milk, butter, sugar, salt, pepper and eggs in a bowl until blended. Stir in corn. Divide corn mixture evenly among prepared ramekins. Arrange ramekins in a baking pan just large enough to hold them. Add enough hot water to baking pan to reach halfway up sides of ramekins. Bake at 350 degrees for 50 minutes or until tops are slightly puffed, golden brown and firm to the touch. Remove ramekins to a wire rack and let stand for 5 minutes. Run a sharp knife around edges of ramekins and invert puddings onto individual dinner plates. Serve immediately.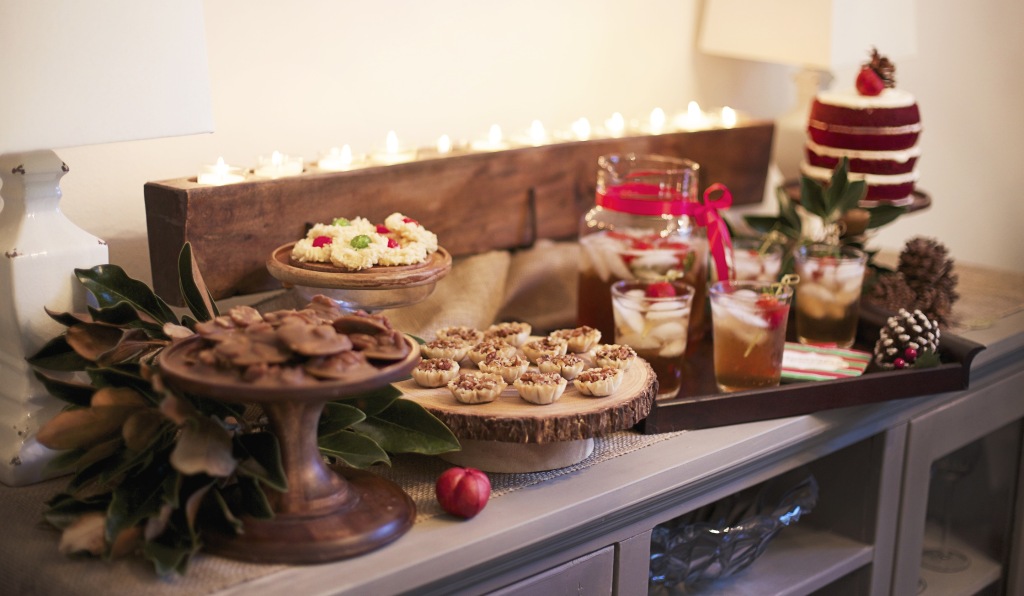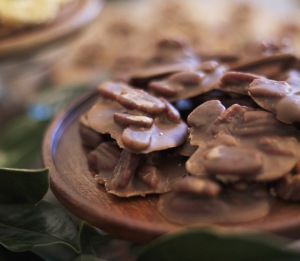 Old-Fashioned Pecan Pralines
This simple sweet is a Louisiana tradition for the holidays.
From River Road Recipes I.
2 cups brown sugar
1 cup white sugar
1 cup cream
1 cup water
3 cups pecans
Combine sugar, cream and water in a saucepan and cook to soft ball stage (238 degrees). Remove from heat and beat until creamy. Stir in nuts and drop by spoonfuls onto buttered sheet.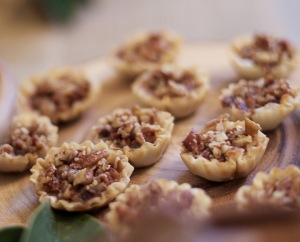 Bourbon Pecan Tartlets
These tartlets are quick and easy to make using phyllo pastry shells that are filled and baked.
From River Road Recipes IV.
36 frozen miniature phyllo pastry shells
1/2 cup (3 oz.) miniature semisweet chocolate chips
1 cup finely chopped pecans, toasted
3/4 cup packed light brown sugar
1 Tbsp. butter, softened
1/3 cup bourbon
1 egg, lightly beaten
Arrange pastry shells in a single layer on a lightly greased 10 x 15-inch baking sheet. Spoon chocolate chips evenly into shells. Combine pecans, brown sugar, butter, bourbon and egg in a bowl and mix well. Spoon pecan mixture into prepared shells. Bake at 350 degrees for 20 minutes or until golden brown. Remove to a wire rack to cool. Store in an airtight container for up to 3 days, or freeze for up to 1 month. Makes 3 dozen tartlets.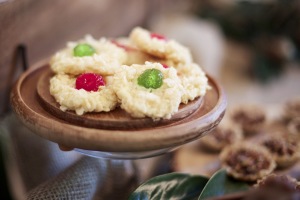 Cream Cheese Dainties
From River Road Recipes II.
1/2 cup butter or margarine
1 (3-oz.) package cream cheese, softened
1/2 cup sugar
1/4 tsp. almond extract
1 cup sifted flour
2 tsp. baking powder
1/4 tsp. salt
1 1/2 cups crisp rice cereal, coursely crushed
Red and green candied cherries
Cream together butter, cream cheese, sugar and almond extract until light. Sift flour, baking powder and salt. Stir into butter mixture just until combined. Chill 1 to 2 hours. Shape into balls, roll in cereal, and place on ungreased cookie sheet. Top each with a cherry. Bake at 350 degrees for 12 to 15 minutes. Cool on racks. Makes 4 dozen.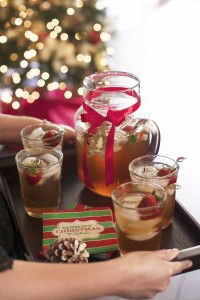 Magnolia Mound Punch
From River Road Recipes II.
1 bottle chilled strawberry wine such as St. Martin's or Amato's Strawberry Wine, found at the Red Stick Market (not strawberry-flavored wine)
1 (32-oz.) bottle chilled ginger ale
Fresh strawberries
Mix first two ingredients. Strawberries may be floated in punch as decoration. Makes 12 to 14 (4-ounce) servings.