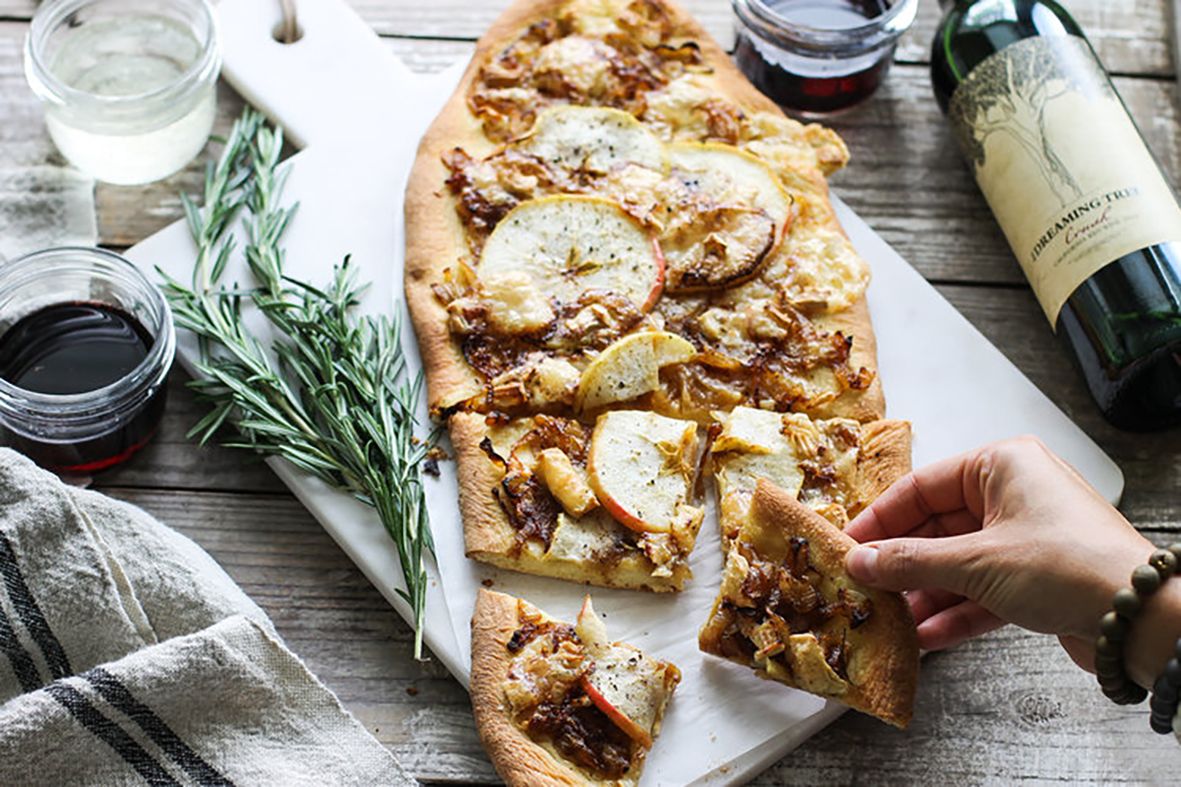 Easy entertaining: Small plates for festive gatherings at home
---
With the holidays approaching, I am looking forward to gatherings throughout the season where loved ones come together and perhaps hit the pause button on this craziness that is life. Nights where good food is served and good conversation is had are the kind of things that I get so excited for.
My favorite way to host friends and family at my house during the holidays is to prepare small plates of some of my most festive recipes! This allows guests to mingle and snack as they please without feeling so formal. And means that whether you are hosting family who all know each other or perhaps a gathering of several different friends coming together for the first time, everyone is relaxed and comfortable.
Try making a few simple dishes this season at your next holiday get-together and make the night one that everyone will enjoy. Put on your favorite tunes, light some candles, and serve up some yummy dishes tapas style. My Caramelized
Onion and Honeycrisp Flatbread, Garlic and Dill Pimiento Cheese Spread, and Chocolate Mousse Cups are the perfect recipes to get you started!
---
CARAMELIZED ONION AND HONEYCRISP FLATBREAD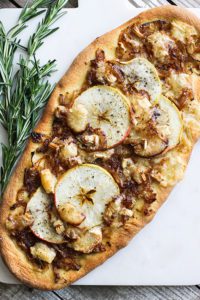 This appetizer

combines tart apples, creamy brie and amazing rosemary caramelized onions that really put it over the top! I can guarantee your guests will love this combination of flavors that are so delicious together!
2 Tbsp. olive oil, divided
1 large onion, sliced thinly
1 tsp. salt

1

⁄

2

tsp. black pepper
1 sprig fresh rosemary (about 1 tbsp.)
1 store-bought frozen pizza dough, thawed (gluten free or regular)
1 honeycrisp apple, sliced in rings, seeds removed
4 oz. Brie cheese, diced into cubes
Preheat oven to 450 degrees. Heat a large skillet over medium heat and add 1 tbsp. olive oil and sliced onion. Sprinkle with salt and pepper, add rosemary sprig, and sauté until onion starts to turn golden, about 15 to 20 minutes, stirring every 3 to 4 minutes or so, allowing onions to get color on them until they are deep golden brown. Remove rosemary stem and discard.
Meanwhile, sprinkle a clean surface with flour, and roll out pizza dough into a
1

⁄

8

-inch thick oval or square flatbread. Brush crust with remaining 1 tbsp. olive oil in a thin, even layer. Top with onions, sliced apples and Brie and then give it a final seasoning of salt and pepper. Bake for 20 minutes or until crust is golden and cheese is bubbly. Serve immediately.
---
GARLIC AND DILL PIMIENTO CHEESE SPREAD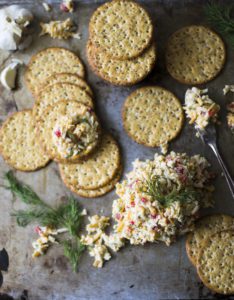 I love this

on crackers for an afternoon snack or party appetizer, and I'm not opposed to an old-fashioned pimiento cheese sandwich, either! And if you want to top a burger with pimiento cheese and let it melt and get super-gooey, I would be okay with that, too.
5 oz. sharp cheddar cheese, grated
5 oz. white cheddar cheese, grated
4 oz. diced pimientos, drained

1

⁄

2

cup light mayonnaise
4 Tbsp. chopped fresh dill
1 garlic clove, grated
1 tsp. salt
1 tsp. pepper
Combine all ingredients in a bowl and mix well. Adjust consistency by adding more mayonnaise if desired. Chill for at least 1 hour to allow flavors to combine. Serve with crackers or on bread, make a grilled cheese sandwich, or slather on a burger … the options are endless.
---
CHOCOLATE MOUSSE CUPS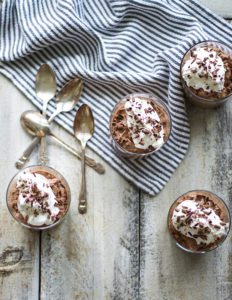 These are super-creamy, not too sweet, and incredibly easy. They are perfect to make in advance and have in the fridge whenever you are ready for them.
4 oz. chocolate, roughly chopped (I used semi-sweet)
1 Tbsp. espresso or strong coffee (leftover from your morning pot works great)
1 pinch salt
3 egg whites

3

⁄

4

cup heavy cream
1 Tbsp. granulated sugar


Sha

ved chocolate for garnish
Create a double-boiler by taking a small saucepan with an inch of water in it and then placing a glass bowl that is slightly bigger (so that bottom of bowl doesn't touch water) on top of saucepan. Place chocolate and espresso inside glass bowl and bring water to a boil. Stir chocolate over heat until smooth and creamy. Turn off heat on stove, and stir in salt. Leave melted chocolate over warm water. Set aside.
Place egg whites in a stainless-steel mixing bowl and beat on high for 3 to 4 minutes or until soft peaks have formed.
Remove chocolate from over saucepan, and gently fold egg whites into melted chocolate.
In a cold bowl, add heavy cream and beat on high until firm peaks have formed. Add sugar at the last minute or so of beating to sweeten cream. Add
3

⁄

4

of whipped cream to egg white mixture, and gently fold together. Reserve remaining whipped cream in refrigerator for topping.
Once whipped cream is combined well with chocolate and egg whites, portion out chocolate mousse into individual containers, and refrigerate for at least 1 hour to let mousse set.
After the mousse has chilled and set, top with extra whipped cream and shaved chocolate on top. Serve immediately.
---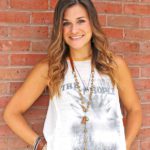 Leigh Ann Chatagnier blogs about food, life and love at MyDiaryofUs.com. Her second cookbook, First Bites, was released in September.