No alcohol? No problem. Try these creative cocktail recipes from Cocha
In this month's cover story, restaurateur Jim Urdiales reveals how health conscious Baton Rougeans are becoming increasingly interested in alcohol-free cocktails.
It's a trend that's taking hold across the Capital City—from Urdiales' Mestizo Louisiana-Mexican cantina in Mid City to the globally inspired, locally sourced cuisine of Cocha.
During her recipe research, Cocha co-owner Saskia Spanhoff found two clear preferences among patrons. "Some people wanted drinks that mimic the taste of classic cocktails," she says. "Others wanted drinks that didn't have the same flavors, which might trigger cravings."
With those guidelines in mind, Spanhoff collaborated with her bartenders to create a signature alcohol-free cocktail menu. Each recipe is a complex mixture of seasonal fruits and herbs, fruit juices, soda water, tonic and non-alcoholic sparkling wine, liqueur or other spirits and shrubs (vinegar-and-fruit based syrups).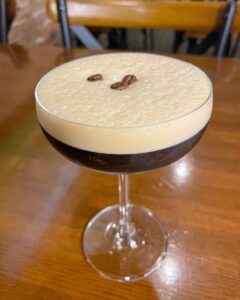 Fortunately, as the demand has increased, so has the quality of alcohol-free options.
The craft cocktail movement inspired the development of non-alcoholic spirits—some of which are calorie-, carb- and sugar-free. While admittedly the bourbons and some sparkling wines are still wannabes, many of the gin, vodka and liqueurs are hard to tell apart from the hard stuff.
Curious about carb-, sugar-, alcohol- and calorie-free cocktails? Why wait for the weekend? With their zero-alcohol content, you can conduct your own taste test with these Cocha cocktail recipes—and those from Mestizo—any night of the week.
Seedlip and Lyre's are available at online and at some local retailers.
Try out one of Cocha's Alcohol-Free Cocktail recipes below.
---
Forsyth Park
2 oz Seedlip Garden
.75 oz cucumber juice
.5 oz lime juice
.5 oz demerara syrup
6 mint leaves
Muddle mint and demerara syrup. Add remaining ingredients. Shake with ice. Double strain and serve.
---
Un Caffe
2 oz Lyre's Coffee Originale
1 oz espresso
.5 simple syrup
2-3 dashes chocolate bitters
Shake with ice, then strain. Top with whipped cream and three coffee beans.