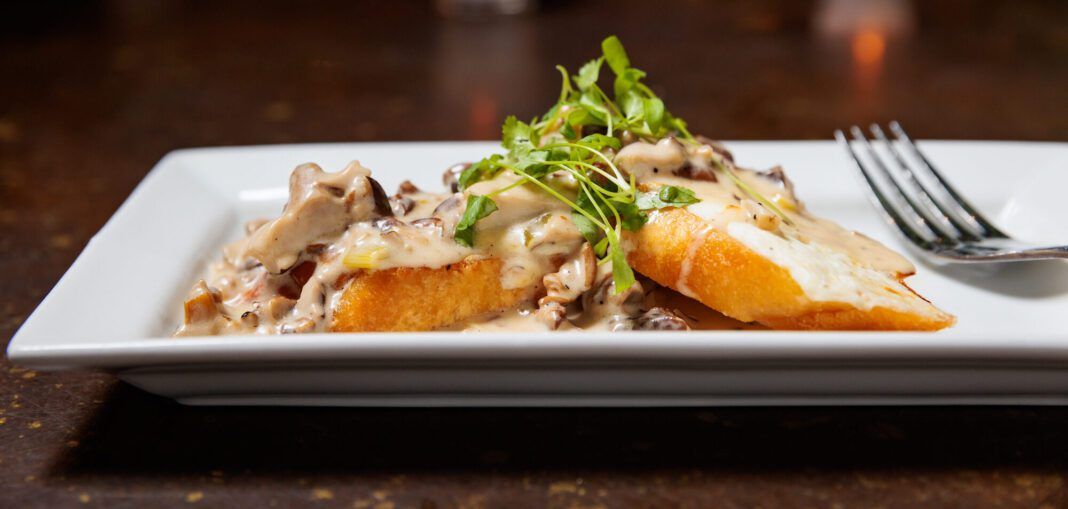 Flaunt some farm-fresh ingredients with this Local Chevre and Roasted Mushrooms recipe
Inspired by the first annual Farm to Menu BREADA Benefit Dinner in collaboration with Eliza Restaurant & Bar this past November, this simple recipe takes the fresh taste of Louisiana goat cheese and locally grown mushrooms and turns them into a light and earthy appetizer.
Eliza chef Russell Davis shares the steps to recreating it below, and inRegister food columnist Aimee Broussard writes more about the event and its homegrown ingredients in this story from our January issue.
---
LOCAL CHEVRE AND ROASTED MUSHROOMS
Whipped Goat Cheese Crostini:
10 oz. chevre
1/4 lb., cream cheese, room temperature
1/4 cup parmesan, grated
2 Tbsp. olive oil
1/4 tsp. salt
1/8 tsp. white pepper
16 crostini
Blend chevre, cream cheese and parmesan in a stand mixer fitted with a paddle attachment until creamy and smooth. Drizzle in oil slowly. Season with salt and pepper.
Drizzle crostini with additional olive oil, and bake at 350 degrees for 15 minutes.
Spread whipped goat cheese on one side of the toasted crostini, and broil until hot and bubbly. Set aside.
Mushrooms and Madeira Cream:
1 lb. fresh mushrooms, sliced
4 Tbsp. butter
2 Tbsp. olive oil
4 Tbsp. shallots, minced
1 Tbsp. flour
1 1⁄2 cup heavy cream
1/4 tsp. salt
1/8 tsp. white pepper
4 Tbsp. madeira
2 Tbsp. butter
Over medium heat, pan-roast mushrooms in butter and oil until they start to turn brown. Add shallots and sauté briefly. Stir in flour until fully incorporated. Blend in cream, salt and pepper, and reduce until thick. Add madeira and cook for a minute longer to evaporate alcohol. Turn off heat and enrich with the butter.
To serve:
Place 2 goat cheese crostini on each appetizer plate, spoon sauce over the top, and garnish with fresh thyme leaves.