Don't wait for tailgates, bring this easy chicken dip to your next summer event
It's never a bad idea to bring a dip to a party or gathering. Tailgates, dinner parties, holidays, you name it. Warm dips are always a hit, and this recipe from Aimee Broussard is no exception. With your trusty store-bought rotisserie chicken and just a handful of ingredients and spices, you have a simple yet crowd-pleasing appetizer—complete with a bag of chips or veggie tray for dipping.
---
CHEESY CHICKEN DIP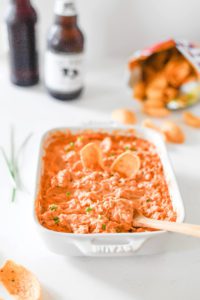 Ingredients:
2 cups shredded rotisserie chicken
8 oz. cream cheese, softened
½ cup barbecue sauce with brown sugar
¼ cup sour cream
2 cups shredded cheddar cheese
Salt and pepper to taste
1 tsp. Creole seasoning
1 Tbsp. chopped chives, garnish
Preheat oven to 350 degrees. Combine chicken, cream cheese, barbecue sauce, sour cream and cheddar cheese in a medium bowl. Stir to mix well. Season with salt, pepper and Creole seasoning, and stir to combine. Transfer to a baking dish. Bake for 20 minutes or until cheese begins to bubble. Garnish with chopped chives. Serve warm.
Tip: Easily shred rotisserie chicken by adding ingredients in the bowl of a stand mixer with the whisk attached on medium speed.
Makes 8 servings.