Boarding school: Simple steps to prep a perfect charcuterie board
---
Ready or not, it is November, and the joy and fullness of the holiday season is upon us. It is the time of the year for family get-togethers, parties and guests packing into homes.
I love entertaining, but don't like being caught off guard with someone stopping by. That is why the charcuterie board or a simple yet elegant cheese board is my go-to holiday entertaining hack. My goal is to have simple things in my pantry or refrigerator that make hosting that last-minute guest less stressful and give me more time to enjoy the company of those I love.
I also really enjoy supporting local businesses and products. My goal for this fall was to track down delicious and beautiful products created in our community that we can all keep on hand to throw together a beautiful charcuterie board for any gathering you are hosting or attending this season. I quickly discovered Baton Rouge is full of gems if you know where to look. Let's take a look at some local finds, my basic tips for building a beautiful board, and one of my favorite beautiful and ridiculously simple recipes for hosting!
The Goods
I first spotted Iverstine Farms Butcher at the Red Stick Farmers Market before discovering its beautiful storefront on Perkins Road. Not only does the shop have a beautiful selection of pasture-raised, Louisiana-farmed meats, but it also offers a beautiful selection of specialty charcuterie meats this season. Visit before any party to get some goodies.
I have seen such growth in the local market of specialty food items, and there are treasures to be found. Visiting Southside Produce or Alexander's Market reveals a treasure trove of locally made goodies. I love Ewing Farms goat cheese, and its honey flavor is perfect served alongside some crisp tart Granny Smith apples. Also grab the Dip Me Sour Cream dip to add that Cajun flair and spice to your spread. The Cultured Guru pickles offer a nice tangy option to your plate, with the added benefit of being an incredible health food. Mom's Garden has created delicious Mediterranean dips and spreads like Baba Ghanouj and hummus that also make a great addition. You can also visit my website, thejuniperkitchen.com, for my go-to hummus recipe (pictured here).
---
MUST-HAVES FOR A BEAUTIFUL BOARD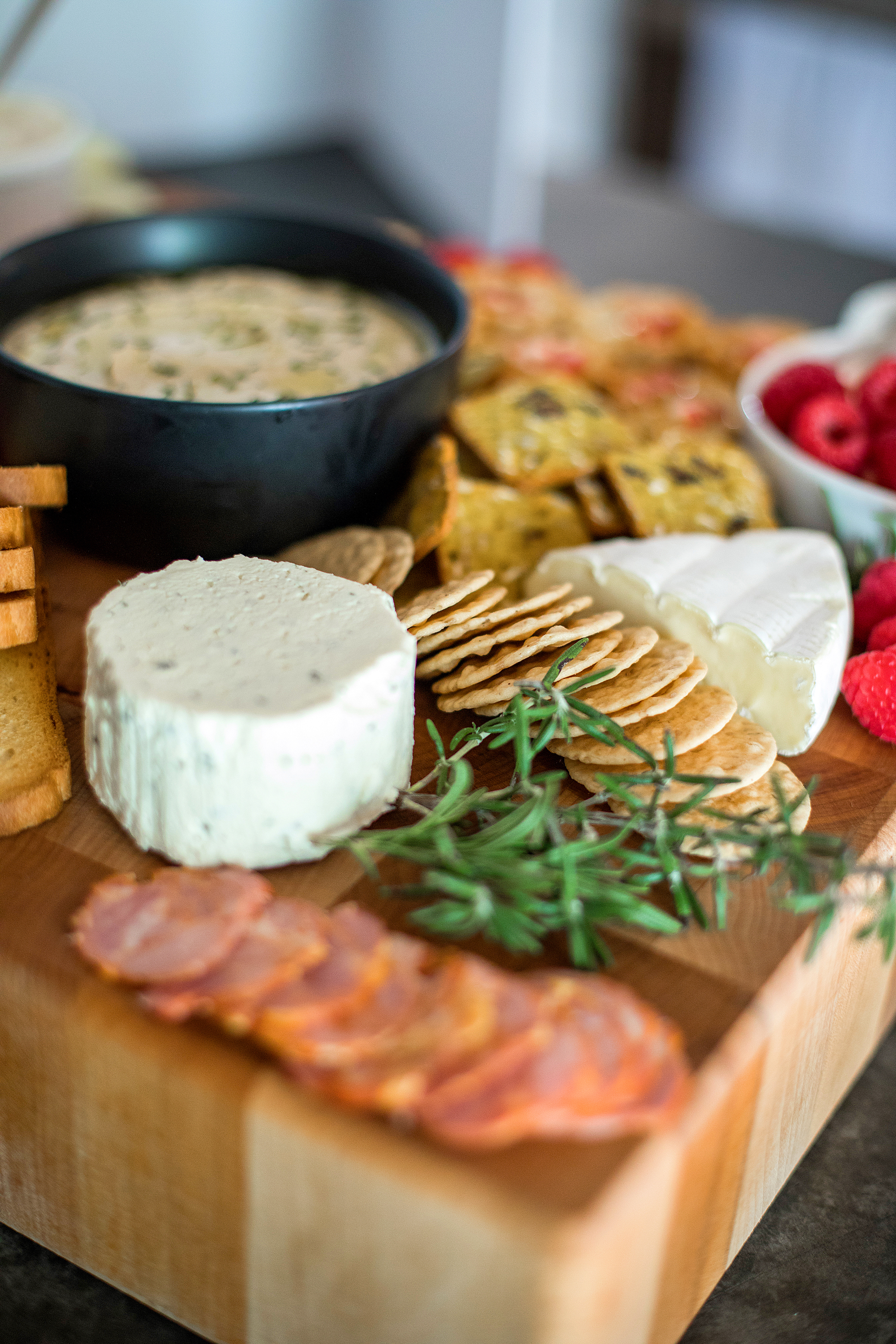 Add some sweet to your salty. When serving meats and cheese, balance savory and sweet:
• Think fresh seasonal fruit. Apples, pomegranate, pears, persimmons or satsumas would all be great for the fall and winter.
• Here I have honey goat cheese and my Fig + Brie Tartlets (recipe below) as a sweet cheese option as well.
Remember your gluten-free guests:
• With so many different dietary restrictions, I try my best to accommodate anyone who may come by. I always try to have some rice- or nut-based crackers as an option for those who can't eat gluten.
• Creating a simple nut mix is a nice touch.
Balance your cheese. Pick a variety of cheese from different categories:
• Soft: Brie, Camembert, goat cheese, etc. (I am admittedly obsessed with Boursin)
• Firm: Manchego, cheddar
• Blue: any variety of a blue cheese for those with a stronger taste
Spruce it up:
• Snip a few fresh herbs from your garden as a lovely garnish and a finishing touch before your guests arrive.
---
FIG + BRIE TARTLETS
Ingredients:
Frozen mini phyllo dough pastry
Brie cheese
Fig preserves
Fresh pomegranate seeds
Preheat oven to 350 degrees. Pull phyllo dough shells out of the freezer and line on a baking sheet. Cut brie into small cubes that will fit inside of the shells. Place in oven for 8 to 10 minutes or until cheese is melted nicely. Remove from oven and top with a dollop of fig preserves. Allow to cool before you sprinkle with a few fresh pomegranate seeds to top.
Serve alongside any cheese or charcuterie board and be delighted as your guests are amazed at your simple yet elegant creation!
---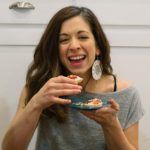 Leah Conti is the writer and kitchen adventurer behind thejuniperkitchen.com, as well as an avid food lover, nonprofit co-creator (junipertable.org), part-time photographer and mom. Check out two more of Leah's recipes in this story from the inRegister archives.