---
We've been on a taco kick lately. Tacos for breakfast, tacos for lunch, and tacos for dinner. Matter of fact, we are having tacos for dinner tonight, too! I can't get enough of creating different flavor combinations to throw into a taco shell and call it a day. For a while now, I have been making banh mi bowls for dinner, and my guys go crazy over them. I got to thinking, wouldn't these be amazing in taco form, too? Why yes, yes, they would … and they are! My Slow-Cooker Beef Banh Mi Tacos are just the easy weeknight meal that you have been waiting for to spice up your weekly meal routine.
I recently discovered jicama shells that sub for regular tortilla shells, and I fell in love with them for fish tacos and for these banh mi tacos specifically. They are just jicama that has been thinly sliced into rounds, and they are crunchy and hold your taco filling perfectly. Forget zoodles—jicama tortilla shells are my new favorite low-carb veggie substitute! They may be available at specialty grocery stores, but they can also be made at home with a mandolin. And of course you can always use regular corn or flour tortillas, which I do on occasion also.
Throw the meat and seasoning into the slow cooker in the morning, and your dinner will be done when you get home in the afternoon. Simply prep your toppings, assemble and enjoy! The sweet and spicy Asian flavors of the beef topped with crunchy and fresh taco toppings make for one dynamite flavor combination.
---
SLOW-COOKER BEEF BANH MI TACOS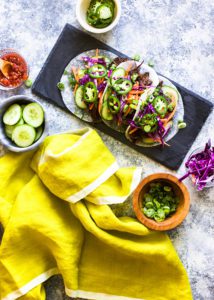 Ingredients:
1 Tbsp. avocado oil
1 (2-lb.) beef roast (chuck roast or tri-tip work well, or sub pork roast)
5 garlic cloves, minced
2 Tbsp. brown sugar (or coconut sugar)
¼ cup low-sodium soy sauce (can sub coconut aminos)
¼ cup water
Jicama "tortilla" shells (can sub corn or flour tortillas)
For toppings:
Shredded carrots
Shredded purple cabbage
Thinly sliced jalapeño
Thinly sliced green onions
Cilantro
Chili sauce
Thinly sliced cucumber
Heat oil in a large skillet to medium-high heat. Place roast in skillet and sear for 5 minutes per side until caramelized. Transfer beef to a slow-cooker, rub with garlic and brown sugar, then add soy sauce and water. Cook on high for 4 hours or slow for 6 hours until beef falls apart. When ready to serve, shred beef and place in tortillas. Top with desired toppings and serve immediately.
---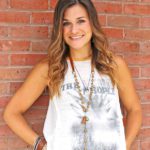 Leigh Ann Chatagnier blogs about food, life and love at MyDiaryofUs.com. Her cookbook The Unexpected Cajun Kitchen was released in October 2016.