Aimee's Pretty Palate: King Cake Craze
---
If you've been around for a bit, or you know me personally, you know that my foray into food blogging occurred by happenstance many, many moons ago when I entered a cookie bake-off contest with hopes set on earning a free ticket to a food blogging conference that a friend was attending.
I wasn't really a "food blogger," but just wanted to go on the trip. I did not, however, want to pay for said trip. Weaseling myself into the top three bake-off contestants would provide me access to the conference.
You know the rest of the story. I traveled to Virginia loaded down with Mardi Gras beads and competed with my now infamous Pecan Praline King Cake Cookies and brought home the first place title.
In the 10 years since that time, I've continued to come up with creative ways to mix and mingle the king cake flavors we know and love into desserts with a twist. There's been King Cake Monkey Bread, Bread Pudding, Cracker Candy, Pop Tarts… it's sort of my thing to push the envelope. And I'm not knocking a tried-and-true traditional king cake—they certainly have their place—but every now and then it's fun to incorporate something fresh and new.
My King Cake Snacking Cake is the first of its kind and was born during the recipe development phase for my Small-Batch Snacking Cake Cookbook. It combines all the cinnamon-y goodness of a king cake into an 8 x 8 pan, finished off with a cream cheese topping and signature Mardi Gras colored sanding sugar. No waiting around for yeast to rise with this one!
King Cake Fudge? You can bet your buns I'm the first to introduce that one, too.  Just ask Pinterest. The bite-size bits of wonder will serve as the perfect favors for our out-of-town guests coming in to celebrate my former foster failure turned Mystic Krewe of Barkus royal member. My Bea, a Blenheim Cavalier King Charles Spaniel, will lead the iconic New Orleans canine parade as the 30th-anniversary Grand Marshal this year, and our rescue community is most excited.
As such, she deserves her own celebratory king cake inspired treat. While my Dog-Friendly King Cake is not my best decorating work, the "icing" is made with yogurt flavored and tinted with healthy and safe canine-friendly ingredients: blueberries (purple), spinach (green) and turmeric (gold), ensuring everyone in my household gets to celebrate the season.
Happy Mardi Gras!
---
King Cake Snacking Cake
Ingredients:
Cake:
1
½

cups all-purpose flour
1

½

tsp. baking powder
1 tsp. ground cinnamon


¼

tsp. salt


¾

cup granulated sugar


¼

cup coconut oil, melted
1 tsp. vanilla extract
1 large egg


2

⁄

3

cup buttermilk
Filling:

¾

cup chopped pecans


½

cup packed light brown sugar
4 Tbsp. (

½

stick) unsalted butter, melted
2 Tbsp. water
4 tsp. all-purpose flour
Cream Cheese Frosting:
1 cup confectioners' sugar
4 oz. cream cheese, at room temperature
1 tsp. vanilla extract
Sanding sugar (purple, green and gold)
Preheat oven to 350 degrees. Mist an 8-inch square baking pan with baking spray and line with parchment paper.
For Cake, in a medium bowl, combine flour, baking powder, cinnamon and salt. In a large bowl, using an electric mixer on medium speed, beat together granulated sugar, coconut oil, and vanilla. Beat in egg. Add flour mixture to oil-sugar mixture, a little at a time, alternating with buttermilk, mixing well after each addition, until just combined.
For Filling, in a small bowl, mix together pecans, brown sugar, melted butter, water and flour and stir until well combined.
Scrape half of cake batter into prepared baking pan. Use an offset spatula to smooth. Spread Filling over cake batter. Top with remaining batter. Bake for 25 to 30 minutes or until a toothpick inserted in center of cake comes out mostly clean. Transfer pan to a wire rack to cool. Remove cake to a cake plate or cutting board; discard parchment paper.
For Frosting, in a large bowl, using an electric mixer on medium speed, beat confectioners' sugar and cream cheese together until fully combined. Add vanilla and continue beating until worked in. Spread frosting over cooled cake, then sprinkle colored sanding sugars over top while frosting is still wet. Cut into 9 squares to serve.
Makes 9 servings.
---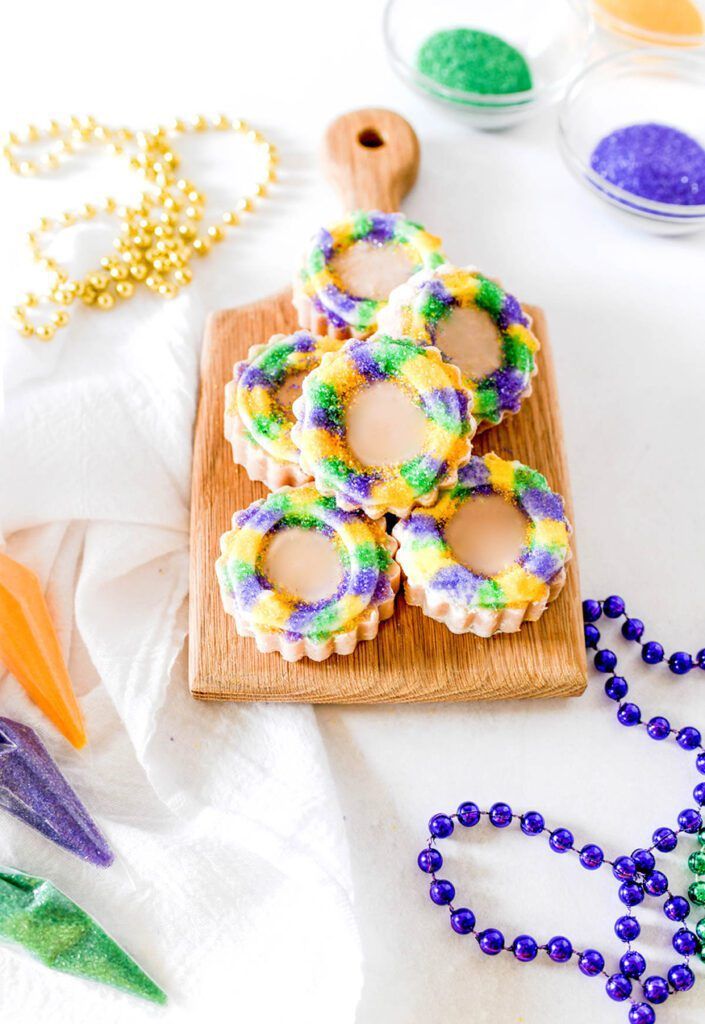 King Cake Fudge
Ingredients:
Fudge:
2
½

cups sugar


¾

cup unsalted butter
Pinch salt


¼

cup cinnamon sugar mix*
1 cup heavy cream
1 (12-oz.) pkg. white chocolate morsels
Icing:
1
½

cups confectioners' sugar


½

tsp. vanilla extract
1 tsp. light corn syrup
2 Tbsp. water, room temperature
Sanding sugar (purple, green and gold)
Line a 9 x 13-inch glass baking dish with parchment paper, with excess hanging over the sides to serve as handles for easy removal.
For Fudge, in a large saucepan, heat sugar, butter, salt, cinnamon sugar and heavy cream until combined. Bring to a rolling boil and boil hard for 4 minutes, stirring consistently. Remove from heat. Quickly stir in white chocolate morsels. Whisk vigorously until smooth with an electric mixer. Pour fudge into prepared pan and refrigerate for at least 4 hours, until set and hardened. Remove from pan, remove parchment, and place fudge on a wood cutting board. Cut into circles using a cookie cutter, biscuit cutter, etc. You can also cut into bite-size pieces if you don't want the fudge to look like a king cake.
For Icing, whisk together confectioners' sugar, vanilla, corn syrup and water in a medium bowl until smooth. Icing will be thick. If it is too thin, add more confectioners' sugar in 2-Tbsp. increments. If it's too thick, add
½

Tbsp. water. Icing should be able to hold its form. Pour into a piping bag or plastic zip-top bag with a tiny piece cut off the corner.
Pipe rounded circles with icing onto fudge. While icing is still wet, sprinkle colored sanding sugar on top. Gently tap off excess sugar. Place fudge back in refrigerator until icing hardens. Serve chilled.
Store remaining pieces in an airtight container in refrigerator.
Makes about 10-12 pieces.
*Premade cinnamon sugar can be purchased at the grocery store. It's with the spices, in a shaker. You can make your own by combining ¼ cup sugar with ½ Tbsp. ground cinnamon.
---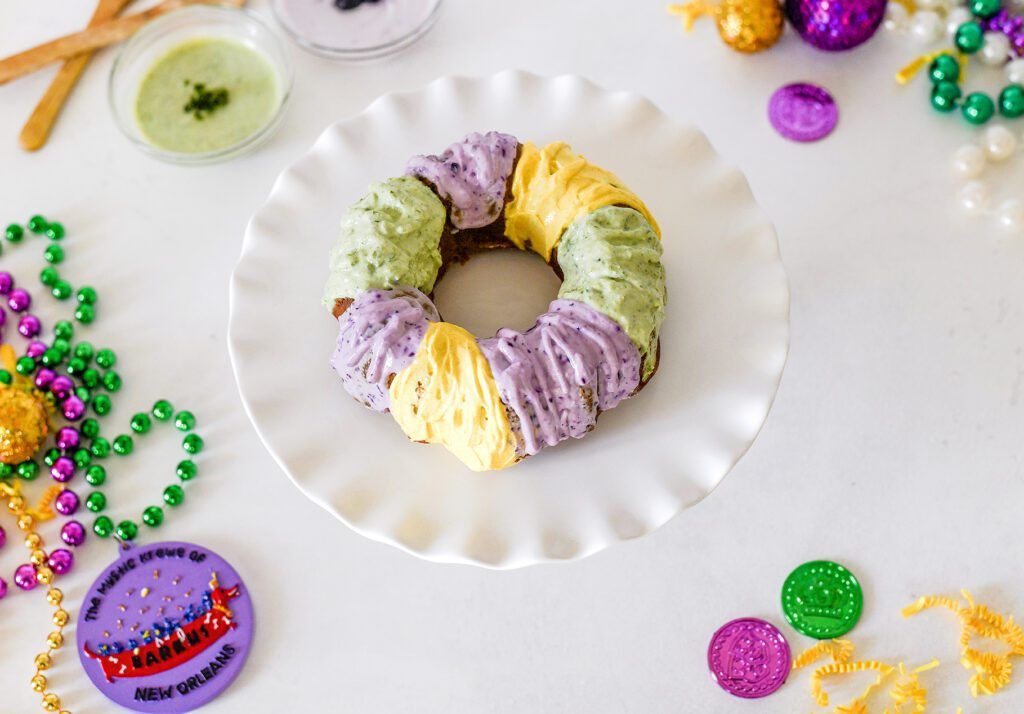 Dog-Friendly King Cake
Ingredients:
Adapted from LASPCA
Cake:
1 cup coconut flour

½

tsp. baking soda
1 tsp. cinnamon


¼

cup honey


¼

cup coconut oil


¼

cup warm water
1 egg
Icing:

1

⁄

8

cup frozen chopped spinach


½

cup plain Greek yogurt, divided
6 to 10 frozen blueberries, thawed


¼

cup warm water


¼

tsp. food-grade turmeric
Preheat oven to 350 degrees. Spray a mini Bundt pan with nonstick cooking spray; set aside.
For Cake, in a medium bowl, mix together all ingredients until combined well, adding more water as needed to loosen batter. Pour into prepared baking pan and bake for 20 minutes. Allow cake to cool for 5 to 10 minutes, then use a plate to turn out onto a cake stand or plate. Allow cake to cool completely while you make icing.
For Icing, begin by boiling spinach in an equal amount of water to release green color. Allow spinach to cool, then add to a small food processor and blend with
1

⁄

3

of yogurt. Place spinach mixture in a small plastic zip-top bag.
Clean out food processor, then add blueberries and warm water, purée, then add
1

⁄

3

of yogurt. Place blueberry mixture in another zip-top bag.
Finally, in a small bowl, combine turmeric and remaining yogurt. Place mixture in a zip-top bag.
When ready to assemble, twist each plastic bag as you would a piping bag, and pipe onto cooled cake. Serve immediately.
Makes 1 mini Bundt cake.
---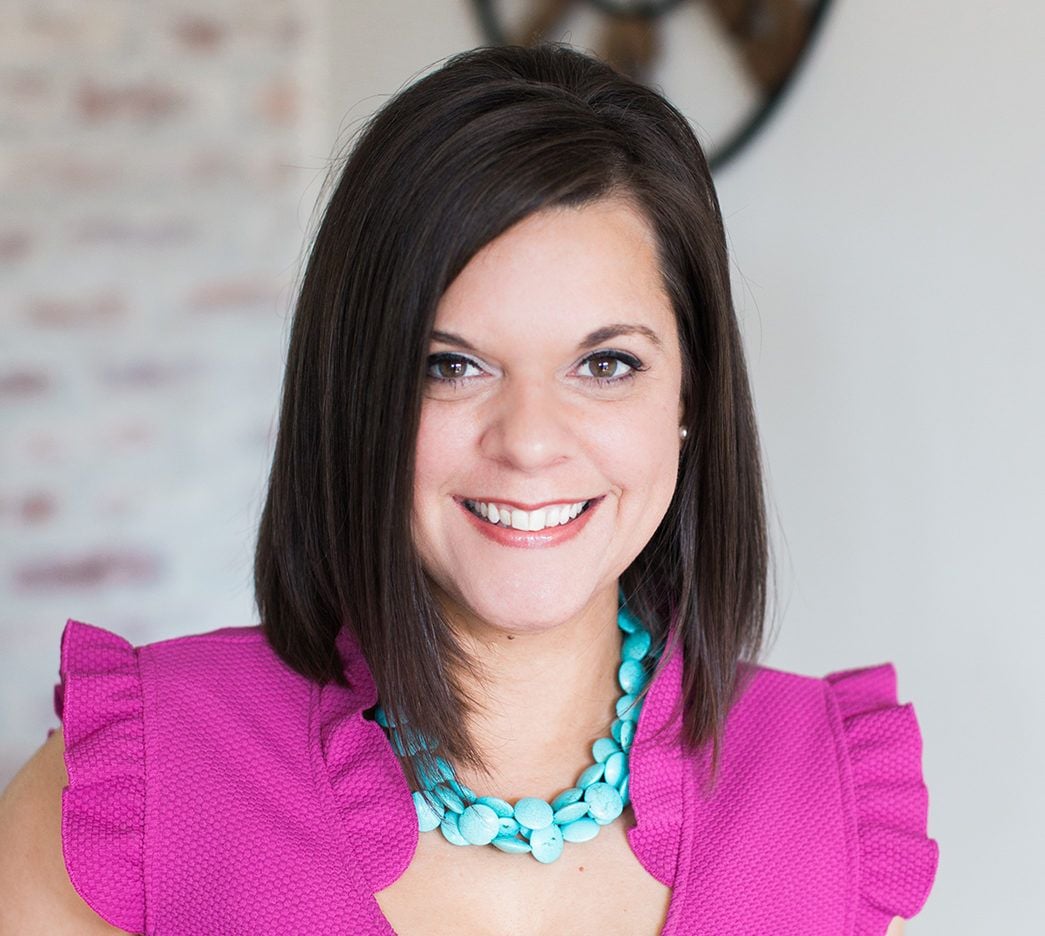 Aimee Broussard is a Southern food blogger and award-winning cookbook author. Seen on QVC, Rachael Ray and more, she is a self-proclaimed accidental entrepreneur with a penchant for porches and sweet hospitality. Find her online at aimeebroussard.com.