Aimee's Pretty Palate: Let Them Eat King Cake

---
It's that time of year again! And one thing is for certain: the coronavirus can cancel our parades and soirées, but it cannot keep from us our king cake. True to form, I'm coming in hot this month with king cake-inspired recipes that are not quite "king cake" but pack all the flavors and fun of a traditional cake … without being a cake at all.
The King Cake Oreo Truffles are so easy that it feels misleading to call it a recipe, but I love that it keeps things bite-size and snackable. It's also the perfect activity to do with the kids, and the small size makes them fun to gift as well—if, of course, you're able to part with them once you realize how addictive they are.
Speaking of addictive, brace yourself before making the King Cake Cracker Candy. It's a spin on the Junior League of Baton Rouge's "Fool's Toffee" found in River Road Recipes IV. Some simple swaps and updates breathe new life into a beloved recipe while making it perfectly festive and seasonally appropriate.
Maybe you're not really feeling king cake at all this year and want to keep temptation at a minimum. That's where my King Cake Bread Pudding for Two comes in! Scaled down and perfect for when you're craving something sweet and willing to fall off your New Year's resolution wagon but don't want to have the lingering sweets hanging around, causing you to be run over by said wagon. Bonus for likely having everything you need on hand to whip it up quickly.
Laissez les bon temps rouler! Even if it is only from your front porch this year.
---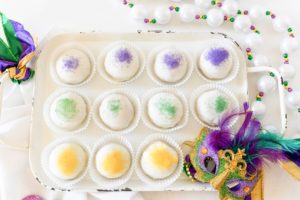 King Cake Oreo Truffles
Ingredients
1 (16-oz.) pkg. Golden Oreos
1 (8-oz.) pkg. cream cheese, softened
1 Tbsp. cinnamon
12 oz. white almond bark
1 Tbsp. vegetable oil
Purple, yellow and green sanding sugar
Line a baking sheet with parchment paper.
In a food processor, pulse Oreos until finely crushed. Transfer to a mixing bowl and combine with cream cheese and cinnamon until well blended. Using a mini cookie scoop, form into about 1-in. balls and place on lined baking sheet.
 

Place in freezer to firm for about 15 minutes.
While truffles are chilling, melt almond bark according to package instructions with 1 Tbsp. vegetable oil. Once bark mixture is creamy and smooth, dip truffles one by one into melted almond bark, tap off excess, and return to baking sheet. Sprinkle with sanding sugar while truffles are still wet. Repeat until all truffles are coated. Place in refrigerator for 5 minutes to ensure coating is set. Best served chilled.
Makes 16 truffles.
---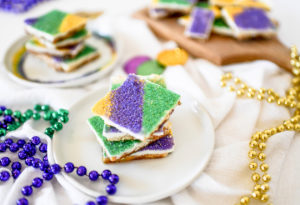 King Cake Cracker Candy
Ingredients
1 sleeve (36 to 40) saltine crackers
1 cup butter
1 cup packed light brown sugar
1 Tbsp. cinnamon
2 cups (12 oz.) white chocolate chips
Purple, yellow and green sanding sugar
Preheat oven to 350 degrees. Line a rimmed baking sheet with aluminum foil and spray heavily with nonstick cooking spray. Arrange crackers in a single layer with sides touching in prepared pan.
Combine butter and brown sugar in a medium saucepan over medium heat. Bring to a boil and boil for 4 minutes, stirring constantly. Stir in cinnamon. Pour butter mixture over crackers, spreading evenly. Bake for 5 minutes.
Remove from oven, and sprinkle with chocolate chips. Let stand for 2 minutes or until chocolate chips soften. Spread chocolate evenly over prepared layers using an offset spatula. Cover with sanding sugar while chocolate is still wet.
Chill for 30 minutes or until set. Break into pieces and store in a covered container in refrigerator.
Makes 40 pieces.
---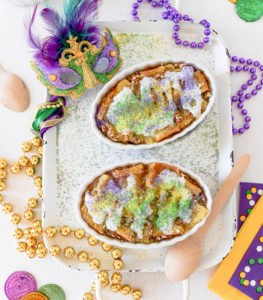 King Cake Bread Pudding for Two
Ingredients
2 cups French bread, cut into cubes
2 eggs
½ cup heavy cream
½ cup plus 2 Tbsp. whole milk, divided
¼ cup sugar
½ tsp. vanilla extract
½ tsp. cinnamon
2 Tbsp. pecans, chopped (optional)
1 cup powdered sugar
¼ teaspoon almond extract
Purple, yellow and green sanding sugar
Divide bread between 2 (6-oz.) ramekins.
In a large bowl, combine eggs, cream, ½ cup milk, sugar, vanilla and cinnamon. Fold in pecans, whisking until well blended. Spoon mixture equally over bread cubes and allow to sit for at least 30 minutes. Occasionally press bread into milk mixture to ensure that it is well coated.
Preheat oven to 350 degrees. Place ramekins on a rimmed baking sheet, and bake for 18 to 20 minutes or until custard is set and bread is golden brown. Remove from oven and allow bread pudding to cool slightly.
For glaze, whisk together powdered sugar, 2 Tbsp. milk, and almond extract until smooth and creamy. Add additional sugar if necessary to reach desired consistency. Drizzle glaze over bread pudding, and top with sanding sugar.
Makes 2 servings.
---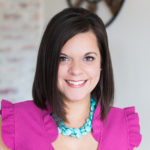 Aimee Broussard is a Southern food blogger and award-winning cookbook author. Seen on QVC, Rachael Ray and more, she is a self-proclaimed accidental entrepreneur with a penchant for porches and sweet hospitality. Find her online at aimeebroussard.com.