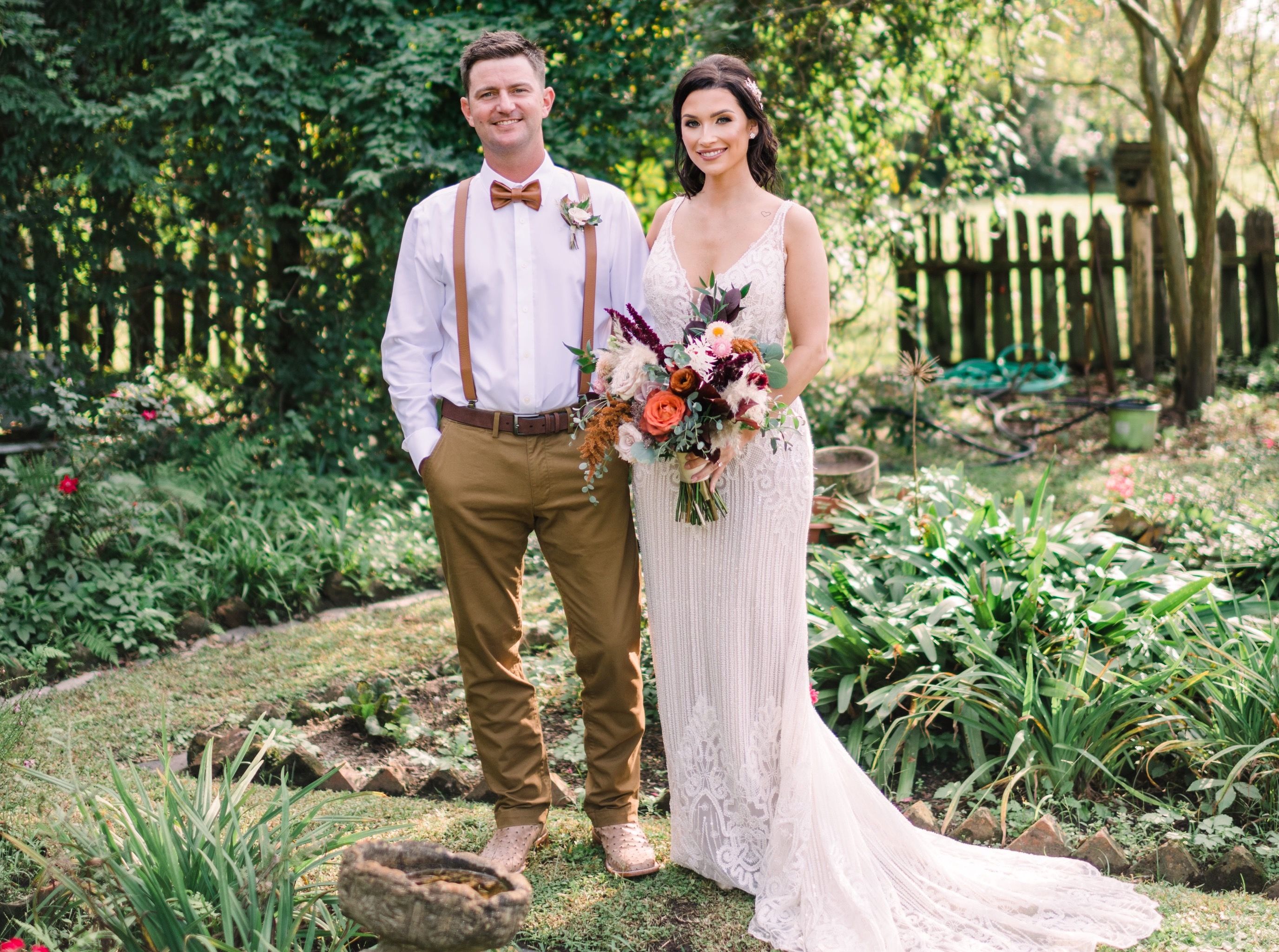 Small favors: The 'mini-mony' wedding trend reaps big rewards on the big day
---
Brides like Lianne Gremillion had already made plans to marry the love of their life when the first lockdown of 2020 changed everything. Catering companies shut their doors. Venues forbade public gatherings. Soon wedding guests around the world began receiving the expected follow-ups by mail: "Postponed," "Rescheduled," "Reception to follow in spring 2021." When Gremillion and her fiancé Ben McDaniel's wedding—originally scheduled to take place amid the verdant blooms of the Burden Gardens—relocated to the backyard pool deck of Gremillion's childhood home this past November, her parents worried. What if they wouldn't be able to help give their daughter her special day anymore? What if downsizing translated into disappointment?
"Everyone involved said they wouldn't have had it any other way," says Tiffany Pilgrim of August Events, who coordinated the candlelit affair. "Lianne had her first dance in front of 50 people she really cared about. Many of her bridesmaids had grown up with her in that backyard. She wore a dress handmade by her friend Grace Chetta of Gretta Garments. It was absolutely beautiful! No one should have to look at a small wedding like some sort of consolation prize."
Even in party-loving south Louisiana, the trend toward smaller weddings—or "mini-monies," as they've come to be called—that arose during COVID is hardly a new idea. Though the hustle of wedding planners to make them happen in spite of constantly changing government protocols and fluctuating guest lists certainly deserves every accolade, plenty of couples, whether for financial or personal reasons, have opted time and again for the benefits of more intimate affairs.
"Some couples don't feel super comfortable being the center of attention in front of a crowd of 300 people, so having a crowd of just 150 or less often gives them an opportunity to be more themselves," says Amy Shrader of Amy Hazel Events. "They're able to focus more on the start of their marriage instead of worrying about entertaining a ton of guests, many of whom probably wouldn't be their first choice of people to invite anyway."
Even for couples who had agreed in the pre-2020 era to move forward with massive parties, bigger doesn't always mean better. "I worked with a Baton Rouge couple who had planned to get married in New Orleans with a ceremony at Immaculate Conception and a reception with 250 people at The Roosevelt," says Leslie Campbell of Leslie Campbell Weddings and Events, "but in the end we were only allowed maybe 100 people in the church and only 25 people at The Roosevelt. And you know what? It ended up being a lovely evening. Just because it wasn't what we originally planned doesn't mean it wasn't perfect in a different way."
One of the obvious benefits to a smaller crowd size is a smaller bill. Not that intimacy-inclined couples should anticipate cutting costs on aesthetic décor or five-star menus in exchange for backyard barbecues (although that does sound delicious)—in fact, the opposite can be true. Reducing a guest list often translates into increased elegance throughout every other niche of the wedding plan, from flowers to food.
"For the New Orleans wedding, we were able to serve an elaborate dinner that was far more over the top than what we could have accomplished during a typical rehearsal dinner," says Campbell. "Nothing felt rushed, and it really became a memorable experience."
Likewise, the mild temperatures of Louisiana winters mean that the great outdoors are still an option for a celebratory environment, setting a stage where guests can dance and mingle amidst no-cost natural beauty—and, in the age of COVID, in an environment that helps people feel safe.
"It's been a real roller coaster scaling weddings down piece by piece this year," says Pilgrim, "but from a design standpoint, the perfect wedding, big or small, is all about turning a space into what it needs to be. I've personally always been a fan of intimate weddings because they mean less stress, but they also mean more opportunity to create a high-end experience that a smaller crowd will really notice and appreciate."
Cameras will still flash. Video will roll. Bridesmaids and groomsmen will still look swanky in gowns and suits. And vows, of course, will still be spoken, whether in the presence of a priest or the fading rays of sunset. After all, a wedding has really always been, in essence, about the smallest possible number constituting company: two. One person declaring love for another, in sickness and in health, regardless of how many others sit close enough to see the exact size of the ring.
---