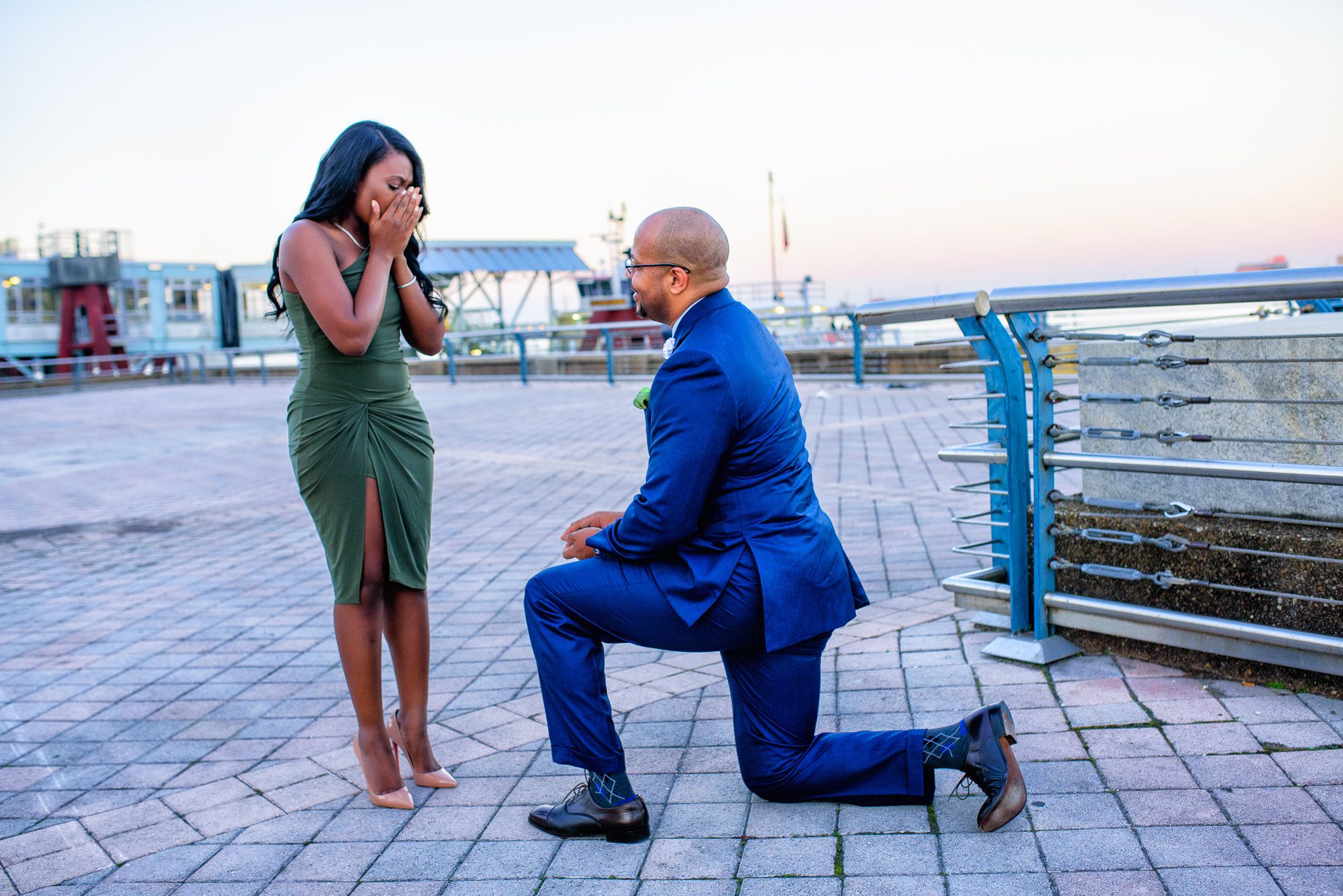 Happy beginnings: Popping the question in the 21st century
---
It's the moment every girl waits for: the man of her dreams confessing his love and committing his life. This intimate moment was once reserved for the couple only, often in a dimly lit restaurant or simply on the living-room couch, but the rise of social media has turned it into a public display of affection, as friends, family and even strangers take a front-row seat as the romance unfolds.
However, while the desire to impress onlookers remains, no matter how it's done, Baton Rouge couples are staying true to the heart of the matter—each other.
"It can't be for the 'gram," says Dr. Rani Whitfield, who proposed to his now-wife Kiara on the streets of New Orleans. "But that was the first and last time I was going to do something like that, and I'm a perfectionist so I wanted it to be perfect."
Enlisting a photographer friend and working overtime to keep the secret, Whitfield succeeded in giving Kiara the surprise of a lifetime when he dropped down onto one knee on a winter afternoon in the Crescent City.
"It was such a crazy day and at that point all I was thinking about was that I was tired and wanted to eat," recalls Kiara with a laugh. "I was completely shocked when he got down on one knee."
The couple finished off the day with a visit to Emeril's, where Whitfield serenaded Kiara with a song on the restaurant's piano. Looking back, they fondly remember the day as one that was an expression of their personalities and future life together.
"I'm glad he did it like that," says Kiara. "It was such an intimate moment, but I'm glad we have pictures to look back on and remember."
Photographers have become a staple in the modern engagement, given the fact that no moment—from birthdays to that cute face the dog was making—goes undocumented thanks to the high-quality camera that sits waiting in every person's pocket. However, the hitch comes in when you want a professional to document the moment, but you still want that moment to be a surprise.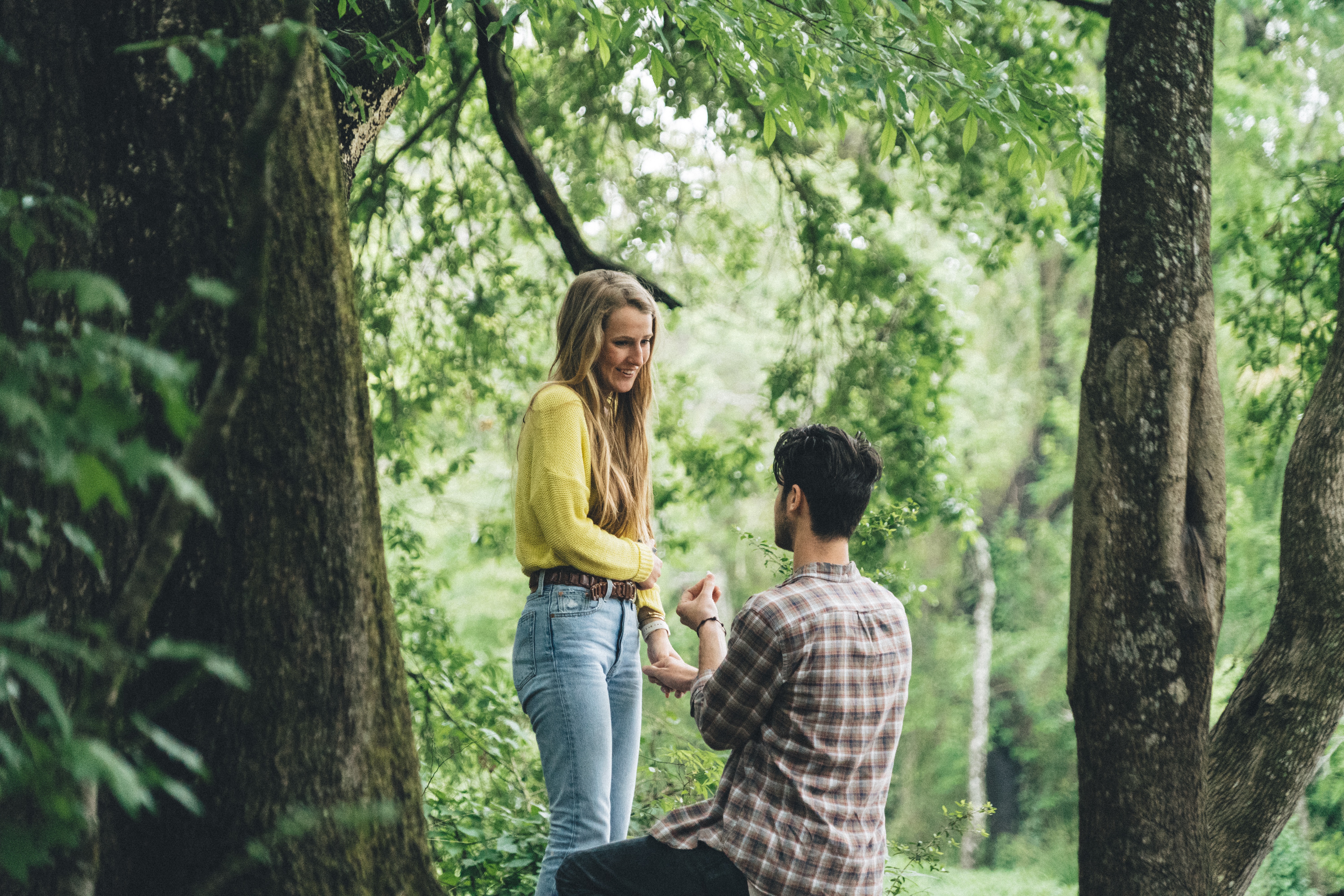 For Davis Pourciau and his photographer friend Cage Charlet, the answer was as simple as pulling out some hunting gear. When Pourciau took his girlfriend Alyssa Kleinpeter to the wooded spot where they had previously shared her birthday celebration, Kleinpeter had no idea what was to come.
"Even after he proposed, I didn't know there were other people there at first," says Kleinpeter of the rainy afternoon proposal.
"Cage was in the bushes in turkey gear," adds Pourciau. "I wanted it to be personal rather than having tons of people there and everyone knowing."
And while alone time was important to Pourciau and Kleinpeter, when it came down to it, they couldn't get to the after-party Pourciau had set up with friends and family fast enough. "We were supposed to spend an hour or two at the picnic my sisters had set up for us on the other side of the pond where I proposed," says Pourciau, "but after a few minutes we just couldn't wait to go tell everyone!"
In a world where we can share every minute of every day with loved ones via text, Snapchat, and countless other digital ways, the idea of leaving them out of something as monumental as a proposal is unthinkable, even if that event happens far from Baton Rouge.
Kaitlyn Anton's fiancé Matthew Skapura popped the question while the couple was on a trip to Italy. The small fact of geography didn't stop Skapura from making sure they were able to celebrate the engagement with family and friends.
"My parents were actually on the trip with us," says Anton. "And it just so happened that my best friend Ashton Lane was on a trip with her family at the same time, so they came and met up with us in Venice. We had already talked about getting drinks together before dinner, and after Matthew proposed, we actually had a private dinner with both my family and Ashton's. It was great to have them there."
In a way, sharing photos of the proposal, whether it be across the world or right in the backyard, is just a means of celebration that allows friends and family to get a glimpse into the couple's romance while still allowing for privacy.
"I think the moment was perfect because it was just the two of us when it needed to be," says Pourciau. "It was really the best of both worlds."