Happily ever after: Susan and Richard Lipsey

---
Let's be realistic: If you're thinking in terms of "I do" in your future, you're not necessarily projecting far into the years ahead, but maybe you should be. Let's ask Richard and Susan Lipsey, a couple who has been married 52 years, what it takes to live a happy married life.
First off, how young is too young to tie the knot? Susan was only 19 and describes herself back then as an "immature, sheltered, bubblehead daughter." "I would have been in my second year at a small girls' junior college in Massachusetts until I got that better offer—the marriage proposal from Richard," Susan says. "My parents would have been totally against our engagement because of my age if Richard had been some stranger I had met away at school, but the Lipseys and Haspels had been close friends for many years, and I had seen Richard on and off throughout my childhood. My parents heartily approved and were relieved that their daughter would be living only a short distance away, married to a wonderful man."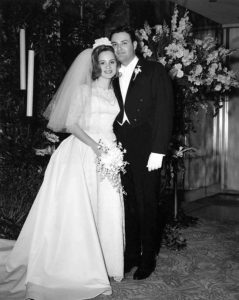 What were the factors in Richard's life that helped him make the marriage decision? "I graduated from University High School in 1957, graduated from LSU in 1961, served for two years in the Army as a lieutenant stationed at Fort Polk and then in Washington, D.C.," he says. "Then I was ready to settle down in Baton Rouge. I was 24 and my mother, Anna, told me, 'Men get married at the age of 25. If you haven't found a wife by then, I'll find one for you.' Whew! Susan, age 18, popped into my life again that year, and we fell in love and were married a year later—two months after my 25th birthday. (Happy Mama.) Both sets of parents were thrilled."
Looking back, Susan admits that being married at such a young age was challenging. "I had literally gone from my parents' home to our new home together as newlyweds. I had never lived on my own and knew nothing about being a housewife. Thank goodness Richard patiently took care of so much at first. Such great advice to newlyweds: Do be patient with each other. You'll get it eventually."
Richard smiles and adds, "She couldn't boil water, much less cook. She did buy a River Road Recipes cookbook, of course, and did her best. However, until she got the hang of following a recipe, I rescued a few meal attempts before house fires could occur, and we did have to throw away a few burned-up iron pots."
They survived the first testy years and became a bigger family with the birth of two daughters and then three grandchildren. Does that make them experts at the marriage game?
Maybe so, so here are a few words of wisdom they share with young couples just starting a new life together:
1. Figure out what makes her/him mad … and don't do it again.
2. It's natural to sometimes pout and stomp out of the room when you're aggravated, but cool your heels, return to your spouse, sit down together and settle your problem. Don't allow it to fester.
3. Verbally appreciate each other's kindnesses. "Thank you, Honey, for taking care of that." Your acknowledgment will go a long way in your relationship.
4. Recognize what you enjoy doing together and cherish those times. We love volunteering for local organizations, traveling, cheering at LSU sporting events, lovely dinners with good friends, good wine and—always—the joy of our children and grandchildren.
5. Appreciate and respect each other's hobbies and interests that are different than yours, as opposed to resenting them. Give each other space to enjoy them. (He loves hunting and the outdoors. She loves playing bridge … and the indoors.) We all need "me" time.
6. Have separate bathrooms, if at all possible!That is true happiness!
7. Get a dog or two. Lots of trouble, but lots of love and laughs.
8. Crazy in love with someone now and considering a future as a married couple? Observe closely how a man treats and talks to his mother, and how respectful or polite your adored one behaves when speaking to wait staff when disgruntled with service. See how your beloved acts and reacts in every aspect of life before walking down the aisle. (Hey, none of us are perfect. We don't always act "mature," but patterns of bad behavior are warning signs.)
9. Living together before you get married? Who are we to say? It was unheard of 52 years ago, absolutely scandalous. No advice on that one.
10. And, last but most important, laugh together … a lot!