Happily ever after: Juanita and Ellis Coutee celebrate nearly six decades together
---
The words to "Here Comes the Bride" are repeating themselves in the minds of many young women right now. There are a lot of walking-down-the-aisle steps to be planned. Meanwhile, Juanita and Ellis Coutee are reflecting on nearly six decades of marriage as they celebrate their 59th anniversary in June. The Coutees' courtship started when Ellis and Juanita met at a dance at the Newman Club at Northwestern State University in Natchitoches in 1956. She was a sophomore from Zwolle, and he had recently arrived from Alexandria. They found each other to be excellent dancing partners. Little did they know that this would ultimately lead to a lifetime together.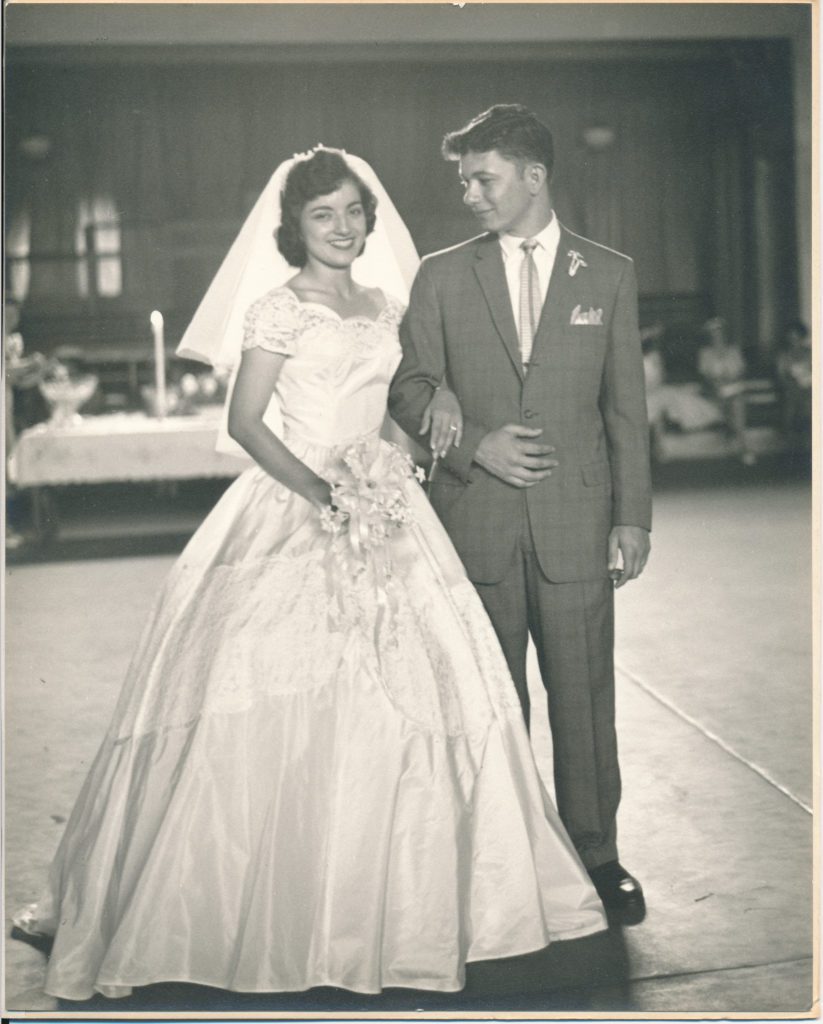 At the time, Ellis remarked on Juanita's dancing prowess and even asked her, "Have you been dancing for a long time?" "No," she quickly replied. " I just follow the leader."
Photo courtesy Juanita and Ellis CouteeAfter a year, they began to date each other exclusively. Juanita graduated in 1958 and started teaching math at Fair Park High School in Shreveport. They married in June of 1959. Ellis was still in school, so she continued teaching. They had their first child of four in May of 1960.
When the company that became Exxon hired Juanita to work in its computing department, the couple headed to Baton Rouge, where Ellis could also put his degree in accounting to good use. "The nice thing about this was that I could enjoy and flourish at my career without feeling the pressure of being the sole support for our family," recalls Juanita.
Both Coutees have an easy sense of humor and laugh frequently while remembering the days that have led to 59 years of togetherness. "At first I did assume most of the day-to-day responsibilities surrounding our home and children, but I enjoyed them. And every time there was an emergency or a problem, Ellis stepped up to the plate and assumed responsibility, thank goodness."
In talking with the couple, it's easy to recognize the fact they have different personalities and are opposite in many ways. "He gets frustrated with me and I get frustrated with him," Juanita says. "He's an old-fashioned guy, but we trust each other completely."
Their marriage hasn't always been as smooth as that original dance, since they had to face the realities of unrealistic expectations and opposite personalities living together. But face them they did. "Wouldn't it be boring if we were carbon copies of each other? We have both changed over the years and have grown together more." After a moment's pause, Juanita smiles and adds, "Little irritations build up—like one squeezes the toothpaste tube from the end and the other from the middle. Is it really that important? Who knows? But removing the small irritations helps folks live together."
Ellis nods in agreement as Juanita shares a bit of advice to couples just starting out: "Understand that when your spouse is a grouch at the end of the day, it is not because of something you did or did not do. It may be the stress of the job that causes one to temporarily vent their frustration on their spouse."
Has the passage of time taught the Coutees a lesson in keeping their warm relationship alive? "He's accepted all of my faults, and I've accepted his," Juanita says. "We have agreed over the years that regardless of our disagreement, we always give each other a hug in the morning,"