Happily Ever After: Carolyn and Charles Perrault
Photo by Jeannie Frey Rhodes
Making time for each other is the Perraults' secret to more than half a century of happiness
It was an unforgettable Halloween night when Carolyn Cangelosi and Charles "Swatty" Perrault first crossed paths. The year was 1957, and for both of them the encounter turned out to be much more of a treat than a trick.
Swatty, an Opelousas native who had moved to Baton Rouge, was 26 years old and part of a group that paid a visit to 21-year-old Carolyn's parents' home on Highland Road that October evening. "I got dragged along and got in on a good deal," he recalls with a smile. "She was very attractive."
The following week, Swatty called and asked Carolyn to an American Legion dance. They dated until Carolyn's graduation from LSU the following spring. "I had a job offer to teach second grade at a new school," she says. "Then he asked me to marry him, so I didn't accept the job because I said I had a wedding to plan. I never did teach—except for the four joyous children I tried to teach every day."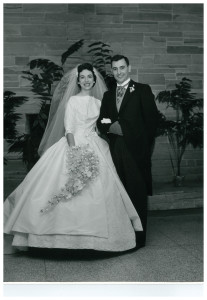 Those four children are the result of a union that began with another unforgettable event—the couple's wedding ceremony at St. Aloysius Church on January 24, 1959. Charles, Mary, Stephen and Michael were spaced just far enough apart that "I had at least one child at St. Thomas More for 22 consecutive years," says Carolyn.
With such a large family, the Perraults have found that one of the secrets to enduring marital bliss is carving out couple time. Carolyn recalls one long drive home from Disney World when the kids were small. "They started fussing and touching each other," she says. "He stopped the car to correct them. Then he turned to me and said, 'This may have been a vacation for them, but it wasn't for me.'"
So when they got home, they immediately planned an adults-only trip to Rome. It was the first of several overseas excursions that have helped to maintain a family balance. "We'd take them on a vacation, then go on one just for us," Swatty says.
Respecting each other's roles has also been vital to creating harmony at home. "Carolyn never lets me mess with the kitchen," Swatty explains. "She hung her college diploma over the kitchen sink and told me that that was her office. She stayed out of engineering and I stayed out of the kitchen, and it has helped us to get along, evidently."
Family togetherness has been at the heart of most of the Perraults' activities over the years, however. From weekends at a camp on False River to regular Sunday dinners and attending LSU sporting events, they have included the children—and now the eight grandchildren—in many of their special moments. The whole clan still takes a summer vacation together each year.
"Through the years, Carolyn has been the heart of the family," Swatty says. "She's done a really good job of keeping the kids close."
Even after 56 years of marriage, it's easy to see that the spark of romance is still burning as brightly for this couple as it did that first Halloween night.
"I have to tell you he's my best friend," Carolyn says. "He's still the love of my life."