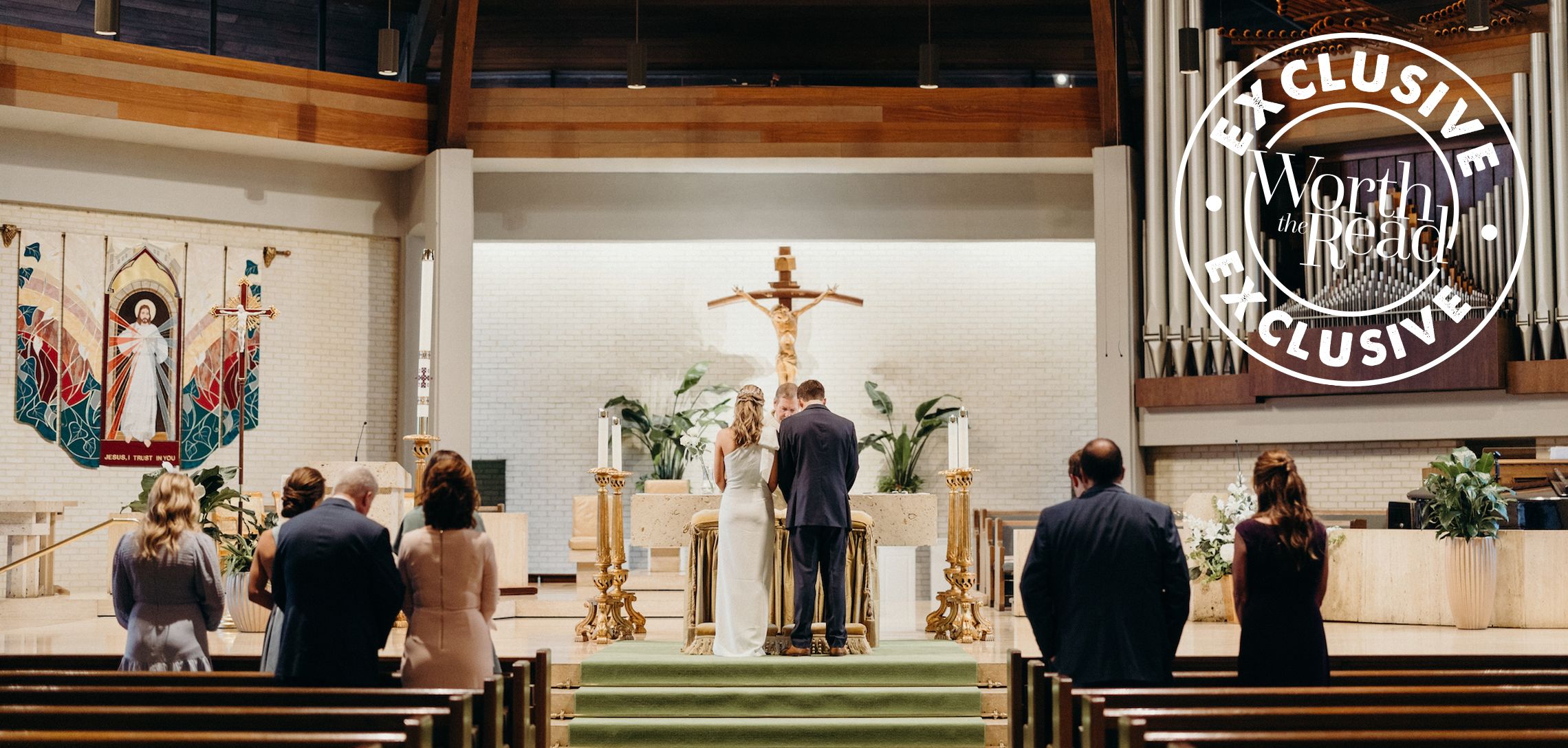 Change of plans: COVID-19 brides make the most of socially distanced weddings
April 17 was nearly one month since COVID-19 restricted the city of Baton Rouge—and most of the country—to the confines of their homes. But April 17 was also Peighton Phillips and Andrew Rothkamm's wedding day.
As the doors to Our Lady of Mercy Catholic Church burst open, Phillips—outfitted in a $100 gown purchased online a few days prior, rather than her original wedding gown—was greeted by empty pews and a laptop live-streaming her walk down the aisle. Though it was a stark contrast to the packed church she had long dreamed of, the reality of health regulations and social distancing hadn't changed one important factor: the man waiting for her at the altar.
"The situation didn't take away from how much we wanted to be together," the newlywed says of her nearly seven-year relationship with her groom, Andrew. "It was actually so amazing to look around the room and just see our core family and friends and how happy they were for us. It allowed us to put the chaos aside and focus on the sanctity of marriage."
The same is true for countless couples across the city who have opted for quarantine-friendly big days. Wedding parties have been stripped of bridesmaids, groomsmen and flower girls. Family attendees have been limited to parents and a sibling or two. Priests have delivered the sacrament from six feet away. Receptions have taken the form of car parades and backyard cookouts. COVID-19 has redefined the way weddings—and nearly every other aspect of normal life—are carried out. However, for the couples who have defied the odds and forged forward with their celebrations, the negatives have only opened the door for exciting positives.
"When the order was put in place and it was clear that our wedding wasn't going to happen as we had planned, I had a hard time accepting it at first," admits Melissa Currier Landry, who was married on April 18 at Sacred Heart Catholic Church to her fiancé, Alex. "But in the end, I realized that it was just about us two. It's not about everyone else or everything that goes into a wedding. It's just about the love that you share."
"For us, it was a bright spot in the chaos of this pandemic," adds Liz Wintz Richoux, who got married on April 18 at St. Aloysius Catholic Church to her fiancé, Ryan. "To be honest, we originally wanted something small. When we found out a wedding ceremony would still be possible, we were so excited."
But the ceremony is just the beginning. Turning their sights to the fall, these—and many other—couples are planning to pick up where they left off with their original plans, with rescheduled receptions featuring nearly all of the aspects that would have been present on their spring big days. When they finally occur though, these events will likely carry much more meaning to both the newlyweds and their guests.
Standing in the midst of the crisis, it seems impossible to imagine what life will be like on the other side. However, the prospect of future celebrations that bring family and friends together physically—not via Zoom or FaceTime—shines a light on the promise of a "back to normal" future and a hope that overshadows the pain inflicted by the pandemic.
"I accidentally ordered tons of extra 'Save the Dates,'" remarks Landry with a laugh. "I spent the day scratching out the old date and adding the new one so they could be sent out to my guests. The way I see it, we just get to celebrate twice, and I couldn't be more excited."