A Capitol Affair: Chancely Courson and Brad Ducote's wedding combined civic spirit with a fanciful fête
---
Putting a finger to the wind in 2020 meant detecting a world's worth of prohibitions. Don't touch that. Don't see them. For the good of the planet, stay inside. And we listened. We took precautions. We worried. All the while, though, life carried on. Babies were born, birthdays were celebrated, degrees were conferred. And couples, of course, still fell in love.
For Chancely Courson, that art of loyalty and dedication had been a family affair long before her October 2020 wedding to Brad Ducote. Her lobbyist father, Bud Courson—one half of the Courson Nickel Governmental Relations and Issue Management business—had, at 27, become the youngest person in the nation to hold the title of first assistant to the commissioner while working for the Louisiana Department of Agriculture and Forestry, and later served as a fundraiser for Governor Mike Foster. No wonder, then, after a childhood spent surrounded by government officials and with her own career as executive assistant to the chief of staff for Governor John Bel Edwards, that Chancely chose to hold her ceremony on the grounds of the Old State Capitol: as close to a fairytale castle as a patriot can get in Louisiana. 
"Out of all the places in the world, the new State Capitol has always been my favorite, so it was only appropriate that my fiancé picked its front steps to pop the question," says Chancely. "But now that I'm thinking about it, there's definitely some irony in the fact that we got engaged at the new State Capitol and married at the Old State Capitol."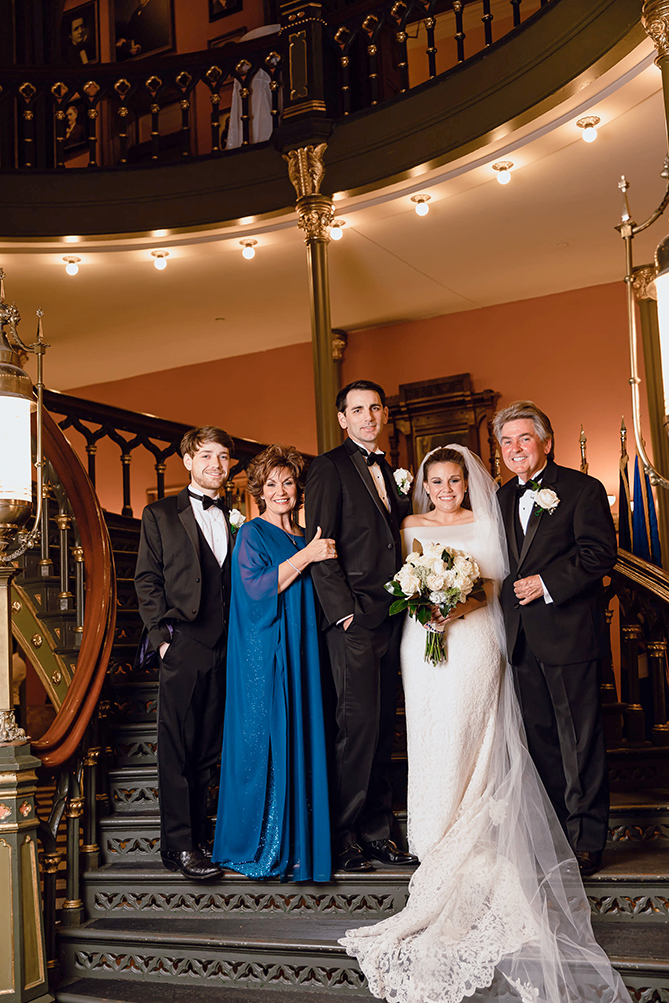 The building's Old St. Louis brick and stained glass, along with an abundance of candelabra and white roses, set a classic tone for the big day. Chancely's father Bud personally coordinated nearly every detail, transforming the grassy grounds of the Old State Capitol into a glowing, forested hideaway in the middle of downtown. More than 800 plants and trees—including boxwoods, ferns and azaleas—found their way through Galvez Plaza to act as succulent sentinels, lending privacy and beauty to the festivities. 
"Pretty much every aspect was inspired by him and the different events he has planned over the years," says Chancely. "I actually don't think people realize how much we did ourselves. For example, Brad and Dad made the planters all around the front of the Old State Capitol. They got the lumber and built the boxes, which we all sanded and painted. We helped haul plants, filled jugs with hand sanitizers, packaged masks… My dad was even late to our 'first look' because he had jumped in the shower only 20 minutes before, making sure everything was ready down to the last possible minute."
This was the true magic of the evening: that the elaborate setup—which included the couple's personalized crest projected onto two dance floors, a bus-stop-turned-bar and another bar made completely of ice, a 7-foot-long grilled alligator courtesy of Drago's, lit-up cocktail tables, pearl-encrusted high-top sneakers for the bride, silver décor to match the nearby downtown library, transportation via horse and carriage, and more—came not from the vision board of a designer but from the imagination of family.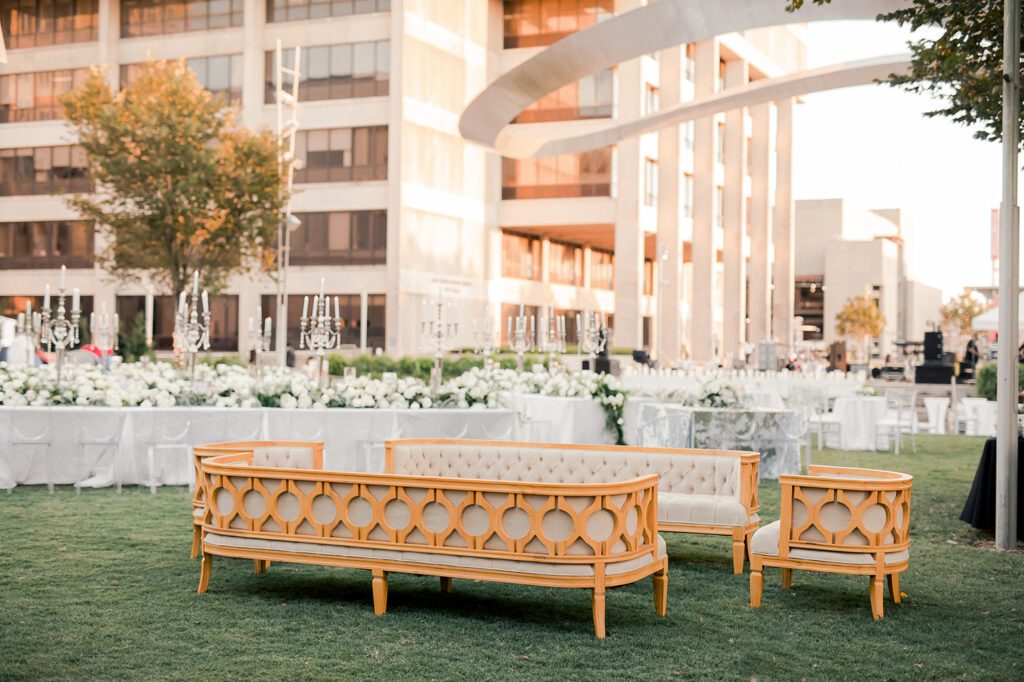 Chancely credits her day-of wedding coordinator, Caroline Broussard of Iris and Oak Events, with helping to ensure a smooth evening, beginning with Chancely making her surprise appearance at the Old State Capitol doors as Lauren Daigle's "Rescue You" played and culminating in a private dinner for two for Chancely and Brad before they let loose with family and friends. 
In keeping with the evening's personal focus, the groom's cake—created by Les Amis Bake Shoppe along with the wedding cake—was a red velvet cake formed in the shape of an American flag to honor Brad's grandfathers' history of military service. The cake was presented alongside a painted wooden flag that Brad created himself. Other special touches throughout the festivities included the Ducotes' dog Beignet joining the ceremony as a "sign-bearer"—"I loved her first"—and a display of multiple generations of family wedding photos inside the Old State Capitol. 
"Our dear friend, Frank Rusciano, officiated the wedding, which also helped make it so personal and unique compared to any other wedding I've ever attended," says Chancely. "The quirky, fun stories make it so intimate, and I think every guest left feeling like they knew me and Brad even better than they did before."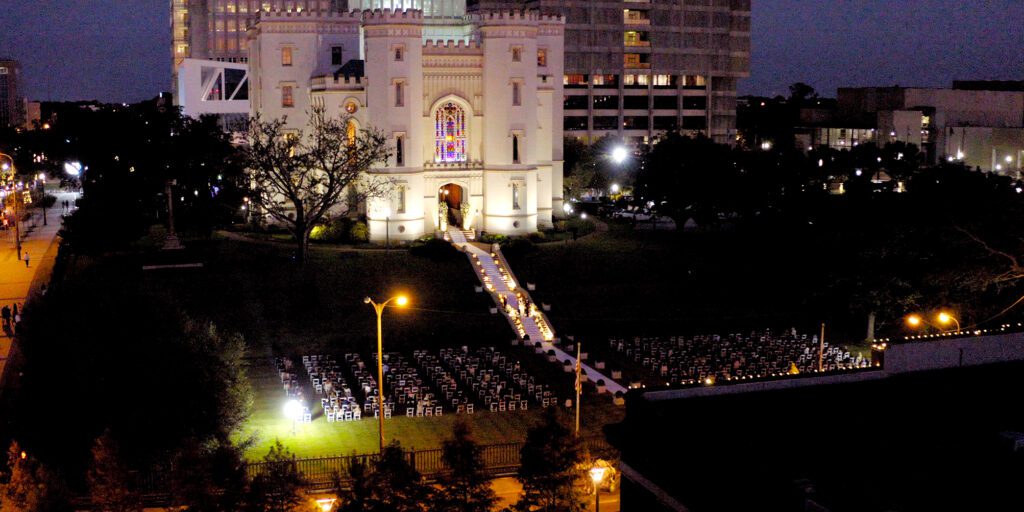 And though her father's former employer, Governor Mike Foster, passed away just a couple of weeks before the wedding, former first lady Alice Foster sent Chancely a congratulatory message about the beauty of the ceremony's decor, reminiscing about inaugurations Bud had once helped plan. "I can see his ideas in this beautiful setting," Mrs. Foster wrote to the newlyweds. "Please give him a hug for me."
More than the event's frills and fancies, however, Chancely cherishes the fact that she was able to celebrate with family in a time so marked by separation. 
"As beautiful as everything was, at the end of the day, the best part was just getting to marry my best friend," she says. "I know Brad feels the same way. Everything else pales in comparison."