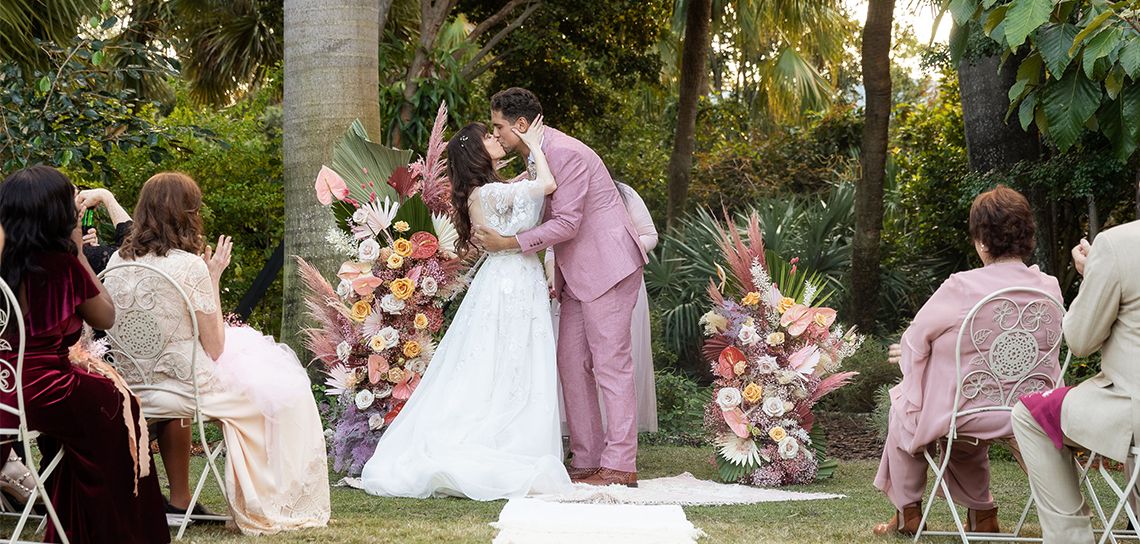 Butterfly kisses: An intimate out-of-town wedding with local flavor
---
It was the butterflies that drew me in.
There were dozens of them flying around the garden that would end up becoming my wedding venue. I saw them first on my iPhone screen, tiny pixelated bursts of color flitting in and out of the camera frame. Their yellow and orange wings glinted in the sun on the spring afternoon the garden's manager took me on a video walk-through.
I'd always thought I'd need to see my wedding venue in person, to feel its energy, in order to have that moment where I'd decide it was "the one."
But the garden's energy burst from the screen. I could almost feel its warm sunshine through my phone. It reminded me of my childhood, when I'd wander my neighborhood with a yellow dollar-store butterfly net in hand, hoping for a closer look at a monarch. Younger-me, I thought, would be ecstatic if she knew she'd grow up to get married in an idyllic setting like this.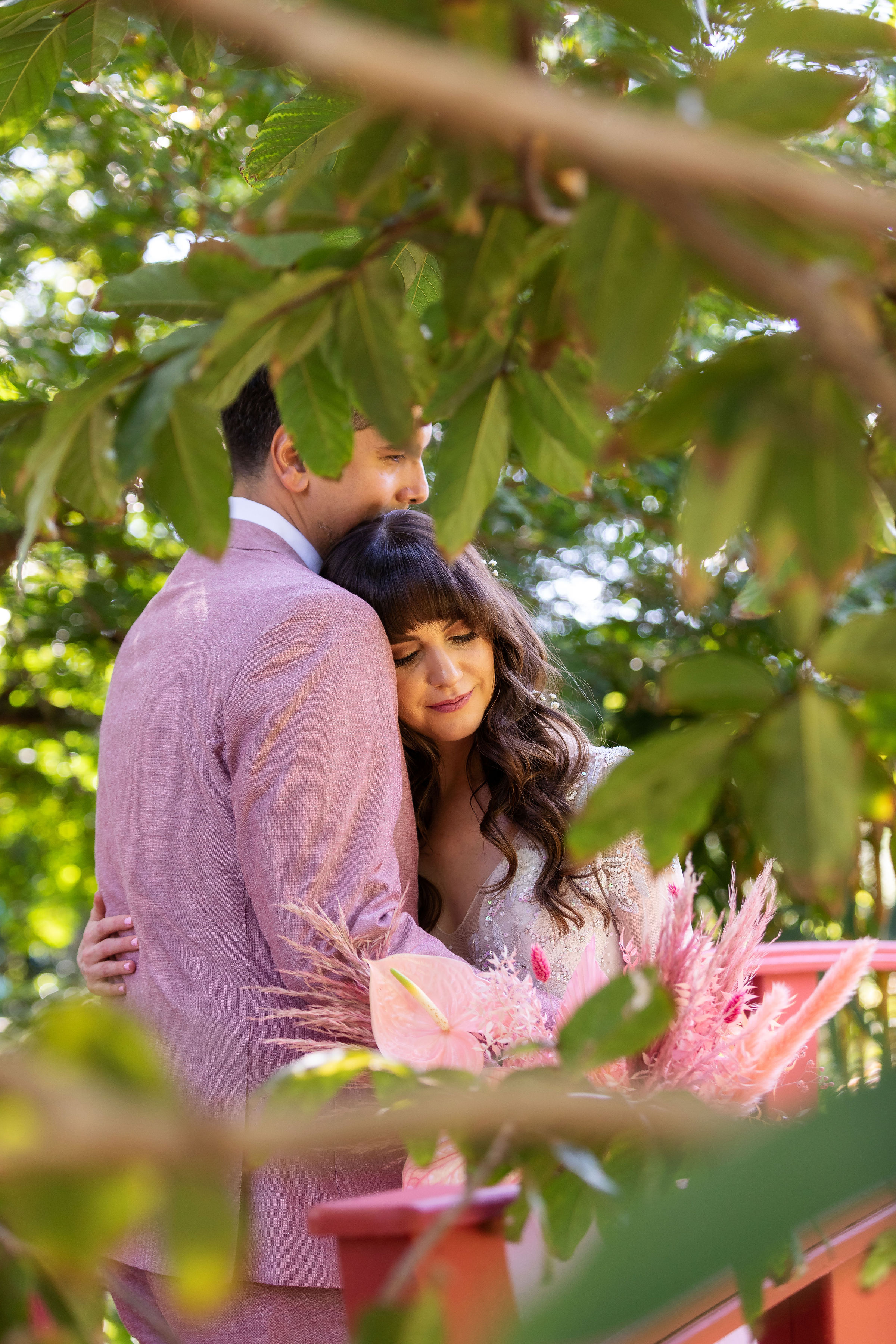 Even though my fiancé, Adam, and I wouldn't be able to travel to see the venue in person together until the summertime, we decided to book it.
On the Fourth of July, we got to explore the Miami Beach Botanical Garden in person and finally imagine how our January wedding would unfold.
We'd have the entire garden to ourselves, so we wanted to make the whole evening about being outdoors. It would be intimate and immersive.
We envisioned a ceremony with our guests' chairs surrounding us in a semicircle. During dinner, we'd dine under string lights and the stars. We'd have rectangular tables connected in a square shape, forming a makeshift stage for our first dances and toasts.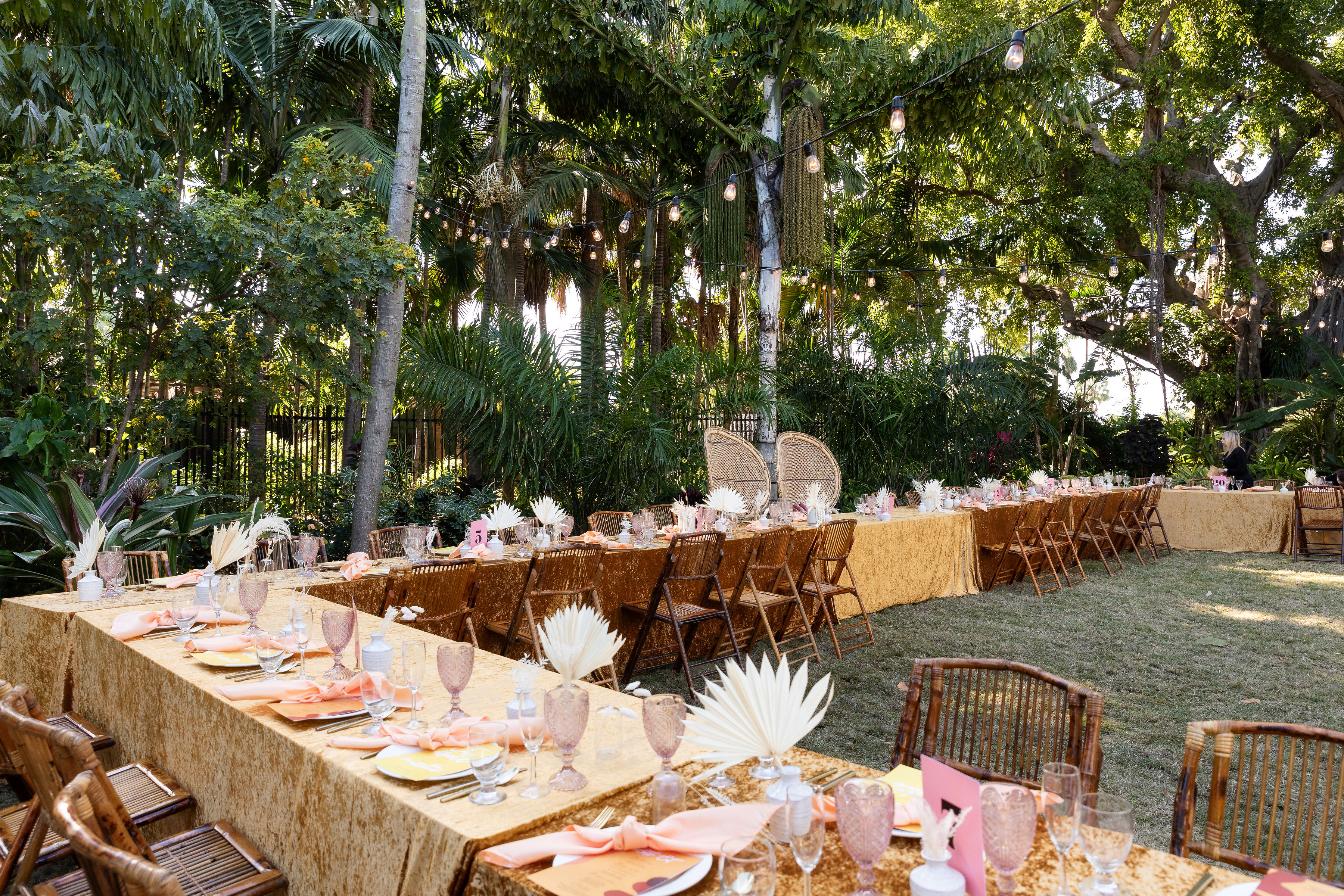 For the rest of the year, Adam and I had poured our souls into planning our day. We personalized every detail to represent our past, present and future together. We pulled our colors straight from a photo of the Joshua Tree sunset where we got engaged. The setting and the food—Cuban bread, churrasco, fried yuca, and Key lime and coconut cake—were about South Florida, where we both grew up. Our flowers were a desert-meets-tropical textural mix of dried and fresh florals.
And the entertainment was all about Baton Rouge, where we live and have spent most of our relationship. We searched high and low to find a second line band in Florida. We pulled from our favorite Mardi Gras memories for the reception, decorating with lots of tinsel, disco balls and beads. I had two sparkly jackets custom made for us by Louisiana designers.
I'm so proud of the day we dreamed up—but I'm even prouder of how we handled things when it seemed like everything was going wrong. A groomsman's flight was indefinitely canceled due to fog, and he wouldn't be making it. Adam's wedding ring hadn't arrived on time. And worst of all: a big NFL event was happening directly across the street from our venue. It would mean road closures, police screenings of nearly everyone entering our venue, and zero parking within a mile radius.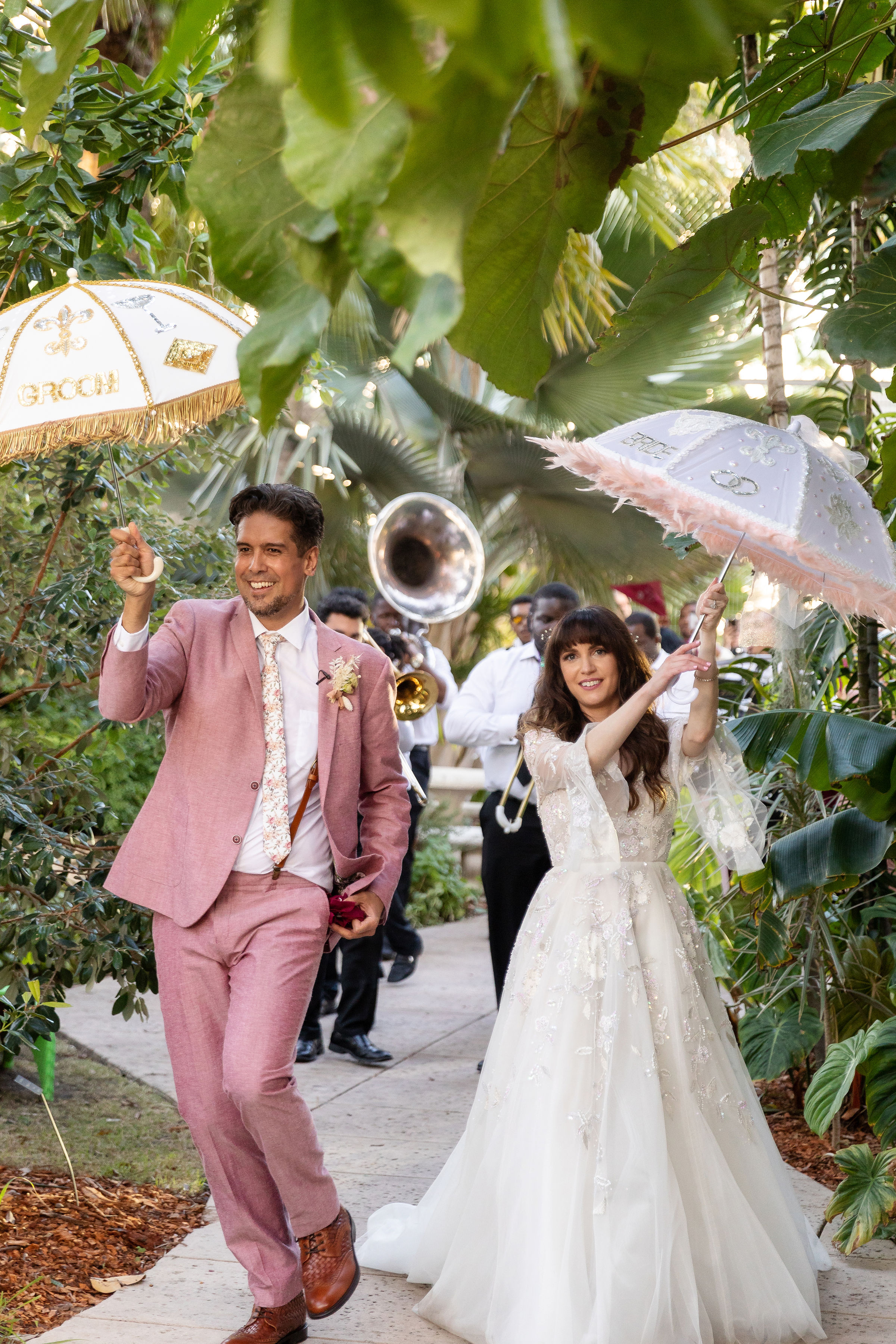 But when I woke up on January 25, I remembered the most important thing: I was getting married.
So I made Adam the first promise of the day: to accept all we couldn't change and focus on the things we did plan for.
We made the most of the traffic delays, and even though I walked down the aisle a little late, I still felt like I was floating. I was wearing the sparkliest, dreamiest dress I'd ever owned—and I was walking toward my best friend. In front of our guests, we played an impromptu game of rock-paper-scissors-shoes to determine who would read their vows first. We laughed and cried as we recounted why we'd loved each other then, now and forever.
Everyone tells you your wedding day will go by so fast, and you won't remember half of it. This is definitely true. But the moments you do remember will be etched on your heart forever.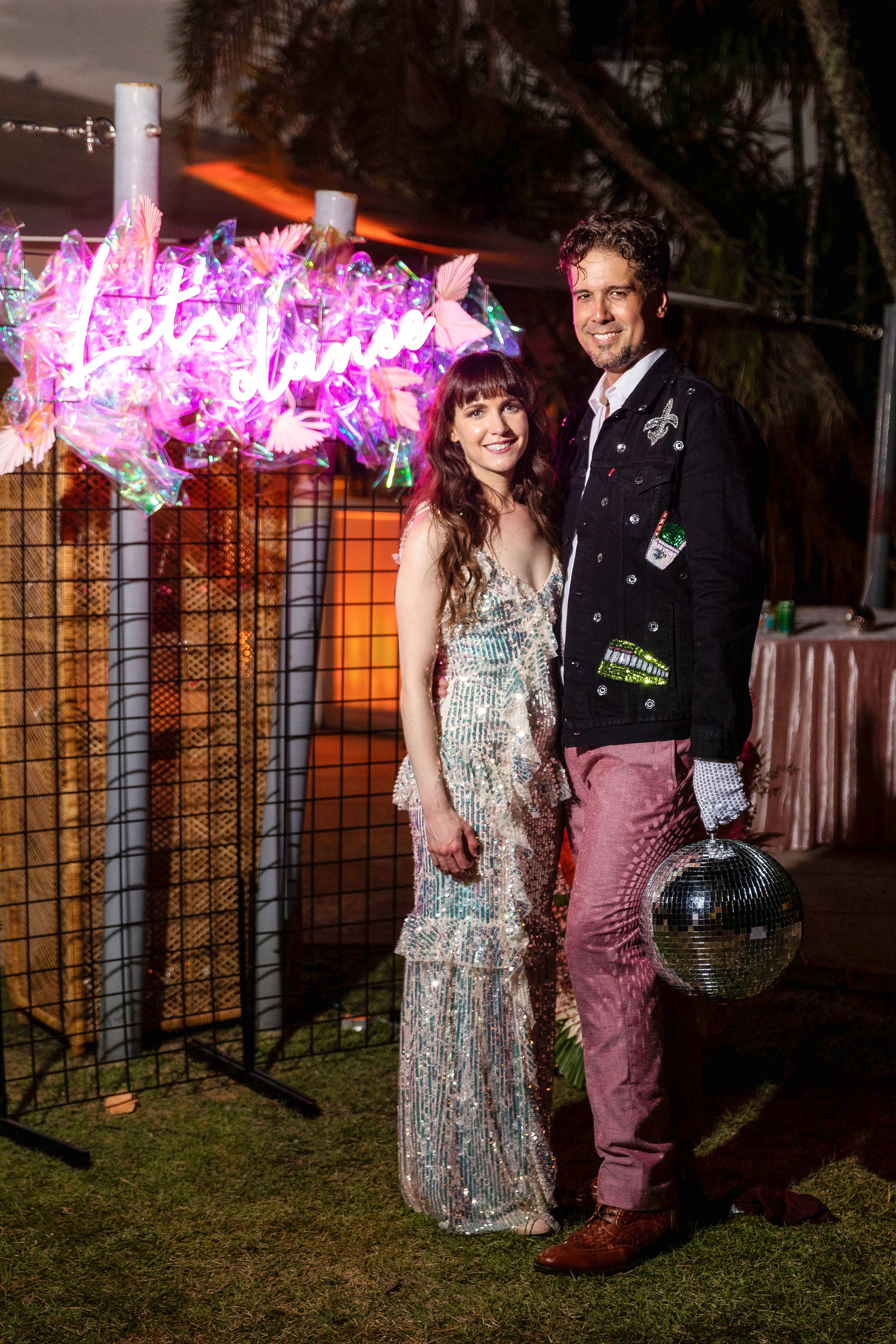 For me, that's our second line. My husband and I twirled our feathered umbrellas under the golden sunset. I danced harder than I ever have before. I didn't care that my wedding dress was getting caked with mud or that the curls were falling out of my hair. What mattered most was that we got to dance with our parents. And that I got to hug my grandma so, so tight. Surrounded by butterflies, palm trees, music and literally everyone we love, all waving handkerchiefs, it was a dream-come-true moment.
We couldn't have known then the whole world would lock down weeks later. We didn't realize there would be a pandemic, and that our day would be the last time seeing our loved ones for a while. During the months since, I've sometimes wondered if our wedding was a dream.
Adam and I haven't stopped dancing, though. We turn the music up in our living room and imagine we are back in the garden.
And even if I can't see the trees or smell the flowers, I can feel the butterflies.