10 questions with Martinez Custom Clothier owner Manuel Martinez
Manuel Martinez has been influencing men's fashion in Baton Rouge since 1984, with his custom suits, unique neckwear and dapper shirt options. After originally attending school to become a veterinarian, Martinez decided to switch to fashion and menswear design after graduating. Martinez Custom Clothier offers clients the ability to customize their garments, instead of choosing items off the rack with no input on style or fit. We sat down with Martinez to learn more about his craft and the unique services his offers.
---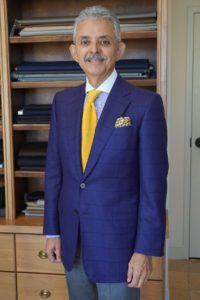 1.What is a typical day like for you and your team? On an average day we will have between five to six appointments scheduled. These appointments vary from new clients coming in to be measured for the first time to existing clients coming in to pick their wardrobe for that particular season. Most of our day is spent consulting with clients, showing fabrics and measuring.
2. What is your professional background? How did you get into the retail field? I initially went to school to be a veterinarian, but after graduating college I instead decided to pursue my passion for men's clothing and design. I began my career by studying under and working for some of the best custom tailors and clothiers in New York and Houston. In 1984, I opened my own store in Baton Rouge, and I have been perfecting my craft ever since then.
3. What are the first things customers see when they walk through the doors? We have an open and airy store with a variety of fabrics on display. When they first walk in, most clients tend to gravitate towards either one of the large tables we use to display our neckwear and pocket squares or toward our shirt bar, where we have a large selection of our cotton shirt fabrics on display.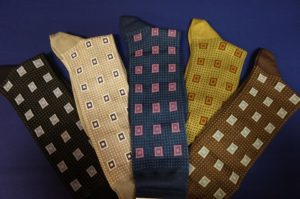 4. What sets your store apart? We focus solely on custom men's clothing and have done so for the past 30 years. Clients can expect to benefit from our years of experience in the styling, measuring and crafting of their custom garment. In most clothing stores, you walk in and purchase something off the rack that you have little or no say over the style and fit. When you purchase a garment from our store you will be able to select the fabric, the style and the fit. There are hundreds of fabrics and linings that you can choose from, and the garment can be tailored in any way you like. We take great pride in ensuring that our clients have a unique and enjoyable experience from beginning to end.
5. What is one thing you think your customers should know about your store that they may not be aware of? Making custom clothing takes time. Measurements are taken and a pattern for that client is created. Fabrics must be sourced from Italy or England. A handmade suit will take between 30 and 40 hours of work before it's complete. First-time clients can expect delivery of their new suit between 6 and 8 weeks after their initial visit.
6. How do you keep your store's inventory fresh and up to date? We are constantly looking for new and unique fabrics and silks to bring to the store. The great thing about custom clothing is we are not constrained by any particular fashion trend.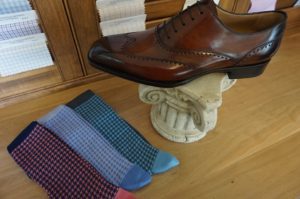 7. Can you share a hint about what shoppers will see in your store next season? The style of suits and sport coats is shifting from the skinny-lapel, tight-fitting suits that have been the trend the last couple of years to a more comfortable cut with wider lapels.
8. What was your reason for opening the store? When did it open, and how has it grown or changed since then? We have been in business in Baton Rouge since 1984. When I initially opened the store, all I sold was men's suits. The store has evolved so that we now offer a full range of custom clothing including shirts, sport coats, trousers, neckwear, leather goods and shoes. The biggest change is that my daughter and son-in-law are now working with me on a daily basis and bringing new ideas and perspectives.
9. What are a few must-have items this season? Sport coats made from lightweight tweeds, cashmeres and wools with texture. Pair the sport coat with a pocket square and a five-pocket flannel or twill trouser for a smart, casual look.
10. What are some of your best-selling products? We have recently started carrying a line of handmade Italian shoes by Scarpe Di Bianco which have been selling really well. Our neckwear is always popular as we offer a lot of ties with unique textures and patterns.