True Colors: The vibrant interiors of the Malones' home reflect their bright personalities

---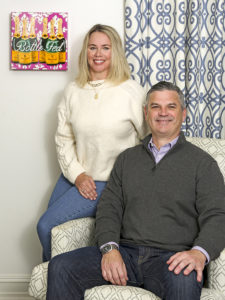 Traditional camouflage is composed of green, black and brown—neutrals that are built to blend in. However, in the home of Sean and Lana Malone, "camo" takes on a whole new meaning. For the family that is better known for standing out, vibrant shades of pink and blue take the place of the outdoorsy shades to create a unique form of camouflage that specifically suits the life and style of the Malones and their three children, Keegan, Finley and Miles.
"We love color," explains Lana as she stands in the doorway of the fuchsia-accented front living room. Lana and interior designer Sara Brignac of Workshop 31 Twelve, who has been a part of the Malones' colorful design process since they purchased this home in 2014, have dubbed this space "Lana's Lounge." "For us, it helps to hide the mess of three kids as much as possible."
The family's love for bold hues isn't just based on durability and necessity. Rather, their appreciation is informed by Sean's childhood in New Orleans, as well as their travels around the world. Art collected from far-flung destinations including India, Italy and Belize share wall space with vintage Jazz Fest posters and works by Louisiana artists like Page Goss, who created the large piece that ties together Lana's Lounge, and even a Slinky creation titled "Finley's Anger" by the family themselves that came as a result of a tangled toy and a can of orange paint. Together, the works tell the story of the family's life and adventures together.
"In my opinion, anything you surround yourself with should mean something to you," says Sean, who works as vice president of hospitality at L'Auberge Casino & Hotel. "It's always been important to me to be more unique than homogenous, and that's something I want to teach my kids."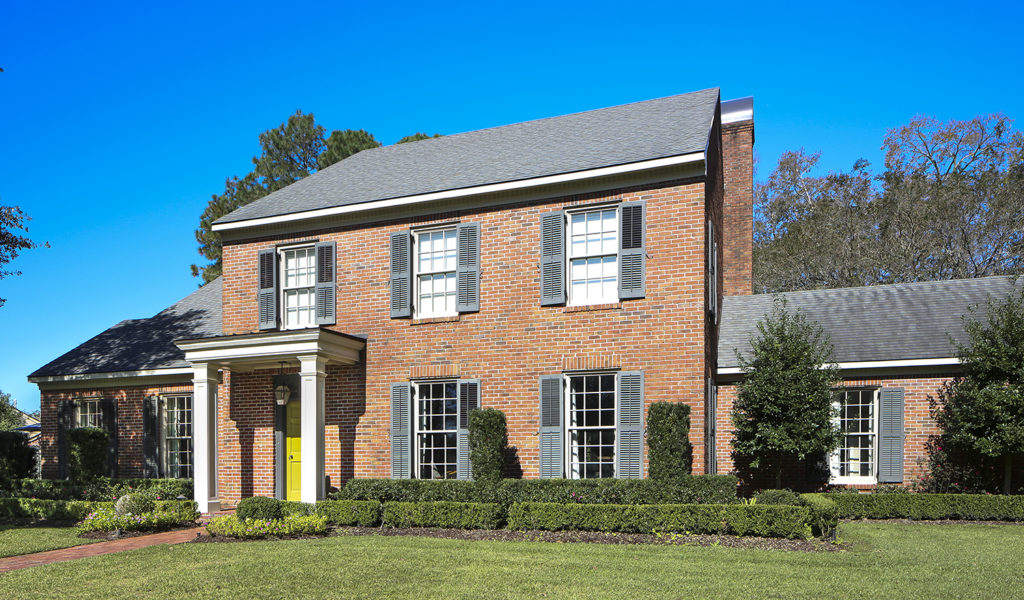 This commitment to standing out starts at the home's exterior. After much debate, Sean and Lana opted to leave the home's red brick façade untouched by ever-popular white paint. "I think the natural brick gives such a stately look," says Lana. To top it off, Brignac talked the couple into washing their front door in one of her favorite hues: "Terrapin Green" by Benjamin Moore.
"It's funny, I tell almost all of my clients that they need a green front door," remarks Brignac with a laugh. "The Malones loved the idea, and I think it really fits them. They are so fun and you get that impression before you even enter their home."
The house, which stands off of Bluebonnet Boulevard and was built in the 1980s, didn't always project the personality of its inhabitants, though. Previously living nearby, Sean and Lana passed by the property countless times over the years and would often daydream about its potential—new shutters, a little paint here and there. When it finally went on the market in the fall of 2014, the purchase was a no-brainer, especially given the ease of moving just up the street.
"I always had a good feeling about it," recalls Lana, noting that she and Sean viewed the online listing independently on the same day. "It just needed some updating."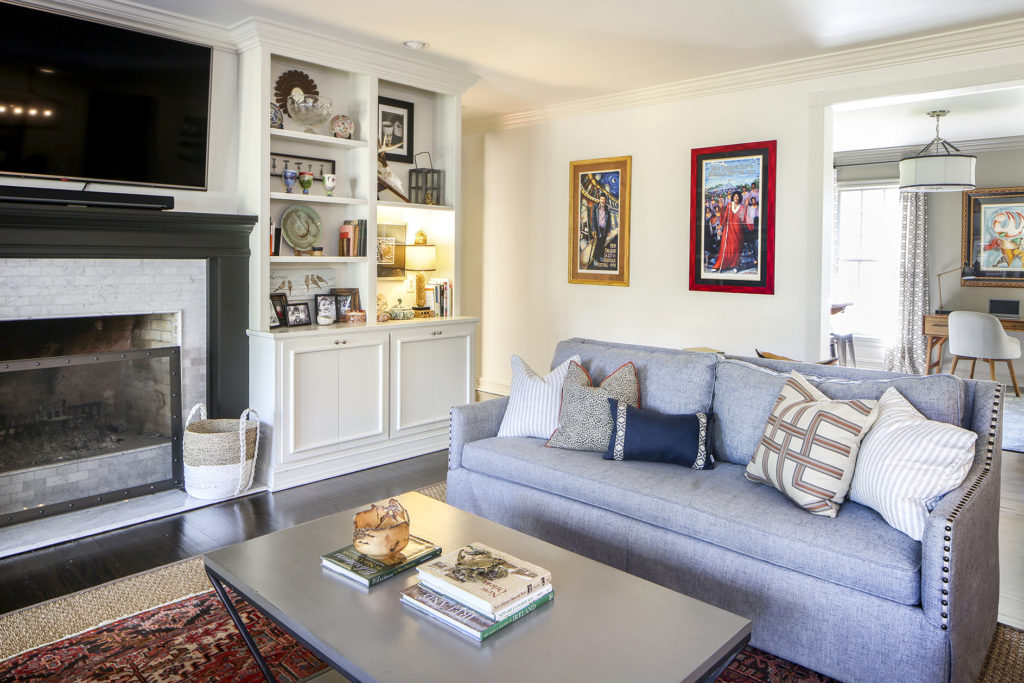 In order to keep with the style of the house while staying true to the Malones' vibrant personality, Brignac focused on bringing together a mixture of the traditional and the unexpected. In the entry, hand-blocked wood floor tiles from North Carolina's Mirth Studios in a gray-and-white geometric pattern offer a modern take on parquet flooring and play off of the black painted stairs and rail. In the adjacent homework and play space, an antique French table from The Royal Standard brings warmth against the cool tone of Benjamin Moore's "Rockport Gray," in which both the built-in bookshelves and walls are washed. "I don't know how, but it all works," says Lana.
Perhaps the most eye-catching room in the house is the space Lana has claimed as her own. The location of the home's original dining room, this light and bright ladies' lounge is perfect for afternoons spent binging everything from The Crown to Real Housewives. But don't let the hot pink fool you. Sean says the space is one of his favorites in the house. With its eye-catching, hand-knotted Caitlin Wilson rug, fuchsia velvet tufted ottoman and newest additions of two jewel-encrusted canvases from New Orleans pop artist Ashley Longshore, the room packs an aesthetically pleasing punch.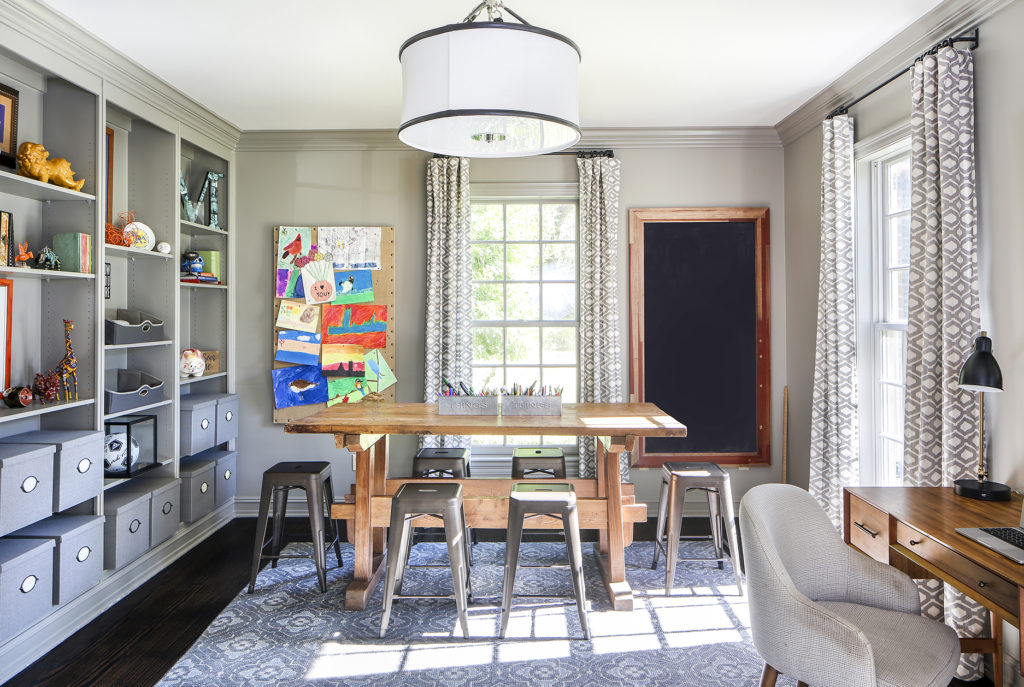 "I spent a lot of time in here during quarantine," recalls Lana. "I think of it as my room—my escape."
And while not every space in the Malones' home echoes the same level of vibrancy—for example, the master bedroom is filled with serene and subdued shades of green—Brignac says it was her goal to make each room an escape for the family. For Sean, Lana and their kids, that was achieved by bringing each of their unique personalities into the spaces in which they live, work and play.
"Your home needs to be a reflection of you and your taste in order to be satisfying," explains Brignac. "The Malones are an active and bright family that had a vision when they bought their house. It has been such a fun process to bring it all to life."
---
See more photos from this home in our gallery below: